Diaspora Expressions: On Spirituality & Rituals opened at the Caribbean Museum Center for the Arts Nov. 18 with art patrons in the community expressing their connection to the theme and their desire to revisit the exhibit. The visual creations of six artists from the Caribbean fill the walls in the upstairs galleries giving reverence and storytelling of the culture and practices of their homelands.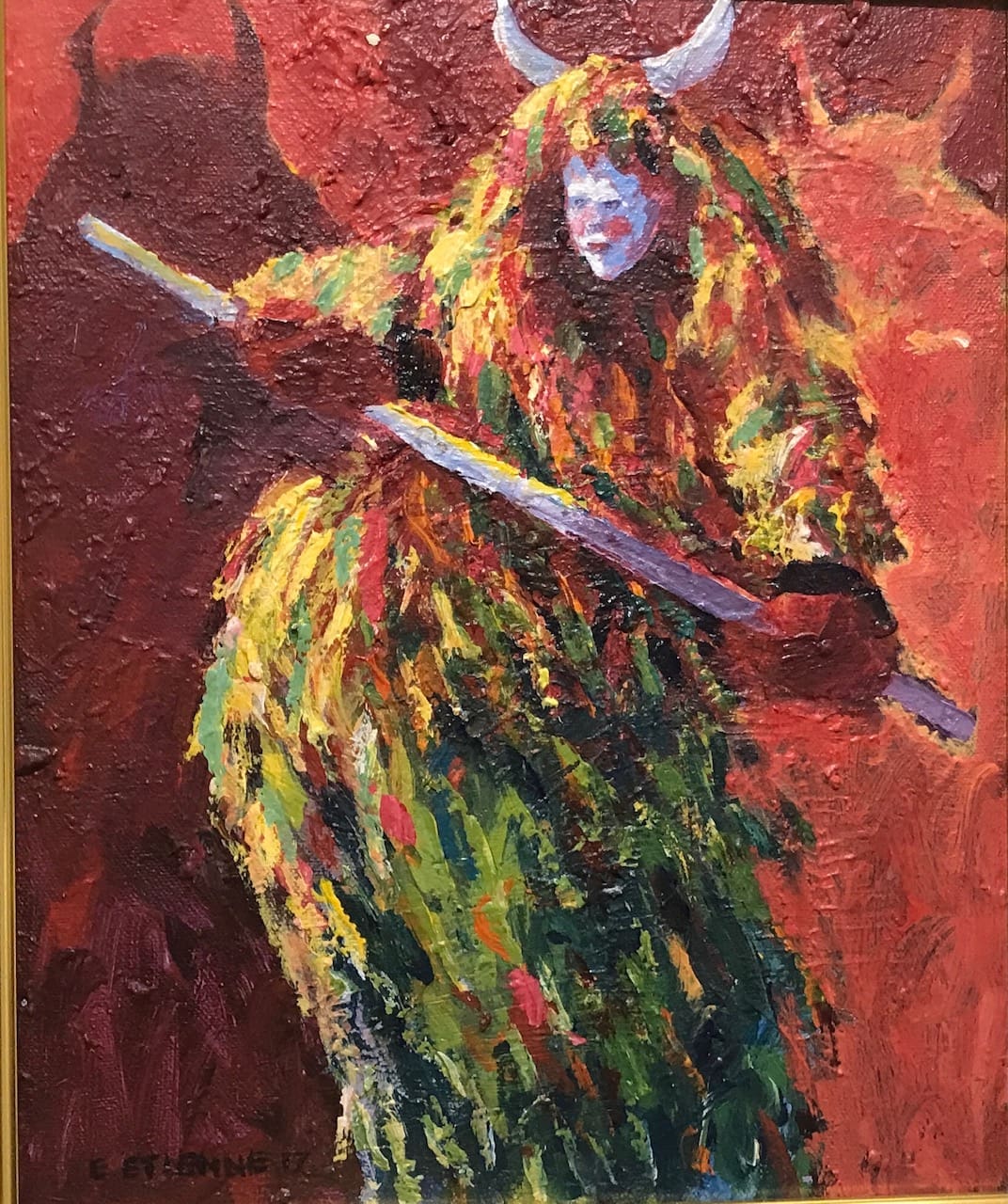 Noted curator Anderson Pilgrim worked with each artist visiting their studios, observing them as they worked, and selecting the pieces that would become the Diaspora Expressions on Spirituality & Ritual exhibit. 
Pilgrim is President of Diaspora Now Inc., an artist management and exhibition company as well as executive director of Caribbean Fine Art Fair Barbados, the Caribbean's only fine art fair held within the region.
Pilgrim began his career in the arts and was part of the CARIFESTA stage management in his native Barbados in 1981. "I was in tune with creative people, but had a different mind and was able to interact with them and understand their language," he said. Pilgrim's mind was geared towards business and management organization, which led him to New York City to study marketing and management. He realized the artists needed someone to manage their work and he later transitioned into the visual arts and studied fashion and Art History. He attended Baruch College of the City University of New York, graduating with honors in Marketing and Business Management. 
As US representative for Barbados Investment & Development Corp.'s US Market Development Program from 1999-2008, Pilgrim was instrumental in developing and propelling the careers of many of the creative talents of Barbados in the areas of art, fine craft, and fashion. His booth designs and presentations have won several awards over the years, including Best in Show, Manchester Art Show, CT, and the Kuumba Award for Booth Design First & Second Prizes, International Black Buyers & Manufacturers Expo, Washington, DC.
"As African people were scattered across the New World during the Middle Passage and 400 years of human trade, so too were many of their cultural practices, modes of worship and rituals surrounding life moments. These ancestral elements manifest themselves in religious movements, cultural expressions such as dance, visual arts, and carnival arts, many of which have entered the mainstream, while some other have been maligned in popular culture. Growing up in the Caribbean, I would venture to say that most of my contemporaries and I were taught to disavow the practices of Vodou/Santeria/Obeah in whichever island we lived…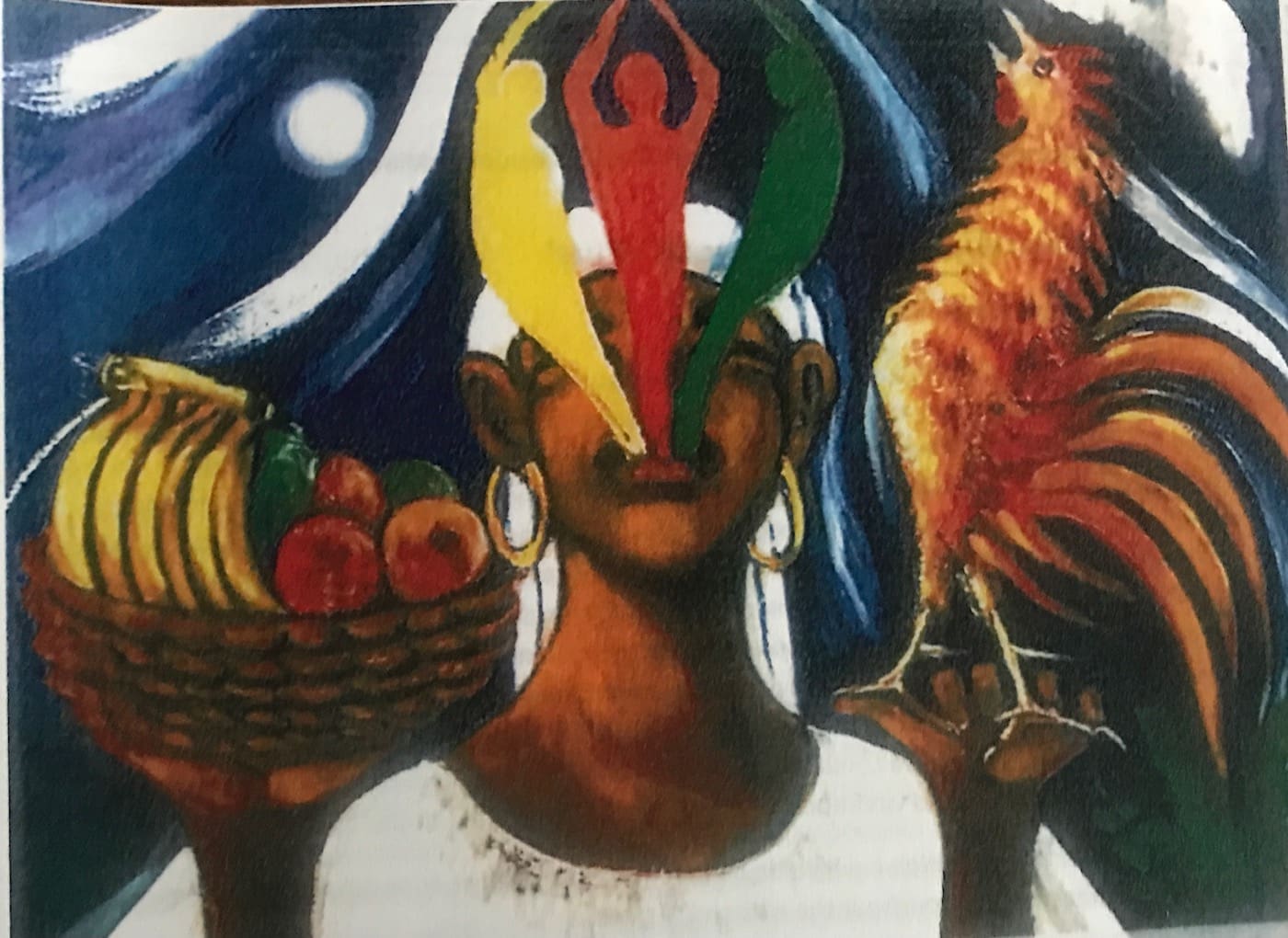 'Black Magic' they called it. How ironic. However, there is a movement among contemporary practitioners, in the Americas especially, to try and dispel those misconceptions and reclaim the public narrative about the religion," Pilgrim said.
The article "Black Religion That's Been Misaligned for Centuries" written in The Atlantic, June 2022 by Haitian American, environmental educator Alain Pierre Louis says, "Vodou is very big on respecting nature, remembering the ancestors, and the rhythm and vibration through dance, through dance, song, and the drum. Vodou is energy."
"The artists featured in this exhibition have made a practice of exploring various aspects of this ethereal energy, which manifests itself throughout the African Diaspora," Pilgrim said.
Native Virgin Islander, Artist-in-Residence Ademola Olugebefola and Pilgrim worked together for many years. "We decided we would focus on my printmaking created in the 1960s and 1970s that are part of my development and give people the opportunity to see some of my earlier work. I am happy that he [Pilgrim] chose so many of the woodcuts that highlight my career. The museum has a printmaking workshop for teens under my tutelage and we can use these," he said.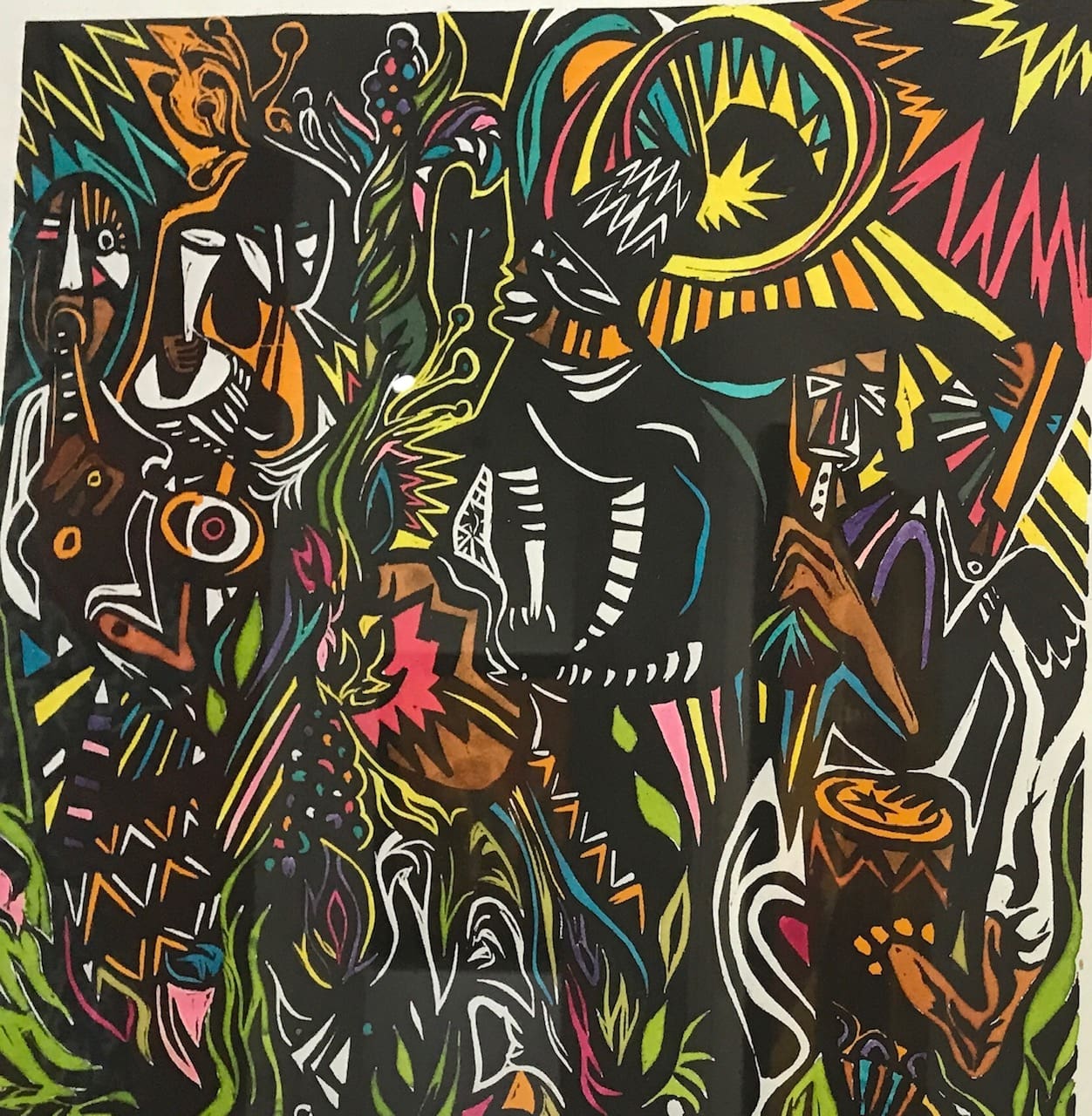 Olugebefola's artwork has been published on posters, catalogs, and books and magazine covers. Prints from many of his woodcut editions are in the  permanent collection in the Schomburg  Center for Research in Black Culture. His work has been exhibited extensively throughout the nation, and he illustrated a book of African Tales, published by Oxford Press that he and Pilgrim have donated to the CMCArts library, among others. 
A local art patron spoke about her visit to the museum on opening day of the exhibition. "I am an art lover and I love anything that is related to spirituality, ritual, and religion," she said. The art offered the patron calmness and also challenges, she said, which brought to mind experiences she had on her visit to Ghana in the early 2000s.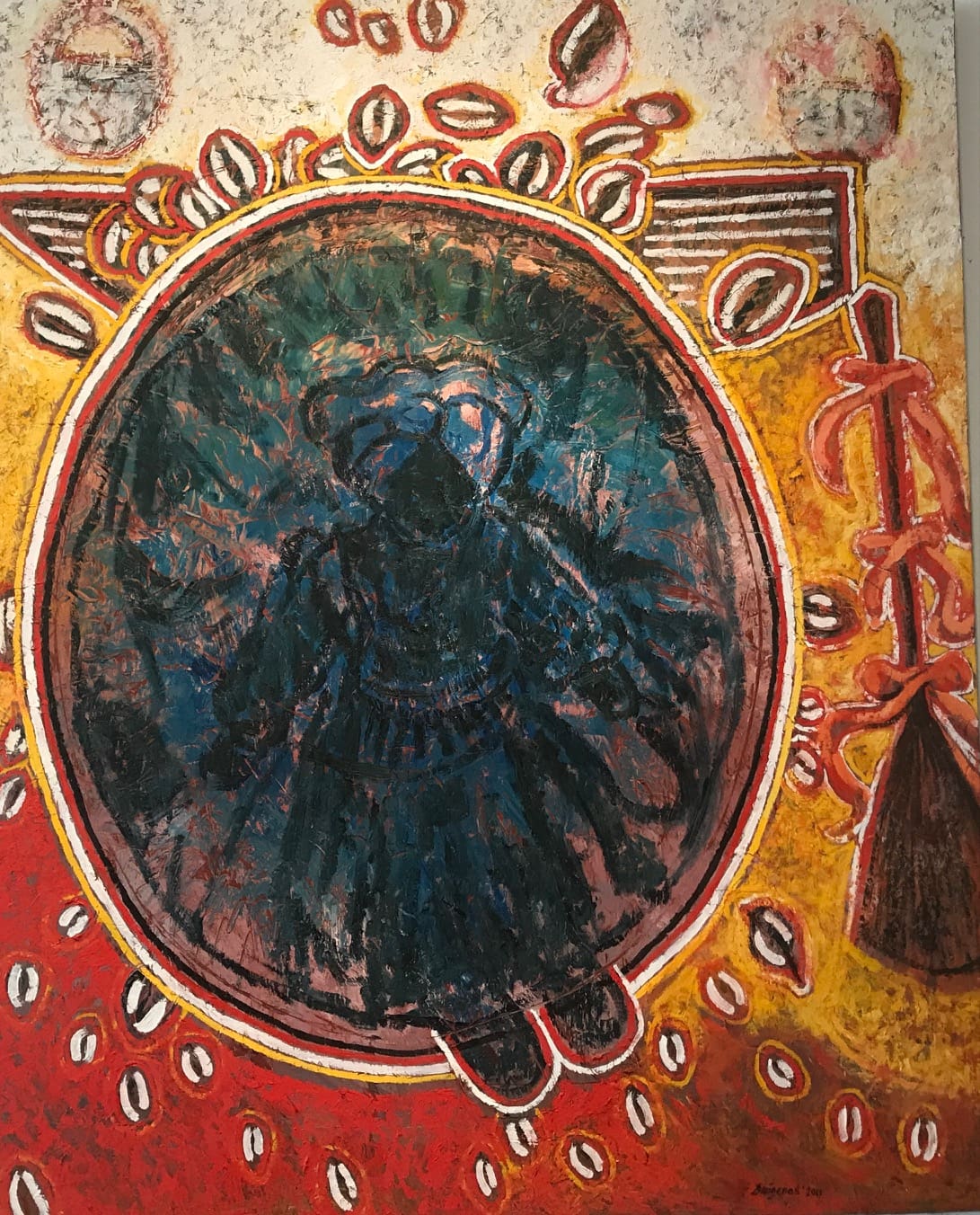 "Listening to the artist in the zoom exchange gave me a better understanding of what their work was about. Ademola Olugebefola spoke of the psychology of colors and how colors can impact our behavior. The colors created a mood and opened my mind to the many different beliefs, customs, and practices their art portrayed," she said. They all conveyed a story to this patron and their connection to the Diaspora from Africa to the Caribbean. 
"When I looked at Patricia Brintle's art from Haiti, i could see the Catholic faith come out in her work. I liked the objects in the Yemaya piece from Arlette St.Hill. There were stones and shells and familiar colors of the Caribbean." The late Earl Darius Etienne of Dominica showed fabric and costumes that reminded her of the masqueraders here on St. Croix when she was growing up. The costumes took her back to the days of seeing them dancing in the streets and the performances they had at that time, she said.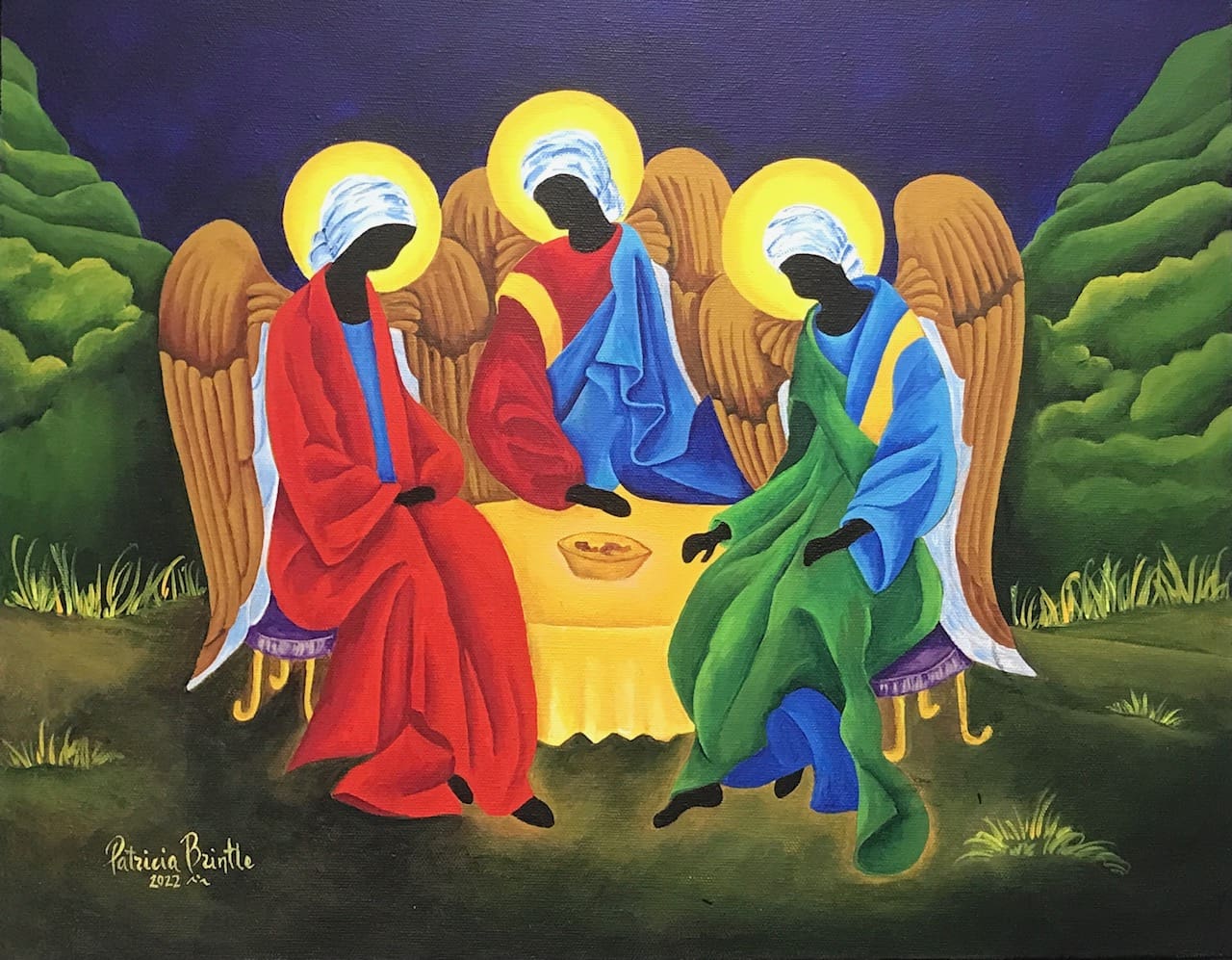 This patron enjoyed the artwork with the drummers, which reminded her of a drumming session here on St. Croix that created different moods for her and she especially liked Bernard Stanley Hoyes work. "I loved how the influence of Africa comes through in the work of the artists. The exhibit is worthy of another visit," she said.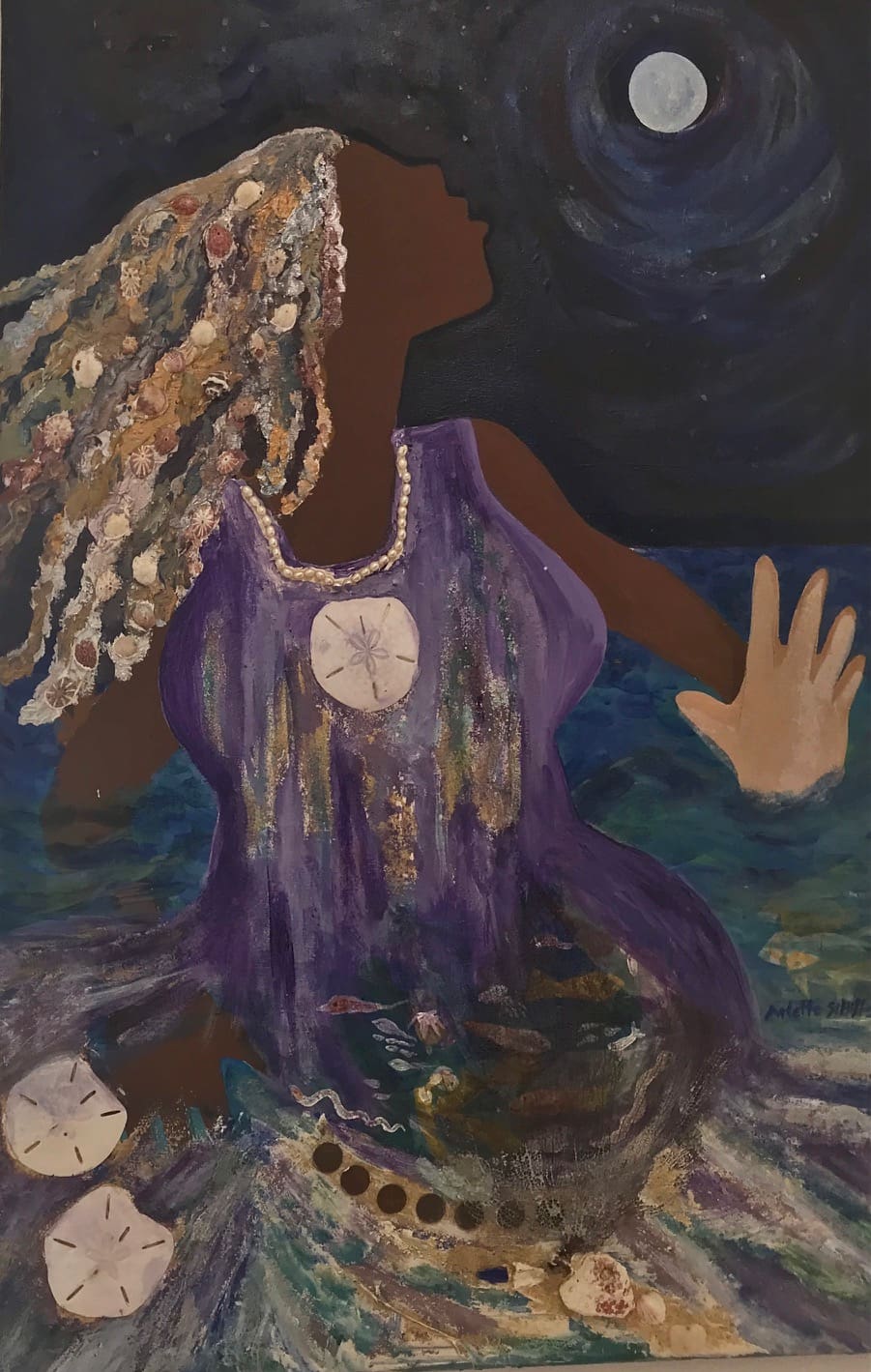 CMArts Executive Director Lisa Mordhorst was extremely pleased, she said. "The show is really beautiful. I thank Anderson Pilgrim for yet another space where he brings some very talented artists to our venue to share with us. Not only that. It's just a really beautiful show. 
I have to mention that it complements the prior show that dealt with the 'energies of Puerto Rican and Cuban art,'" she said. 
"I think that there's something in these topics of spirituality that is unbelievably captivating, regardless of who is representing the dialogue around that. It's the story of us. And it's irresistible. It talks about the depths of our human capacity to revere other spaces beyond our physicality. I just think that it's really powerful when we look at and talk about these topics as dialogue. I'm incredibly thrilled that the artists who could not be here with us physically on St. Croix were able to join us in the Zoom. I'm thrilled at the audience. I loved that our audience stayed in the galleries after the Zoom to continue to converse about the art. And that's very special," Mordhorst said.  
"The power that lies in a museum or gallery exhibition is to celebrate it amongst other people, but then, if you also experience it on your own in a quiet space without all the other stuff that's going on, it changes your life and perspective. I really want to encourage people to come back as often as they wish and as much as they can to be alone with the work," she added. 
Diaspora Expressions: On Spirituality & Ritual in the Upstairs Galleries through Dec. 24, Tues. to Sat. 9 a.m.to 4 p.m.
Artist-in-Residence Ademola Olugebefola will conduct workshops:
Teen workshops: Wednesday, Nov. 30 & Thursday, Dec. 1, 4 p.m. to 6 p.m. 
Adult workshop: Friday, Dec. 2, 6 p.m. to 8 p.m.
Artists Talk: Saturday, Dec. 3, 1 p.m. to 2:30 p.m. 
For more information:
www.cmcarts.org
ampilgrim@hotmail.com