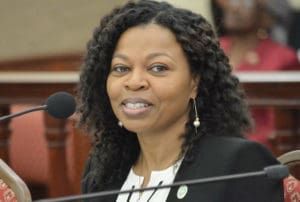 Director Jenifer C. O'Neal, regional director for the Eastern Region of the National Association of State Budget Officers (NASBO), will attend its upcoming 2021 fall meeting in Washington, D.C., Oct. 6-8, according to the V.I. Office of Management and Budget.
Topics will include Federal COVID-19 Aid Funding; Director Roundtable: Fiscal State-of-the-States, National Economic Outlook; and a Federal Budget Update.
Director O'Neal was elected as a regional director in August 2020 and is the first Virgin Islander to be elected to the executive committee of the National Association of State Budget Officers. In this role, she serves as a representative for the Eastern Region and participates in all National Association of State Budget Officers meetings and conference calls throughout the year. "This will be the first in-person meeting since I was elected to serve on this national level, and I look forward to sitting and working with other state budget directors to identify additional strategies for the management of COVID-related federal funds and other issues that we are all facing" said Director O'Neal.
National Association of State Budget Officers is a professional membership organization for state budget and finance officers that aims to improve the quality and availability of information to state budget officers; provide opportunities to share practices across states; provide training and research information through publications and seminars; and assist groups, such as the National Governors Association, in the development and implementation of policy positions on state fiscal issues.