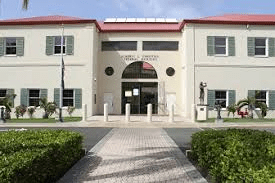 On Jan. 31, the Honorable Robert A. Molloy, chief judge, issued the Thirty-Third Order Concerning Operations of the District Court of the Virgin Islands during the COVID-19 outbreak.
The District Court resumes certain operations to include the resumption of grand jury proceedings, Central Violations Bureau proceedings, Naturalization Ceremonies with a limited number of applicants, and limited in-person proceedings as approved by the presiding judicial officer. Proceedings that involve gatherings with large numbers of people, such as civil and criminal jury trials, are continued pending further Order of the Court.
The Clerk's Office in-person counter services resume, except payments in cash will not be accepted.
Payments may be made by personal check, credit and debit cards, money order or certified bank check, except criminal debts cannot be paid by personal check or credit and debit cards.
This order shall remain in effect for the period of Feb. 1 – 28, unless it or any portion thereof is modified, terminated earlier or extended by further Order of the Court.
For more information, contact:
Glenda L. Lake Esq., Clerk of Court
District Court of the Virgin Islands 5500
Veteran's Drive, Suite 310
Charlotte Amalie, U.S. Virgin Islands 00802
Phone: 774-0640; Fax:775-8075
Email    : glenda_lake@vid.uscourts.gov