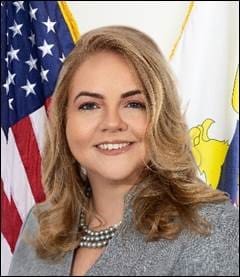 Division of Personnel Director Cindy Richardson will host "Inside the Cabinet" at 6 p.m., Wednesday, Sept. 21, to take questions and discuss issues live with residents.
Director Richardson will talk about the retroactive wages and the Division of Personnel's retro pay online portal; the recent career fair expos in both districts and plans for similar upcoming events; and other ongoing and upcoming projects under her department.
"Inside the Cabinet" is broadcast on the Government House Facebook page – facebook.com/GovernmentHouseUSVI – and during the live feed of the Virtual Town Hall program, residents can ask the host questions through the "Comments" section of the live stream.
Residents who have a question they would like to be addressed on "Inside the Cabinet" also can send an email in advance of the broadcast to GovernmentHouse@go.vi.gov, writing "Inside the Cabinet" in the subject line.
Copies of all "Inside the Cabinet" programs are archived at www.facebook.com/GovernmentHouseUSVI.
The Bryan-Roach Administration is committed to investing in the territory's people, infrastructure and future through transparency, stabilizing the economy, restoring trust in the government and ensuring that recovery projects are completed as quickly as possible. Visit https://transparency.vi.gov