Summer maintenance work at the island's two pubic schools is progressing on schedule and should be complete by the time students head back to their desks on Monday, August 27, according to Department of Education officials.
The department is on target for the 2007-2008 school year, according to DOE Acting Commissioner Donna Frett-Gregory.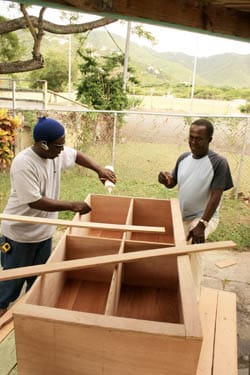 "We are pleased to report that the department is right on target with the issuance of work on our schools in preparation of the 2007-2008 school year," Frett-Gregory said in a prepared statement. "Much of the work has been awarded to date, and the contractors have received conditional Notices to Proceed while their contracts are currently being executed."
35 Days of Work
Most of the work, which contractors district-wide should have started by Monday, July 2, will take just over a month to complete, according to the DOE's acting commissioner.
"The majority of the work slated to be completed entails structural replacements of plumbing, electrical and related work, and is estimated to take up to 35 calendar days to complete based on the various scopes of work," said Frett-Gregory in the prepared statement.
If all contractors began work on July 2 and worked for 35 days straight — including Saturdays and Sundays — summer maintenance would be complete on Sunday, August 5.
If the contractors break for weekends, work could linger until Friday, August 17, 10 days before the scheduled first day of school. It remained unclear when exactly contractors began work on St. John schools.
WMK Mechanical Group, LLC won the contract for summer maintenance work at Guy Benjamin School and will focus mainly on electrical and security concerns.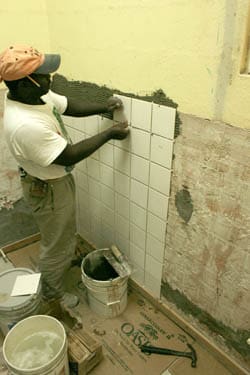 Electric and Security Concerns at GBS
The contractor will install wrought iron security grills over classroom doors and windows; replace fluorescent fixtures with tube fluorescent wraparound fixtures; install a solid core exterior door with a dead bolt; and install a new split unit in the computer lab.
The work was projected to cost about $16,250, according to DOE spokesperson Juel Anderson.
While the summer maintenance at GBS will address security concerns, ongoing problems with the small Coral Bay school's septic system have not been addressed, explained Anderson.
GBS Septic Still Problem
"The GBS septic work has not yet been started," Anderson said. "The work will be contracted separately. The department is currently awaiting the completion of the scopes."
Anderson did not comment on whether the septic system at GBS would be replaced by the time school starts in August.
Much more work is planned for the Julius E. Sprauve School this summer, where Jerry Frett was awarded the contract.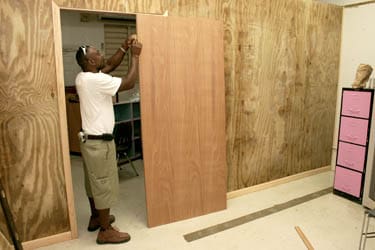 JESS Concrete, Gates
The contractor will install louvered windows; add electrical outlets; install an outlet for electrical water coolers; install electric water coolers; fabricate and install a chain link gate embedded in a wall to control access to Building C; repair uneven concrete pavement; install outlets in the carpentry shop; and modify a classroom.
The work is projected to cost about $46,500, according to Anderson.
While there are no guarantees, DOE officials remain optimistic that this year summer maintenance will proceed as scheduled.
"We are moving forward progressively and we remain positive that with the progress maintained and the established deadlines that all schools will be ready to receive students, faculty and staff on Monday, August 27," said Frett-Gregory.