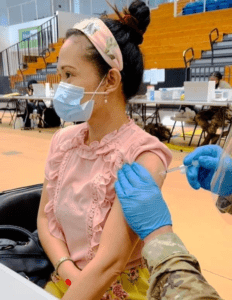 The Virgin Islands Department of Education, in partnership with the American Federation of Teachers Local 1825 in the St. Thomas-St. John District and Local 1826 in the St. Croix District, will host a three-day territorywide vaccination drive on Sept. 20, 22 and 24 aimed at increasing low vaccination rates among Department of Education employees.
As of Sept. 16, V.I. Department of Health records show that only 42.1% of all VIDE employees are fully vaccinated (42.6% – ST/SJ; 41.6% – STX), while 7.7% are partially vaccinated (8.6% – ST/SJ; 6.9% – STX), and 50.2% are unvaccinated (48.9% ST/SJ; 51.5% STX).
"While I respect everyone's right to choose, I encourage all to get the COVID-19 vaccine and continue to save lives," said St. Croix Federation of Teachers President Rosa Soto-Thomas. "The numbers tell the story."
Vaccinations will be conducted in Department of Health mobile van units at designated locations. From 9:30 a.m. to 1 p.m., Monday, Sept. 20, St. Croix employees may visit the Charles Harwood Complex (facing Queen Mary Highway) and St. Thomas employees may visit the Charlotte Amalie High School (in front of the Ruth E. Thomas Auditorium) to receive the vaccine.
[adrotate group="6"]
On Wednesday, Sept. 22 from 1 to 4 p.m., St. John employees may visit the Port Authority Gravel Yard in Cruz Bay to receive the vaccine.
On Friday, Sept. 24 from 9:30 a.m. to 1 p.m., St. Croix employees may visit the St. Croix Educational Complex High School (eastern parking lot) and St. Thomas employees may visit the Ivanna Eudora Kean High School (under the bus pavilion) to receive the vaccine.
"We are pleased to partner with our teachers' unions and the Department of Health to bring vaccinations directly to our employees," said Acting Education Commissioner Victor Somme III, who heads the Department of Education's COVID-19 Taskforce.
"At the Department, we are doing everything within our power to educate and safeguard our employees against COVID-19, and a key component of that is increasing our vaccination numbers. We encourage all unvaccinated employees to take advantage of this important opportunity," said Somme.
The COVID-19 vaccine is free of charge.
Employees participating in the drive will be granted one-day administrative leave and receive giveaways.