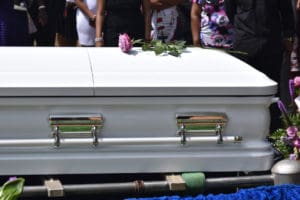 The V.I. Department of Health reminds all residents of the Federal Emergency Management Agency's (FEMA's) Funeral Assistance Program for all COVID-19 related deaths. This program is part of the Coronavirus Response and Relief Supplemental Appropriations Act of 2021 and the American Rescue Plan Act of 2021.
Under this Act, FEMA oversees funds earmarked to reimburse families for the funeral expenses of persons who died from COVID-19.
Since the program began taking applications on April 12, 2021, the Department of Health's Division of Vital Records and Statistics has reached out to and will continue to make contact with the families of all persons in the Virgin Islands who lost loved ones to COVID-19 related causes. The DOH Division has provided and will continue to provide the necessary information on the funeral assistance program's procedures and requirements as well as provide the proper forms and death certificates required to complete the reimbursement process.
"The Division of Vital Records and Statistics has stood ready to assist individuals who lost loved ones to COVID-19 since this program began last year," said Commissioner of Health Justa Encarnacion.
"I urge anyone who has lost someone to COVID-19 and has had to endure the financial challenges posed by the high cost of a funeral to consider the reimbursement program," she said.
For information or assistance, contact Lorraine Benjamin-Matthew, the director of the Division of Vital Records and Statistics, at lorraine.benjamin-matthew@doh.vi.gov or by phone at 474-9749. Additional information can also be gotten by visiting the DOH website at USVI Department of Health for additional details.
To learn more about the FEMA Funeral Assistance Program please visit www.COVID-19FuneralAssistaceFEMA.gov or telephone 1-844-684-6333.
Residents are also reminded that all funeral homes in the territory have information on-site on the benefits and requirements of the FEMA Funeral Assistance Program.