The U.S. Virgin Islands Department of Health reported three new cases of Zika in the territory, bringing the total number of confirmed positive cases to 32.
There are now 15 Zika cases on St. Thomas and 17 on St. Croix. Last week, based on available laboratory test results, one Zika virus case was reported on St. John. However, final Centers for Disease Control and Prevention laboratory test results indicate this was not a case of Zika.
According to CDC, a positive Zika test result indicates that a person was likely infected recently with the Zika virus. However, the test can give an incorrect positive. These false-positive results can occur when someone has been infected with another closely related virus (such as dengue virus).
When positive or inconclusive results occur, additional testing (plaque reduction neutralization test) to confirm the presence of antibodies to Zika virus will be performed by CDC or a CDC-authorized laboratory.
[adrotate group="6"]
Currently, one pregnant woman has been confirmed positive; a total of 734 pregnant women in the USVI have been tested for Zika. There are no new cases of dengue.
In response to the Zika outbreak, the DOH has increased its Zika prevention efforts through community health education presentations, clinician and public health practitioner seminars, public service announcements, and web and social media placements.
Since activating its Emergency Operation Center in February, the DOH has conducted a total of 215 presentations throughout the territory, 18 on St. John, 70 on St. Thomas, 127 on St. Croix.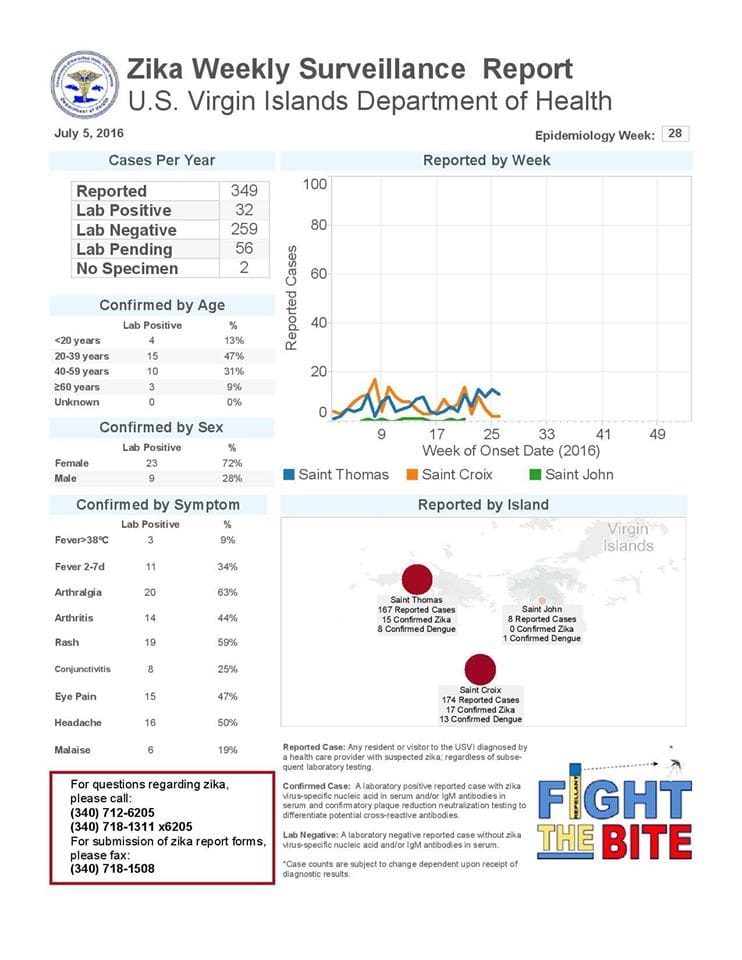 The DOH is also working closely with CDC to strengthen efforts to track the outbreak, enhance laboratory services for faster testing results, increase awareness about Zika prevention and ultimately curb the spread of the virus.
The Department of Health continues to provide the following FREE services to pregnant women:
– Free Zika testing at 12 locations throughout the territory;
– Free Inspections to look for mosquito larvae and mosquito breeding grounds at/around her house;
– Free Larvicide treatment if mosquito larvae are found at/around her house;
– Free Zika Prevention Kit, includes educational materials, insect repellent, permethrin spray repellant, condoms to avoid sexual transmission of Zika, treatment tabs for preventing mosquitoes from breeding in standing water, and a bed net.
The DOH has also been offering free Zika testing to anyone exhibiting common symptoms of Zika infection; fever, rash, joint pain, and conjunctivitis (red eyes).
Zika is spread primarily through the bite of an infected Aedes species (Aedes aegypti and Aedes albopictus) mosquito and can also be transmitted sexually. The most common symptoms are fever, rash, joint pain, and conjunctivitis (red eyes). Other common symptoms include muscle pain and headache.
Many people might not realize that they have been infected with the virus, as symptoms can be mild, lasting for several days to a week after being bitten by an infected mosquito. Others may be infected and have no symptoms.
The effects of the Zika virus are much more severe for pregnant women. If infected with Zika, pregnant women can pass the virus onto their unborn child during pregnancy or during delivery. Zika has the potential to cause a serious birth defect called microcephaly — a condition where a baby's head is much smaller than expected because the brain has not fully developed during pregnancy or has stopped growing after birth.
In addition to microcephaly, fetuses and infants infected with the Zika virus before or during birth can also have other illnesses such as eye defects, hearing loss, and impaired growth. To better understand the impact of Zika on mothers and their children, researchers in the United States and around the world are collecting and analyzing data.
Representatives from the DOH stress that there are simple steps everyone can take to protect themselves and their families from Zika and other mosquito-borne viruses by following the 4 Ds of prevention:
Dress – wear protective clothing, long sleeves, long pants and light colors;
Drain – get rid of water containers in and around your home that can serve as breeding places for mosquitoes;
Defend – use repellant on exposed skin and treat clothes with one of several EPA-approved repellants and;
Discuss – spread the word about the simple things you can do to make a difference.
For local information or to receive any of the Department of Health's free services, call the Emergency Operations Center at (340) 712-6205, visit www.healthvi.org and our Facebook page, www.facebook.com/virginislandsDOH. For more general information about the Zika virus, please call toll free: 1-800-CDC-INFO.