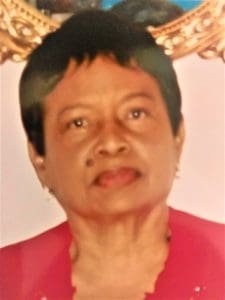 Dorene "DP" Agatha Charles Pemberton, age 87, passed away on Jan. 30 at her residence in Riverdale, Md. She was born and raised on the island of St. Croix, U.S. Virgin Islands.
Dorene was well known in the community due to her position at Public Safety, now known as the Bureau of Motor Vehicles, where she retired after almost 30 years. She was a loving mother, grandmother, great-grandmother, sister and friend.  Dorene was well loved by her family and friends. She will be greatly missed.
She was preceded in death by her parents: Maria Thomas Petersen and Frank Charles; sisters: Veronica "Vero" W. Frorup, Georgia Charles and Essilee A. Charles; brothers: Lawrence Petersen Sr., Denis A. Charles and Frank Charles Jr.; niece, Virginia "Virgie" Schuster Figueroa; nephew, Alston Petersen; and great-grandson, Mateo Gonzalez.
Dorene is survived by her daughters: Lucinda Pemberton, Myrna Koyi, Arleen (Carlisle) Rice, Patricia (Jornas) Andrews-Pierre and Annette (Rafael Sr.) Gonzalez: sons: Carl Andrews Jr. and Clifford (Charlene) Andrews; grandchildren: Emesha James, Craig Daly, Adrienne Rice, Carlisle Rice, Christina Rice, Rafael Gonzalez Jr., Ronaldo Gonzalez, Rolando Gonzalez, Jerome Christian, Mela Christian, Olajide Koyi, Oyinade Koyi, Carli 'LaCroix Andrews, Clifford "CJ" Andrews Jr., Alicia "Ali" Andrews, Nadege Pierre, Germanie Pierre and Jornas Pierre Jr.; great-grandchildren: N'Kaiya Rawlings, Aarianna Rivers-Gonzalez, Jayden Gonzalez, Kennedy Koyi, Khloe Koyi, Dominic Woodson-Gonzalez, Dyson Woodson-Gonzalez, Brooklyn Lloyd-Gonzalez and Thelonious "Theo" Haws-Rice.
She is also survived by her sisters: Mercedes "Cedes" Samuel, Winifred "Winnie" Encarnacion, Josephine Springer and Vivian Charles; brothers:  Raymond Petersen, Claudius Petersen and Sylvan Wes Charles; aunts: Emelda Thomas and Cristina Belgrove; brothers-in-law: Angel Encarnacion, Christian Frorup Sr. and Henry Springer; sisters-in-law: Alexandrine Petersen and Laurel Petersen; nieces: Elizabeth Thurland, Anna M. Encarnacion, Melissa Lake, Kimberly Samuel, Nicole Samuel, Merissa "Merry" Encarnacion, Melanesia "Fifi" Encarnacion, J'Nelle Easley, Yolanda Fitzpatrick, Gloria Gerard, LaVerne Gerard, Kathleen Gerard and Adelle Allen; nephews: Lawrence Petersen Jr., Reginald Petersen, Allan Petersen, Christian Frorup Jr., Raymond Petersen Jr., Marvin Samuel, Gregory Samuel, Michaelangelo "Miguel" Encarnacion, Troy Springer and Aaron Allen.
Other survivors include close relatives and friends: Austin Andrews, Michelle Andrews, Hilma Ovesen, Anita Felix, Earl A. Charles Sr., Cirgie Bell Sr., Frances Malloy, Pauline Walters, Ann Andrews, Lewis "Ozzie" Nation, Augustin Angol, Lucy Bough, Lisa Bough, Msgr. Rev. Michael F. Kosak, the St. Ann's Catholic Church family, and numerous other relatives and friends all loved and appreciated.
The viewing will take place from 3-5 p.m., March 2, at James Memorial Funeral Home. The funeral service will be held at 10 a.m., March 3, at St. Ann's Catholic Church, Barrenspot.  Interment will be at the Kingshill Cemetery.
Due to the COVID-19 pandemic and public health regulations, masks and facial coverings must be worn at all times. All other protocols, including social distancing, will be observed, and seating may be limited. All arrangements were coordinated by James Memorial Funeral Home.