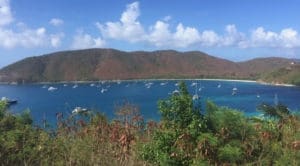 Commissioner Jean-Pierre L. Oriol of the Department of Planning and Natural Resources has announced that the Division of Environmental Enforcement has launched an online vessel registration and mooring portal.
Boaters may now submit or apply for renewals, new vessel registrations, anchoring permits and mooring applications at the Division of Environmental Enforcement's new online service "ONLINE MOORING" at the following webpage: http://my.onlinemooring.com/vi.
"During these times of social distancing, DEE is pleased to provide this convenience for the boating community, and we encourage all to join us as we move forward to a more technologically savvy process," said Howard Forbes, director of the Division of Environmental Enforcement.
Boaters may still visit the St. Croix office located in Anna's Hope and the St. Thomas/St. John office located at the Viya Building in Tutu Park Mall. If so, boaters are asked to walk with the most current registration cards and a photo of any vessel being registered to expedite the process.
The boating community is also reminded that anyone applying for or renewing a mooring application must submit GPS coordinates of the mooring in Geographic Coordinate System 1984 (GCS_WGS_1984): hdd.ddddddo , to the Division of Environmental Enforcement.
Registration is currently open until June 30, 2022; after June 30, it will be considered late and may be subject to a late fee.
For more information or assistance with the New Online Mooring system, contact Juan Cruz, outreach coordinator, at 773-5774 on St. Croix or Jessica A.M. Parris, assistant director, at 774-3320 on St. Thomas.