While construction of the planned 48 rental apartments and 24 for sale duplex townhouses included in the project has not begun, Reliance Housing Foundation was given a timeline for completing required mitigation measures.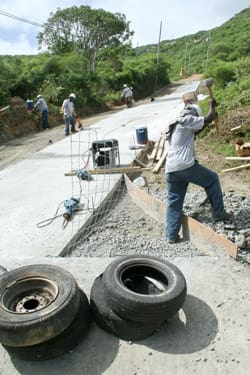 Department of Planning and Natural Resources (DPNR) officials issued Reliance an administrative order on October 25, requiring the affordable housing provider to comply with a number of stormwater regulations.
The order requires Reliance to install three rain gauges within a week; install silt fencing to the north and south of the existing gut within two weeks; install two temporary sediment basins within 30 days; construct swales leading to the basins within 30 days; and grade and pave the access road within 45 days.
No Word from BLUA
The Estate Calabash Boom site has remained quiet since a neighborhood group called Friends of Coral Bay filed a complaint against Reliance's development in March with the Board of Land Use Appeals citing environmental concerns.
Despite ruling against the complaint from the bench at a July hearing, the board has not issued a required written decision.
Construction on the buildings cannot commence at the approximately eight-acre Calabash site until that decision is filed, although the wooden roof of the Calabash Boom Senior Citizens Center in the middle of the site was recently removed and demolition has begun on the building.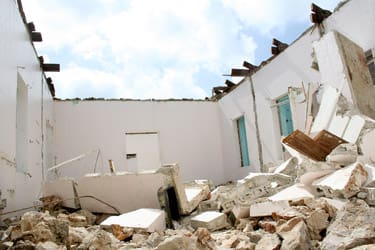 Reliance officials are also in the process of applying for a required Territorial Pollutant Discharge Elimination System (TPDES) permit which includes a Storm Water Pollution Prevention Plan.
Violations Subject to Fines
Non-compliance with the administrative order to install stormwater mitigation measures would be costly for Reliance.
"Violation of any term of this administrative order may subject respondent to an administrative civil penalty of up to $50,000 per day of violation," according to the order.
And that is just the beginning. Reliance officials will be required to comply with stormwater control measures throughout the extent of the Calabash Boom project, explained Anita Nibbs, environmental program manager with DPNR's water pollution control program.
"The Best Mangement Practices (BMPs) are going to be based on the sequence of Reliance's construction," said Nibbs. "There will be adequate storm water BMPs in place for each phase of construction. Some will be temporary and others will be permanent."
The TPDES permit, also referred to as a stormwater permit, is a component of the recently updated V.I. Stormwater Regulations which were signed into law by Governor John deJongh and adopted by DPNR in June.
Reliance's storm water application for its Calabash project, one of the first developments approved under the new regulations, has been deemed complete, according to DPNR spokesperson Jamal Nielsen.
Application Complete
"They have applied for a storm water permit and the application has been deemed complete," said Nielsen. "We are in the process of issuing public notices for the storm water permit as required."
Although Reliance officials did not return St. John Tradewinds phone calls requesting comment by press time, company officials released a prepared statement in which they expressed hope that environmental concerns have been adequately addressed.
Calling for "Good Faith"
"Since the Friends of Coral Bay have based their opposition to the development on stormwater management issues, he [Reliance president Robert Jackson] hopes they will now show their good faith and support the construction of affordable housing on St. John," according to Reliance's press release.
The 200-member Coral Bay Community Council (CBCC) is pleased that DPNR is enforcing the stormwater regulations at Calabash Boom and hopes to see enforcement stepped up at other sites as well, according to the group's president.
"The CBCC is very gratified that DPNR is starting active enforcement of stormwater regulations," said CBCC president Sharon Coldren. "We hope DPNR moves quickly on to other construction sites of over one acre that are producing visible stormwater damage too, such as 4C Little Plantation — the open dirt subdivision road dumping into the Coral Bay Harbor — and of course, Sirenusa."
Machinery Piling Up
Meanwhile, to the dismay of neighbors, the Calabash land has become the site of a variety of construction machinery and a mangled Suzuki Sidekick.
"That area never looked as bad as it does now," said one South Shore resident. "It's completely overgrown with weeds and there's a car rotting on it. If they are trying to be good neighbors this is not the way to start."