Dr. Caroline Rogers will be signing copies of her new book "The Mysterious, Magical Mangroves of St. John, U.S. Virgin Islands" which details the amazing biodiversity of Hurricane Hole, above, on December 16, at Bajo el Sol Gallery.
Dr. Caroline Roger's latest book The Mysterious, Magical Mangroves of St. John, U.S. Virgin Islands brings to life the stunning diversity of plants and animals under the surface of Hurricane Hole, which was designated a national underwater monument in 2001.
Gazing out across Coral Bay from the Bordeaux lookout, one sees an expanse of calm water fringing the finger-like bays of the island's East End.
That tranquil area known collectively as Hurricane Hole, comprised of Princess Bay and Mary, Water, Otter and Borck Creeks, hides an amazing bounty of sea life just under its surface.
Rogers, a marine ecologist with the U.S. Geological Survey, culled thousands of photographs taken during weekly snorkeling trips to the area for the 128-page publication. She will be signing copies of her book on Friday evening, December 16, at Bajo el Sol Gallery in Mongoose Junction from 5 to 8 p.m.
With vivid images of corals, fish, sponges, sting rays, sea turtles and more, Mysterious, Magical Mangroves is a delight for its sheer beauty. MaLinda Nelson was the graphic designer and her meticulous eye means the bright eyed fish and psychedelic colored sponges literally leap from the book's glossy pages.
But Rogers also had another motivation behind releasing her second publication — education.
"The objective of this book is to help people discover an extraordinary ecosystem on St. John and to increase their awareness of the need to respect mangroves in general," Rogers wrote in the introduction to the book. "Mangroves are even more endangered than coral reefs and tropical rain forests, with an estimated 35 percent of the world's mangroves already destroyed, many filled for aquaculture or used as dumping grounds."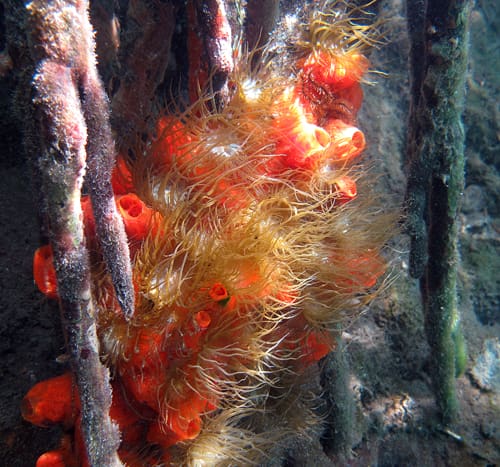 Anemones and Fire Sponges growing on the prop roots.
Boaters have long used the protected inlets of Hurricane Hole as a safe haven during storms and now they are is also a haven for animals. The day before President Bill Clinton left office in 2001, he created the Virgin Islands Coral Reef National Monument to protect the mangroves which were recognized as a nursery for juvenile fish, lobsters and conchs.
The designation meant the end to fishing in the area and set strict regulations as a no-wake zone with jet skis and water skiing prohibited. The federal designation also helped V.I. National Park and Friends of VINP to install a storm mooring system, saving the sea floor from boaters' anchors and further protecting the area.
Rogers' book explains and illustrates why the area is so important and why it's a resource to be treasured.
"The book is a celebration of the extraordinary biodiversity of the mangroves in Hurricane Hole," she said. "Hurricane Hole has been a haven for people on boats for hundreds of years, providing protection during hurricanes. Now it is also a haven for very diverse communities growing on the prop roots of the red mangrove trees which are very fragile."
"The area is incredibly unique with about 30 different coral species," said Rogers. "As far as I know, there is no other mangrove area in the entire Caribbean with so many coral species. It's amazing that St. John, only 20 square miles, has such a fascinating ecosystem."
Rogers' first book "Coral Reef Stars" was released in July 2009 and focused on the marine life living on the reefs and in the seagrass beds of St. John. While the marine scientist has called St. John home since 1984, Rogers didn't spend a lot of time in the Hurricane Hole area until just a few years ago.
"I have lived on St. John since 1984, primarily doing research on the coral reefs here," said Rogers. "I had enjoyed snorkeling in the mangroves in Hurricane Hole a few times with friends but I had no idea that they were so fascinating and diverse until I began to explore them about three years ago. This book came about because my first book was really on coral reefs and I was just learning how fascinating these mangroves were."
"As I started to find out how amazing this area was, I got excited about putting together another book," she said. "I didn't know this stuff was out there and it's just fascinating."
Rogers' new publication includes more text than her first book, but still manages to balance aesthetics with science.
"I really wanted it to be educational, but not too boring or technical," she said. "I wanted to bring the beauty of the place alive in the book, but I also wanted the scientific value to come out."
She has certainly succeeded in that endeavor. Flipping through the pages of Mysterious, Magical Mangroves bright corals, fanning sea worms, tiny cleaner shrimp and massive brain corals leap from the pages.
The book is also easy to use since subjects are organized by Phylum, or  major categories. So similar corals, in Phylum Cnidaria, comprise one chapter with different Classes and Subclasses of Phylum each listed separately.
All of the photographs in Mysterious, Magical Mangroves were taken over the last two-and-half-years in water less than 10 feet deep, with a simple click and shoot camera in underwater housing.  Which means anyone can get out there and see these types of organisms captured in Rogers' book — not that many people do.
"Mangroves are not very inviting," said Rogers. "In many places, they have been viewed as dumping grounds and mosquito-infested swamps. I want people to understand how important and beautiful they are."
Mysterious, Magical Mangroves is also an uplifting tale, at least compared to the state of local coral reefs and seagrass beds, Rogers explained.
"One idea is that many of the corals seem to be doing a bit better than the corals on the reefs," she said. "We are doing research with other USGS and UVI scientists in the area to learn more about why that is. It's a really fascinating place and the funny thing is that no one has done an inventory of this area before."
"I'm not pretending that I discovered the area, but we are actively doing research in there now," said Rogers. "We had someone come over and identify over 55 different kinds of sponges."
Far from being tired of the area after so many snorkeling trips, Rogers still gets excited to get under the water in Hurricane Hole.
"I love the feeling of the place and I really do see new things almost every time I go out there," she said. "A few weekends ago, I found a baby elk horn coral growing in Hurricane Hole. It was about two inches tall and it was fascinating because that is not where you expect to find elk horn corals."
Be sure to stop by Bajo el Sol in Mongoose Junction on Friday night, December 16, from 5 to 8 p.m. to pick up copies of The Mysterious, Magical Mangroves of St. John for the author to sign. The books are $30 each and will be available at the gallery as well as retail locations across St. John.