Our 12.14 issue included fascinating coverage by Amy Roberts about drones and their use on St. John. She looked at their use in Virgin Islands National Park, on private property and talked to an enthusiast. Here is a video filmed above the Coral Bay ball field from the drone flown by Daryl Wade, the  enthusiast who Roberts featured in "Daryl Wade Flies His Drones."
Daryl's drone

In case you missed it, here is Roberts' drone story as well as her feature on Wade.
Drones Over St. John
By Amy Roberts
St. John Tradewinds
Full disclosure: My interest in recreational drones was piqued on a quiet Sunday afternoon a few weeks ago. While hanging up laundry on my porch, I suddenly became aware of a buzzing sound, like a swarm of bees. Looking up, I saw a drone — a quadcopter — hovering over my house. Although I was wearing clothes, I felt quite naked.
The operator was clearly very skilled. The drone cruised around the homes on my hillside, then soared out over the water to a fancy villa across the bay. I watched it warily as it flew back to my hillside and was relieved when it finally appeared to be landing at a neighbor's house.
It must belong to her, I figured. Or perhaps it belonged to a friend hoping to surprise her, playing a prank. But it didn't land. It descended right down next to her window, hovering there for maybe 15 seconds, then it flew over the hill and out of sight.
It turns out that my neighbor had been out of the house on that afternoon and had no idea that a drone, probably outfitted with a camera, had been peeking in her windows. And a few days later, at around 10 p.m., I got a text from another neighbor: "The drone is back!"
I fumed. What are our rights? If a drone is overhead, can a person legally shoot it out of the sky (assuming the gun is legal and the owner has the marksmanship skills)? The answer is not clear (see sidebar), but in a recent case in Kentucky, charges were dismissed against a man who felt his family was being spied on by a drone.
When I told my story to a small gathering of friends, two others responded with recent drone incidents. In one case, a small Unmanned Aircraft Vehicle — one of the standard terms for "drone" ­— had been launched from a boat anchored in Great Cruz Bay and appeared to spy upon a group of young women who were hanging out at a pool in a private home.  The boaters, who were within earshot, laughed at the women's curses and furious gestures.
In another case, a drone operator on a North Shore beach simply ignored the warning of a knowledgeable bystander when told it is illegal to fly drones within the National Park.
If you haven't had an encounter with a drone, no doubt you soon will.
"The Consumer Electronics Association forecasts about 700,000 will be sold to hobbyists, gift-givers, and random shoppers this year, up from 430,000 in 2014 but far fewer than 1.1 million sales anticipated for 2016," according to The New York Times columnist Gail Collins.
And there's a reason they're popular.
"Drones are just plain old neat," said Rick Gupman, Chief Ranger for the Virgin Islands National Park. "Members of my own family have them, and I have watched a video of a family BBQ taken by a drone, as well as watched one crash into a family car, and yes — I do believe it left a 'mark.' But personal issues aside, they are a very serious issue that the National Park Service is trying to address long term."
The NPS tends to be conservative whenever a new activity with potentially negative consequences is introduced within the parks, Gupman explained.
In June 2014, Jonathan Jarvis, the director of the NPS, issued a memo on the subject.
"It is NPS policy to not allow a new park use until a determination has been made that it will not result in unacceptable impacts on parks resources and values," he wrote. "Except for the limited existing use of model aircraft in some parks, unmanned aircraft are a new park use and affect park resources, staff and visitors…in ways the NPS has yet to identify and analyze."
The memo went on to explain that Special Use Permits for unmanned aircraft may be granted upon written request to the NPS Associate Director, Visitor and Resource Protection, in Washington, D.C.
There are currently no Virgin Islands laws regarding the use of recreational drones, but the federal government released a new set of recommendations on November 21, 2015 to create a system of accountability.
The Federal Aviation Administration established the Unmanned Aircraft Systems Registration Task Force to complete an almost impossible job: maintain the rights of individual hobbyists while addressing the very legitimate safety and security concerns of the public.
In recent months, hapless hobbyists have crashed drones on the lawn of the White House and in the stadium at the U.S. Open in New York. (In both cases, no one was hurt, and neither operator was charged after an investigation.) But who's to say a more malevolent person couldn't use a drone for an act of terrorism?
And who's to say that a more malevolent entity couldn't use a drone outfitted with facial recognition technology to hunt down citizens exercising their right to freely assemble? Or maybe use a drone to snap photos of a celebrity sunbathing in the nude?
Hoping to encourage widespread compliance, the Unmanned Aircraft System Registration Task Force's recommendations turn out to be relatively unrestrictive. Basically, those who possesses a drone that weighs more than 250 grams—a little more than half a pound—will have to do the following:
Register once on the national electronic data base (registration covers any number of drones they might own.);
Register prior to operating the drone, not at the point of sale (this is to include those who receive drones as gifts);
Provide only their name and street address. Phone numbers and email addresses are optional;
Be over 13 years old;
Be prepared to produce the certificate of registration for inspection; and
Affix their owner's registration number on all drones they operate (unless they choose to register the drones' serial numbers) and make sure the numbers are legible.
Those who own a drone that weighs more than 55 pounds, or use one for commercial purposes, already have to follow a different set of regulations.
In spite of the simplicity of the proposed hobbyist registration regulations, the Academy of Model Aeronautics, which requires registration and contact information for its 185,000 members, has come out against the regulations as an unnecessary and unjustifiable burden to its membership.
So under the new regulations, if a drone is buzzing around your house, would you be able to trace who owns it and hold the owner accountable? You might, if it happens to crash and you can find it.
Theoretically, any drone that flies out of the range of sight must use a GPS and be assigned a frequency which is traceable.
Obviously, your chances of reading the registration numbers on an airborne drone from the ground are slim to none.
However, most recreational drones can be flown legally only within the operator's direct line of sight. This means that you should be able to see a person operating the drone, as the women by the pool (mentioned earlier) were able to do. But remember, even though they could spot the drone's operator on the boat and make their protests known to him, the drone didn't go away. Could the victims have tracked down the boat's registration number and pressed charges for disturbing the peace? Perhaps — in a parallel universe.
Both times that the drone hovered over my house, I couldn't determine where it came from or who was at the controls.
There should be some recourse, or some way to file a complaint. Maybe it's time for the FAA to establish a Drone Phone.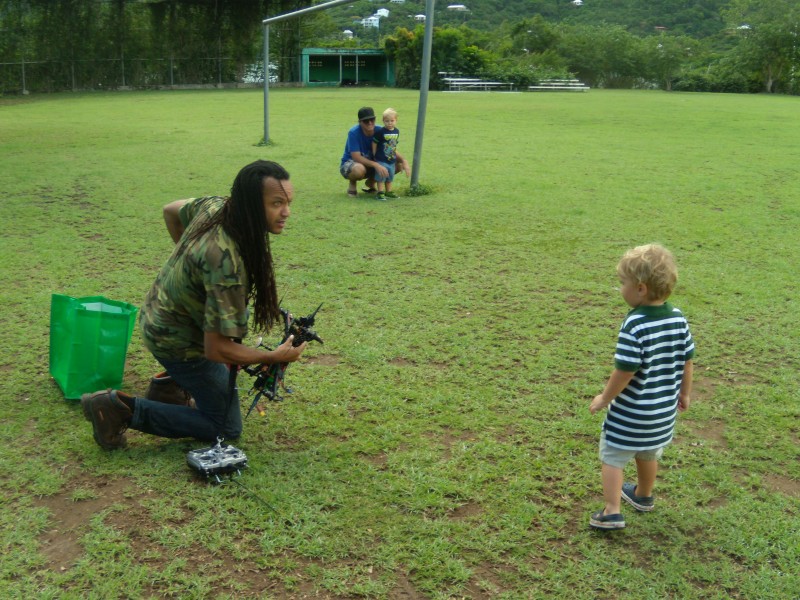 Daryl Wade Flies His Drone
By Amy Roberts
St. John Tradewinds
If you're curious about recreational drones, check out what's going on at the ball field in Coral Bay on a weekend afternoon. If the weather is good, you might find Daryl Wade flying his collection of drones.
Wade is a serious hobbyist. As a child, he used to fly remote control helicopters and other aircraft out in Coral Bay with his father, Ira Wade, the former head of Public Works on St. John.
Wade acquired his first drone more than a year ago, and now he builds his own. Part of the attraction is their complexity.
"You fix things on them every week and test things out," he said. "I program them to fly certain configurations. When you fly, you're balancing a bunch of radio frequencies; you have antennae for satellites, for control, for video."
For added thrills, he dons a set of First Person Viewing goggles so he can see things from the drone's point of view when it's airborne.
"It puts you in the seat," said Wade. "It's immersive and intense — you have to focus."
There is a learning curve, even for simple models that are ready to fly right out of the box.
"Crashes happen all the time," he admitted. "I've lost some drones before."
Fortunately, Wade's got the skills to repair them. Trained as an engineer, Wade now serves as the Senior Vice President of IT and Network Engineering for the Virgin Islands Next Generation, the Territory's state-of-the art broadband system.
For now, Wade is pretty much keeping to the recreational level of drone flight.
"For commercial flight — beyond 400 feet, you need some level of training although there are some exemptions for businesses that are knowledgeable of flight characteristics," he said. "Beyond a certain point, you're flying a plane."
Asked about the new proposed regulations regarding drones, Wade said he agreed with laws.
"I'm all for the laws," he said. "It's better to start with more regulation and ease up."
He noted that serious hobbyists follow a code —they don't fly over densely populated areas, crowds or private residences. They operate their drones strictly within the line of sight. By law, they have to stay five miles away from an airport.
Wade knows of only about four or five other serious hobbyists on St. Thomas and St. John. He can foresee a time when drone operators are called upon for more serious purposes, locating sunken vessels, or hunting fugitives with infrared cameras.
"I'd like to be involved with that," he said with a smile.
On a recent Sunday afternoon, Wade was out in the ball field with Jason Monigold, owner of Computer Express, who was testing out his model solid fuel rockets. Wade was hoping to use his drones to video them as they streaked into the sky. It proved to be tricky.
As one rocket sailed out of sight, Manigold shrugged, "It's part of Coral Bay now; I'll hunt for it," said
Perhaps in the future Wade will use his drone to find the missing rocket.