A grassroots effort is teaming with the St. John ACC to help St. John feral donkeys through drought.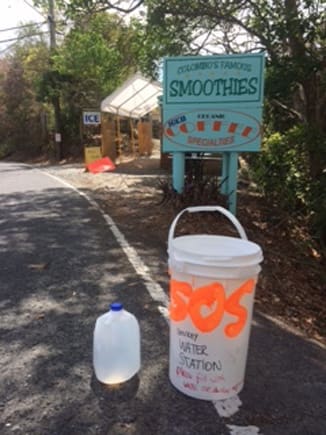 ST. JOHN — With severe and continuing drought conditions and no end in sight, a group of concerned local residents decided it was time to take action to help the dehydrated and starving wild donkeys who are in immediate need of support.
As a result, a grassroots community collaborative team was formed to provide public awareness of the problem and to secure sustainable funding solutions to support the historical animals who have roamed the island for decades.
"The ACC is thrilled to participate as the designated non-profit organization with this spirited movement" said Lucy Banks, ACC President. "The donkeys need emergency temporary relief now, at least until steady rains begin and the flora and fauna can re-grow (before the animals will be self sufficient again) so local support is really appreciated."
The ACC's primary focus is on helping dogs and cats (78 presently), however, the inclusion of donkey support was recently approved by the governing board and a special Facebook page was established in response to concerns for the donkeys care.
Donors to the ACC will see 100 percent of their earmarked donkey funds going towards food, water and necessary veterinary services. The ACC also appreciates on-going dog and cat support as well and is a registered 501 (c) (3).
Budgets for donkey care will be set up in stages, based on short-term, mid-range and long-term needs and goals, but current costs average between $600 and $1,500 per month based on the number of donkeys reached and the ever-increasing need for water and food during the intense drought conditions.
Oriel Smith, a passionate community advocate for the donkey's, has been providing his own personal resources for up to 24 donkey's care, in conjunction with the assistance of Caneel Bay Resort. When local residents heard about Smith's personal generosity, others wanted to join the movement and show their support too. The affectionate motto "Save our Asses" was then born.
Other local animal advocates include Dana Bartlett, from the Carolina Corral in Coral Bay, and she has created a GoFundMe.com site to help raise money for her business in order to obtain a new truck and trailer to help get hay to both horses and the nine donkeys at her corral.
Additional support from local retail businesses include: Big Planet, Made in St. John, Pig & Rooster, Jolly Dog, Chelsea Drug Store of St. John, Love City Beach Shop and Skinny Legs who have all graciously stepped up for the cause through either displaying and/or selling special "Save our Asses" t-shirts for local residents and tourists alike.
A percentage of the proceeds will go to support the donkey relief and the ACC will promote via social media. St. John Hardware is also offering discounted $6 buckets (normally $8.59 per bucket) for those residents who want to be a part of pro-active "bucket brigade" who will place their buckets on their property and either fill them with water, or allow other caring people to drop water into their bucket, as needed, to more immediately engage daily.
There are only three water buckets out now: one on Centerline Road at Colombo's Smoothie shop and two others on North Shore Road. The public can purchase grain to feed the donkeys from Champion Feed in St.Thomas and drop off at the ACC.
Anyone who would like to help "Save Our Asses" and show their support for the beloved donkeys, should contact Ryan Moore at the ACC at: (340) 774-1625 or donate directly on the ACC website via PayPal at www.stjacc.org. Please note that the donation is for the donkeys when making a donation via PayPal.