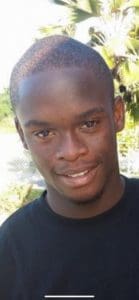 Du'Juan Christopher Tyson of Estate Catherine's Rest died on Feb. 28. He was 23 years old.
He was preceded in death by his mother, Christine J. Acosta-Tyson.
He is survived by his father, Edward C. Tyson; adopted mother, Deborah P. Peterson; sisters: Shenelle Tyson and Carla LaFong; brother: Isshan Forbes; adopted sisters: O'Keisha Huertas and O'Kerah Peterson; niece, Allison Starr Forbes; aunts: Sandra Eubanks, Carmen Acosta (great aunt and godmother), Maria Gomez (great aunt) Erica Acosta and eight paternal aunts; and uncles: Lorenzo Acosta, Lawrence Jacobs Sr. and 15 paternal uncles.
He is also survived by cousins: Damali, Dafina, Lisimba, Khalfani and Khaleedra Acosta, Stephanie and Steven Eubank, and Warren Acosta Jr.; and special cousins: Lawrence Jacobs Jr., Brian Henderson Sr., Akime Chery, Eric Velasquez, Duane Cruse, Ira Cruse, Amiah Huertas, Rolando Huertas Sr., Rolando Huertas Jr., Valerie Lynch and family, Taheem Jacobs, Claudette Smith, Debra and Melinda Ventura and family, Tasha Jacobs and family, and Burton Peterson.
Other survivors include special friends: Baldwin Hendricks Jr., Khaliem Tang-Yuk, Tarshish Fitz, Felicia Hartzog, Cassim Vitalis, Elemena John, Crystal Soto, Saida Nanton, Kennesha Hazel, Cecilia Edgecombe, Sherece Morgan, Sherresa Henry, Kimberly Nanton, Lisa Shearman, Rashoy Burke, Mathudi Reynolds, Douglas Nesbitt, Valencia Henry and family, Mary, Alexandria, Ariana and Bart Francis, Arthur Peterson, Ms. Harvey and family, Michael Wheeler, Martin Isidore, Shaquan Harry, David Wheeler, Carey Davis Jr. and Randy Gumbs; as well as other relatives and friends too numerous mention.
The family requests that those in attendance wear shades of blue.
A viewing will be held at 9:30 a.m. followed by a funeral service at 10:30 a.m. on Wednesday, March 17, at Holy Cross Catholic Church. Interment will follow at Kingshill Cemetery.