After the fire.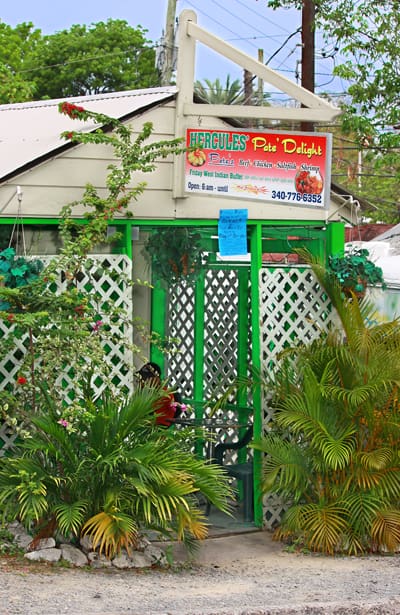 Before the fire. Photo by Eliza Magro
For the first time in 25 years, Arthur Hercules will not be serving up those delectable pates at his popular Cruz Bay eatery.
A fire engulfed Hercules Pate Delight early Wednesday morning, August 25, destroying the building Hercules had occupied since 1985. The buildings on either side of Hercules Pate Delight were also damaged by the early morning fire, according to V.I. Fire Department's St. John Chief Winnifred Powell.
"We got a call from 911 around 2:35 am. this morning that there was a fire in the area of Hercules Pate Delight," said Powell on Wednesday afternoon, August 25. "We responded and Hercules Pate was fully engulfed. There was also damage done to the buildings to the left and the right of Hercules."
The ice cream truck parked in front of Hercules was also gutted by the fire, explained Powell.
"The ice cream truck was gutted because of the heat and the close proximity to the fire," said the fire chief.
No one was injured in the blaze. VIFD officials declined to comment on the cause of the fire until their investigation is complete. More information should be available later in the week, Powell added.
"We're checking the gas lines and the electric lines just to make sure, said Powell. "We want to eliminate all the possibilities and probabilities to figure out what happened."