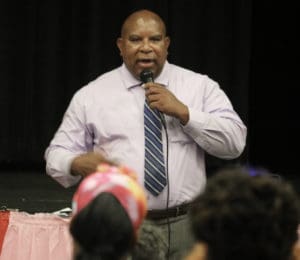 The Department of Education assured the Board of Education they are ready to open schools starting with pre-K to third-grade students in an emergency board meeting Wednesday.
Previously, on Aug. 27, the board called the Department of Education's plans for selected groups of public-school students to return to campus for face-to-face learning premature.
"The board is against the return to in-person learning until the department has attained the required clearances that attest to the readiness and safety of the territory's public schools and until there is documented evidence of the ability to safely provide instruction based on factors such as adequate staffing and properly prepared classroom spaces," the Board of Education said in a news release issued Saturday, Aug. 28.
"We are ready to reengage, reignite and recover learning," said St. Croix Insular Superintendent Carlos McGregor, reassuring the board at Wednesday's meeting.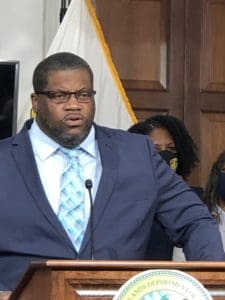 McGregor and St. Thomas Insular Superintendent Stefan Jurgen both listed the precautions and measures that will be taken for children from Pre-K to the third grade to return to school.
The Department of Education announced on Aug. 27 that in-person learning will resume on Sept. 7 for pre-K through third grade, special education self-contained classes, and career and technical education students enrolled in a specific career pathway.
Board of Education Vice-Chair Winona A. Hendricks said, "My question really pertains to the decision that was made by the Department of Education regarding high schoolers not participating in in-person learning and you did mention that the better practice is to have students in school. I'm concerned that with all the research being done that indicates that our 12-year-old to 17-years-old students can be vaccinated with parental consent."
"I'm trying to find out how was the decision made not to allow our senior and middle school students not to participate in the in-school process and also can the department consider having vaccination team on site?"
McGregor said the Delta variant played a role in students beginning the school year virtually, then the department decided to bring the students back on a staggered basis and the most vulnerable students are the pre-K to third grade.
"The most effective learning is when teachers and students are in school," said McGregor. "We want to make sure by the time the students leave the third grade they are reading and that's why it is so important for that group of students to come in."
McGregor said that they saw one of the highest attendance rates with the pre-school students. He said that may be because a parent was probably sitting right next to them on the computer assisting them. "By bringing the students back those parents have the opportunity to go back to work," said McGregor.
The department also noticed that high school students were also assisting younger students. "Now having them back in school will allow them to focus on their work without any interruptions," said McGregor.
Education Commissioner Racquel Berry-Benjamin said that they have discussed bringing back 12th-graders before other grade levels. Based on the guidance of the Department of Education Berry-Benjamin said, "we have to bring back our students on a staggered approach."
Berry Benjamin said because there is no legal mandate in place there is no way for the department to make vaccines mandatory. "The Department of Education cannot mandate vaccines," she said. What the Department of Education is planning on doing is taking vaccine surveys with faculty and has already conducted one with parents.
"Vaccination will be determined once we get feedback from the government as a whole," Berry-Benjamin said.
Assistant Education Commissioner Victor Somme said that they have been working with the Department of Health and its federal partner, Infinity Empowering, a contractor with the U.S. Department of Health and Human Services. "We have met on multiple occasions with the Centers for Disease Control and Prevention and have been meeting with school nurses on a weekly basis since May of this school year."
Somme said the American Federation of Teachers has partnered with the Department of Education, Department of Health, and the Office of the Governor to begin the vaccination process in schools.
"We have targeted the week of Sept. 20 to do territorywide vaccinations. Keep in mind that vaccination is not mandatory," said Somme
They will use three schools in each district. For the St. Croix District, vaccines will be given at the Claude O. Markoe Elementary School, the St. Croix Educational Complex High School, and the Juanita Gardine K-8 School. In the St. Thomas District, vaccines will be given at the Ulla F. Muller Elementary School, Charlotte Amalie High School, Bertha C. Boschulte Middle School, and Julius E. Sprauve Elementary School.
During that week the Department of Health will mobilize with the Department of Education and all faculty that wish to be vaccinated at that time are welcome.
Somme said he has been attending weekly meetings to discuss vaccination within the Department of Education. "Once we can get as many employees vaccinated as possible then we will begin focusing on parents vaccinated because students require parent consent to become vaccinated," said Somme
Board of Education Member Nandi Sekou expressed concern with the Department of Education addressing the social effects of students returning to school.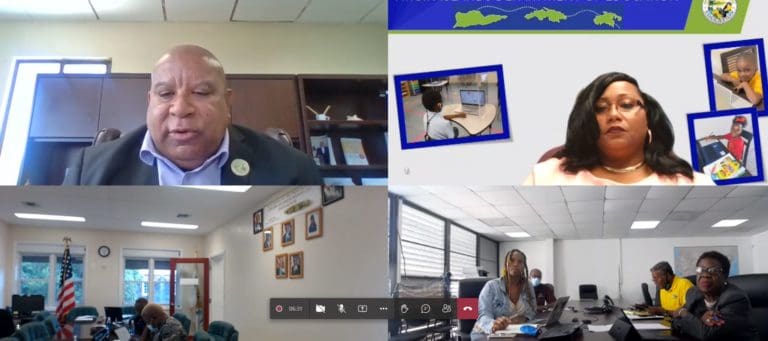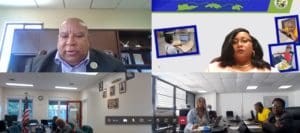 Deputy Superintendent Ericilda Ottley-Herman said that teachers and counselors will be provided with strategies to engage students. They are also seeking to hire a program assistant to help with social-emotional wellness that they anticipate beginning in October. Jurgen said that for the Thomas District they have partnered with two psychological agencies.
The Department of Education plans to continue to provide information to the Board of Education about their plans. Board members present were Chairman Kyza A. Callwood, Vice-Chairman Winona A. Hendricks, Terrence T. Joseph, Jeanette Smith-Barry, Nandi Sekou, and Judy Gomez.
For more updates, parents can follow the Department of Education's Facebook Page