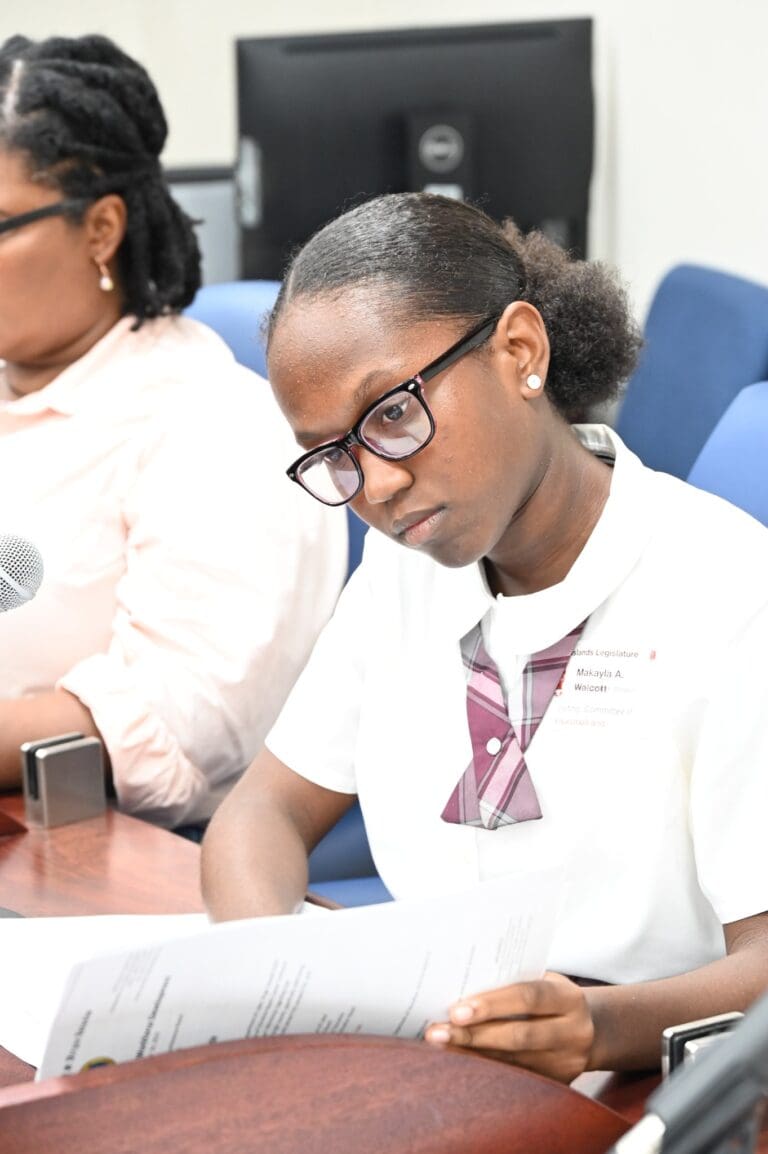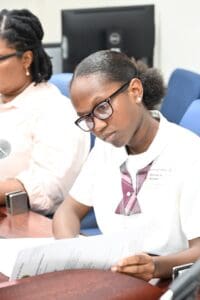 While the Education Department officials testified Thursday about projects to be done, students told the Committee on Education and Workforce Development about everything broken.
Victor Somme, Education Department assistant commissioner, read testimony stating, "Bathroom renovations territory-wide is a priority. A contract is in place with Lightning Construction to repair the 14 restrooms at Central High School. Bundling was done for the remainder of the restroom renovations in the St. Croix district. The scopes are prepared, bid packages have been dispersed. Once a vendor is selected, we will be able to proceed with the renovations of the restrooms. The same bundling will be done in the St. Thomas-St. John district to upgrade all restrooms."
Students testified that bathrooms at Central High School and the Educational Complex were unsanitary, broken, and without soap or hand towels.
St. Croix District Superintendent Ericilda Ottley-Herman said these issues being raised by the students appeared to be more maintenance issues than rehabilitation issues. She said the department has the supplies — soap and towels – in store rooms.
Sen. Marise James, who chaired the committee hearing, said that learning that none of the student testifiers used the bathrooms was disturbing. She said, "We are damaging their health."
Sen. Carla Joseph asked what the timeline was for rehabilitating the bathrooms. Somme said work had already begun on Central's restrooms. However, he could not give a completion date for those bathrooms or a date when work would start on the other bathrooms.
Jeans Fabian, a student at Central, said another health issue was mold in the classroom. He said that after spending one day in a moldy classroom, he had to spend six days at home sick.
Ace Payah, a student at Complex, asked when the problems would be resolved and whether the people responsible for the poor maintenance of the school would be held "accountable."
A concern for student Makayla Walcott was bugs at Central. She said she did not know what they were, but "they needed to be exterminated."
Unhealthy and unsanitary conditions were not the only concerns the students had. They also mentioned frequent power outages by the Water and Power Authority, causing interruption in their education and causing gloomy hallways to become dark and gloomy hallways.
The John H. Woodson Jr. High School campus was closed due to environmental concerns after a pipe burst in the wall of the B wing earlier this year. This led Education officials to send Woodson students to St. Croix Central High School with double sessions and periods of virtual learning.
Walcott said, "No one is prepared" to go back to virtual learning. Fabian said that the WiFi connection at the schools is poor.
Sen. Marvin Blyden said the testimony from the students was "on point," and he was proud of them.
Maqueda Noorhassan, a parent of a Woodson Jr. student, told senators about her concerns over conditions at Central High School. These issues included termites, red ants, and swampy conditions on the campus. There was also concern over using water on campus with the current lead contamination on St. Croix.
Sen. Franklin Johnson said the students should not have to endure what some students now endure. He added, "Every single one of us is at fault."
Commissioner of the Education Department Dionne Wells-Hedrington, who attended part of the meeting, stated in written testimony, "The increase in maintenance concerns can be traced to the age of facilities and the increased requirement for air conditioning and electrical connections for modern educational hardware."
She added, "We expect our issues to continue as we work with our federal partners to acquire funding to modernize or rebuild our schools. Currently, in the territory, we have four facilities under 40 years old."
Sens. Marise James, Donna Frett-Gregory, Marvin Blyden, Samuel Carrión Diane Capehart, Dwayne DeGraff, Novelle Francis Jr., Kenneth Gittens, Javan James Sr., Franklin Johnson, and Carla Joseph attended Thursday's hearing.