Delegate to Congress Donna Christensen, above, joined in the fun during Emancipation Day festivities in Cruz Bay. Mano Boyd open with the blowing of the conch shell. Photos by Chuck Pishko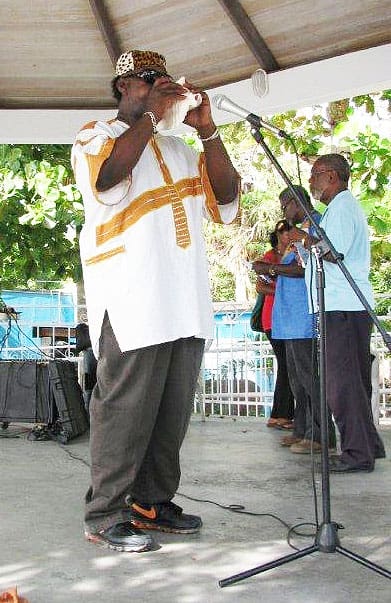 On Tuesday, July 3, St. John observed Emancipation Day with a Cultural Day event at Frank Powell Park in Cruz Bay. Complaints were heard about the inordinate delay of one hour in the program starting and suggestions are being gathered on how to eliminate this error for future programs. 
Despite the delay, however, the program was well received. Emmanuel "Mano" Boyd welcomed all with his conch shell call to gather. Pastor Carlyle Sampson of the Nazareth Evangelical Lutheran Church offered an opening prayer calling down God's blessings on the people gathered and offering thanks in being able to benefit from the freedom fought for and won by our forbearers.
Carla Sewer and Oswin Sewer, Sr. led the program with renditions of the National Anthem and the Virgin Islands March. They reviewed the many factors that led to freedom from slavery including a general uprising and strike by the St. Croix enslaved Africans. The slaves marched on Fredericksted. These actions by the slaves led to their immediate emancipation to avoid bloodshed and further destruction.
Sewer introduced Congresswoman Donna Christiansen who was on St. John to attend our Fourth of July festival. She commended all for taking time out of their celebration of the Fourth of July to remember what their ancestors had endured in their quest for freedom. Christensen reminded the audience of the key role in this fight for freedom played by the 1733 Slave Revolt right here on St. John.
The celebratory dancing of the We Deh Ya Cultural Dancers from St. Croix was a delightful transition from the remembrance of the struggle to the sheer joy of dancing, good food, music, and the future of continuing freedom.
As an aside, the delegate took time to track down our Fish Bay neighbors in D.C. who were caught in the storm aftermath there; i.e. no power. She also took time, along with others, to dance with the Cruzan troupe. 
Our good friend, Alvis Christian of the John's Folly Learning Institute offered the suggestion that we offer more for school children. I'm sorry that they weren't there. They would have enjoyed both the history and dancing.