Views abound, below, at V.I. Friendship Villa perched on Great Cruz Bay, above.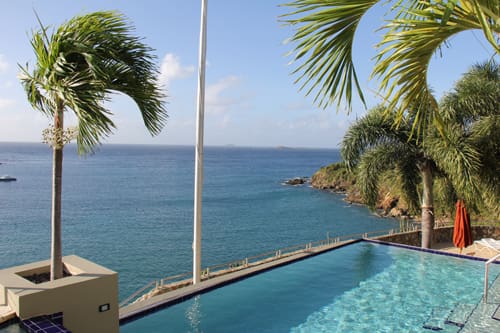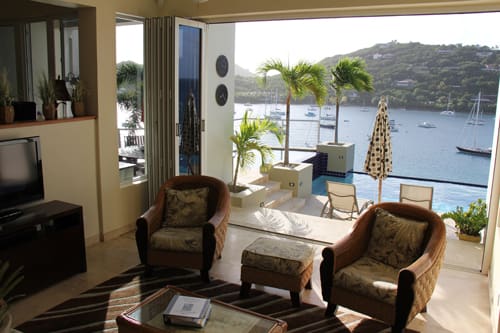 Folding glass windows to bring the outdoors inside.
With its very own bulkhead sandy "beach" area, you'll surely find it difficult to tear yourself away from the breath-taking views at V.I. Friendship Villa.
This six bedroom, six a half bathroom, Great Cruz Bay home offers the best of Caribbean living and is for sale for $4.9 million, explained Holiday Homes of St. John sales associate Abigail Schnell O'Connell.
"All the key elements of a superb vacation villa can be found at VI Friendship Villa," said O'Connell.
The home is nestled on a 0.86-acre lot on a hillside overlooking Great Cruz Bay and is just a few minutes outside of Cruz Bay. The alabaster beaches of the island's North Shore are only a short drive away as well.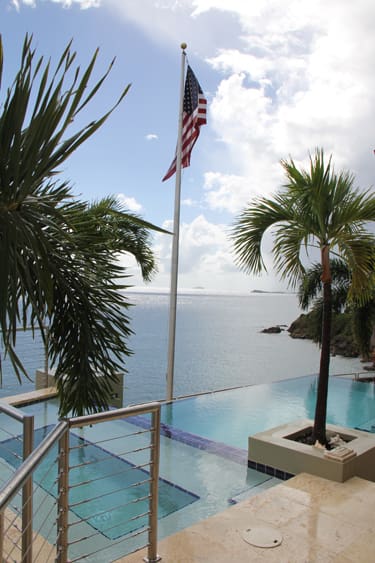 The infinity pool and hot tub, above, is adjacent to the dining and TV room, below.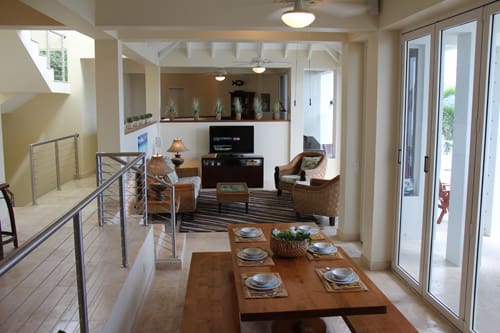 But with six bedrooms, each with its own en suite bath, an infinity edge pool and hot tub and your own sandy "beach," you just might not want to leave the comforts of V.I. Friendship Villa.
Taking clear cues from the boats bobbing on their moorings in Great Cruz Bay below, V.I. Friendship Villa incorporates contemporary architecture with a distinctly nautical flair.
You'll surely spend countless days lounging by the refreshing swimming pool as you soak up those jaw-dropping water views.
"V.I. Friendship Villa is perched cliff-side along the water's edge of Great Cruz Bay with stunning views of the south shore and beyond," said O'Connell.
On cool evenings, take a dip in the hot tub, which cascades right down into the infinity edge pool. Or stretch out on a lounge chair on the bulkhead where you'll find your own private "beach" area.
"Just below the pool level is a sandy beach area which is perfect for getting your feet sandy without even getting into the vehicle," said O'Connell.
Six Queen Bedrooms
Inside V.I. Friendship Villa, find six equally-sized, air-conditioned queen bedroom suites each with its own private balcony and specious en-suite bathrooms.
The great room includes a comfortable living area and an open-plan kitchen with granite countertops and stainless steel appliances. An indoor dining area is just a few steps away and is ideally situated for entertaining guests.
The home also boasts a fully equipped gym and a game room, sure to keep the young, and young-at-heart alike, entertained for hours, O'Connell explained.
"The air-conditioned game room provides built-in fun with a pool table, ping pong table, custom made bistro game tables and a 46-inch flat-screen TV," said the Holiday Homes of St. John sales associate.
While the entire home is beautiful, the main draw of V.I. Friendship Villa, however, is found just outside the oversized glass-paneled doors of the great room, O'Connell explained.
"Oversized glass-paneled doors fold to one side, opening up the indoors and lead out to the heart of VI Friendship Villa – the infinity-edged pool, built-in hot tub, a sunning area, bar and outdoor grill," she said. "A short staircase descends from the pool and sun deck area to the bulkhead sand beach area flanked by palm trees."
"This luxury villa offers it all; high quality waterfront living with comfort, amenities and a birds eye view of your boat in the harbor below," said O'Connell.
For more information about V.I. Friendship Villa, call O'Connell at Holiday Homes of St. John at (340) 776-6776 or on her cell at (340) 998-1934.