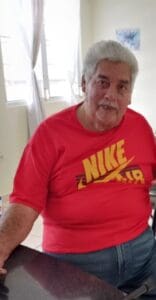 Enrique Rodriguez Monell, also known as "Capu," of Estate White Lady died on July 1. He was 79 years old.
He was preceded in death by his mother, Vicenta Monell; father, Benigno Rodriguez; sister, Bienvenida Beatty; brothers: Benigno Rodriguez Jr. and Maximo Rodriguez.
He is survived by his companion, Janet Santiago Martinez; daughters: Melania Rodriguez and Arlene Rodriguez; sons: Enrique Rodriguez Jr., Armando Rodriguez, Joel Rodriguez and Javier Rodriguez; and grandchildren: Enrique Alejandro Rodriguez, Karlos Giovanni Rodriguez, Giovanniel Alexis Rodriguez, Analia Yadrina Rodriguez, Adrian Armando Rodriguez, Jadriadna N. Rosario Rodriguez, Amanda Castillo Rodriguez, Izeek Rodriguez, D'niya Rodriguez, Joel Rodriguez Jr., Shadaejah Rodriguez, Agyei Rodriguez, Zyanali Rodriguez and Nayeli Ponce.
He is also survived by great-granddaughter, Nazairah Rodriguez; nieces: Kaysteine Briggs, Adriana Beatty, Virgen Maria Rodriguez, Angie Rodriguez and Maritza Michelle Rodriguez; nephews: John Beatty and Benny Rodriguez; uncle: Ignacio "Yolo" Monell; and special friends: Angel Prado Lopez, Sixto Piñiero Jr., Jose "Papo" Martinez, Maximo Sanes, Eliud Roldan and Eluterio "Chire" Parrilla.
Other survivors include cousins and other relatives: Marcela Saldaña, Jorge Ventura, Melvin Monell, Feliciano Cintron, Carmen L. Romero, Avelino Romero, Gloria Romero Middleton, Juana Baa, Carmen Monell, Julio Monell, Manuel Parrilla, Robert Parrilla and Luz Moss; as well as other relatives and friends too numerous to mention.
A pubic viewing will be held from 3-5 p.m., Thursday, July 21, at James Memorial Funeral Home. The family is requesting that attendees wear a mask.
A second viewing will take place at 9 a.m. followed by a funeral service at 10 a.m., Friday, July 22, at St. Joseph Catholic Church. Interment will be at Kingshill Cemetery.