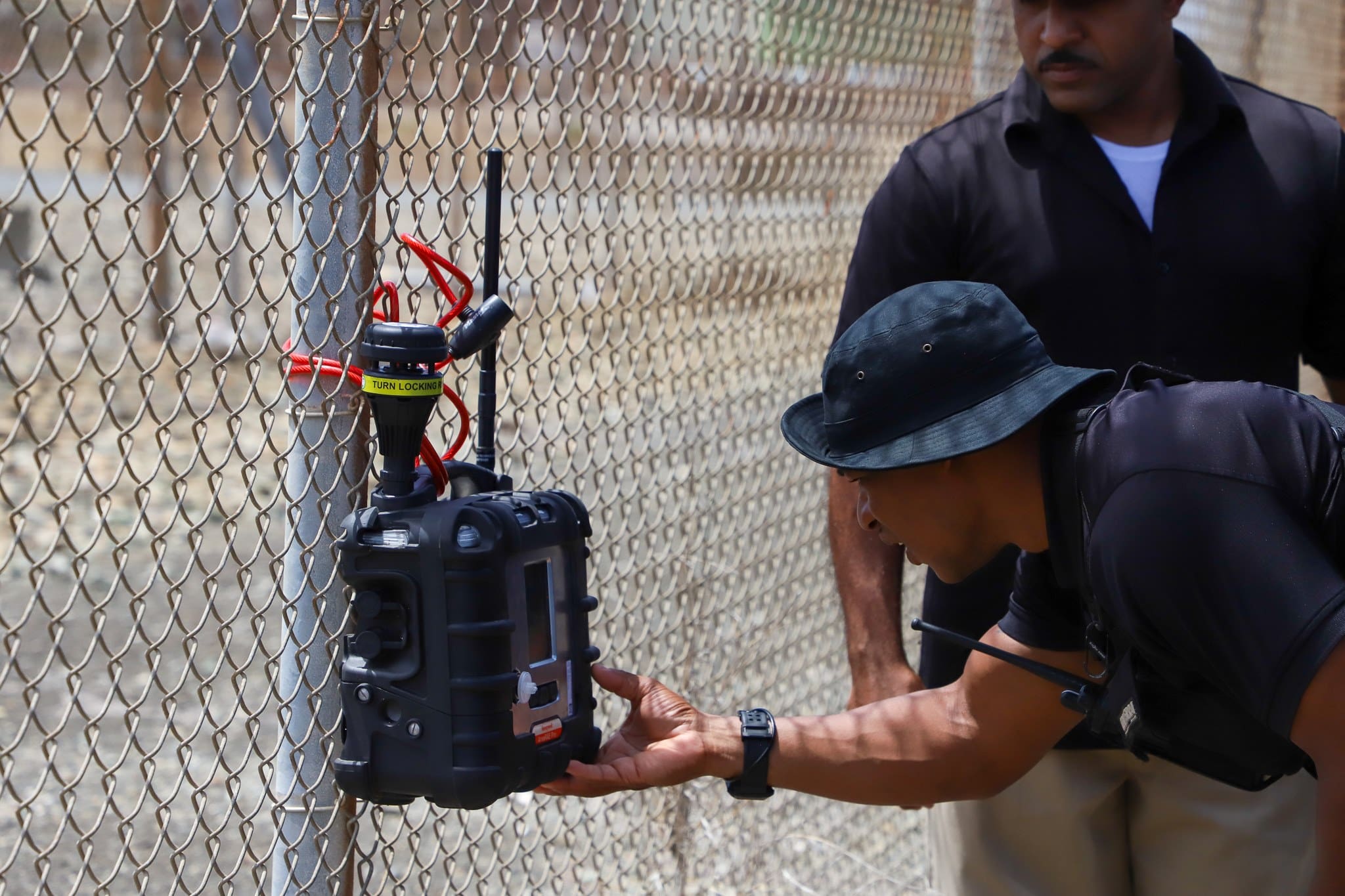 As reports of noxious odors and health effects on the west end of St. Croix entered a second week, the V.I. government, Limetree Bay refinery and the Environmental Protection Agency each began conducting hunts to find out the cause, with initially confusing results.
Gov. Albert Bryan Jr. on Friday announced the creation of a unified command under his administration's leadership; a system to help local and federal agencies coordinate their efforts in an emergency or disaster.
On Saturday and Sunday, the administration reported that the Virgin Islands National Guard Civil Support Team had found elevated levels of sulfur dioxide near the Limetree refinery from its initial tests; but none inside the refinery.
Limetree countered on Sunday with results from its own air monitoring efforts at five locations west and north of the plant: "Zero concentration of hydrogen sulfide, zero concentration of sulfur dioxide and zero concentration of hydrocarbons."
As confusion ensued about who was monitoring with what equipment, the EPA issued a statement:
"As of today, May 10, EPA has not commenced air monitoring on St. Croix. Air monitoring referenced over the weekend and last week by Virgin Islands government and by Limetree Bay was not conducted by EPA."
On April 30, the agency sent emergency response personnel to St. Croix to investigate Limetree's compliance with the Clean Air Act. A notice of an alleged Clean Air Act violation for not operating five sulfur dioxide monitors quickly followed. The investigation is ongoing, a spokesman said.
"Once deployed and after equipment has been prepared, EPA will begin monitoring the air near the Limetree Bay refinery facility in St. Croix," the agency's statement read. "EPA experts plan to monitor for sulfur dioxide [SO2] and hydrogen sulfide [H2S]. EPA plans to use equipment that will include paired SO2 and H2S monitors at five fixed sampling stations. EPA experts will also have handheld equipment that is capable of monitoring SO2 and H2S."
The chemicals tested, the type of air monitoring equipment used and who operates it are all important, not only for providing the most reliable data to protect residents' health but also for enforcing environmental compliance, according to Jane Williams, the Sierra Club's National Clean Air Team chair who worked on the rules that govern refineries.
"You can't just use any old sensor. The EPA and V.I. government must produce actionable data if monitoring is going to produce any actionable effect," Williams said.
The Source's emails to Limetree, the Virgin Islands Territorial Emergency Management Agency, DPNR and Government House seeking to learn the type of monitoring equipment being used were unanswered as of Monday evening.
However, DPNR Commissioner Jean-Pierre Oriol clarified that his agency doesn't have any air quality monitors of its own.
"When there is an odor complaint or investigation, DPNR requests the raw data for the facilities it has permits with," Oriol explained. "In the data, we look for anomalies in three-hour cycles from the report of the instrumentation itself."
In the case of Limetree's emissions, DPNR inputs the information into a database that informs the federal government's Clean Air programs. The V.I. government is a delegated authority to implement the Clean Air Act. If it's not doing so correctly or it lacks capacity, the EPA can remove that authority, as almost happened in 2015.
"We made 19 recommendations, ranging from beginning withdrawal of USVI's authority for implementing EPA-authorized programs to providing additional EPA oversight," the report by the EPA's Office of Inspector General began.
Lt. Gov. Tregenza Roach said he is confident that the territory, with the EPA's help, has the ability and resources to track down the source of the persistent chemical odors. The EPA's equipment is expected to arrive on St. Croix this week with a national Clean Air expert to operate it, a spokesman said.
It will be the first time Limetree's emissions have been independently monitored, Oriol said.
The data EPA collects will be shared with DPNR, the V.I. Department of Health and the Agency for Toxic Substances and Disease Registry, an arm of the Centers for Disease Control, to interpret it for potential impacts on residents' health and make sure they're informed.
Meanwhile, St. Croix's Reef Broadcasting said it received more calls about odors from residents on Monday.
In Frederiksted, "That sulfury smell still seems to be there. It's still going strong," St. Croix Environmental Association acting Director Jennifer Valiulis said. "It's a headache-inducing, eye-watering chemical that makes me feel dizzy and really sick. My dogs are dragging and listless."
Environmental town hall
On Thursday, May 13, a virtual town hall will gather experts and officials to address the health and environmental impacts of recent events at Limetree. Hosted by the St. Croix Foundation for Community Development and its partners, the event from 6 to 7:30 p.m. invites Limetree, the Office of the Governor, members of the 34th Legislature, the EPA, DPNR and DOH to help answer the public's questions and concerns.
Those who want to take part in the Engage V.I. Environmental Town Hall can register online at Eventbrite.
More ways to contact the EPA
The EPA has set up more points of contact for Virgin Islanders to report chemical odors and health effects:
– A toll-free number, 1-866-462-4789. EPA staff on this line will answer questions and log information from 8 a.m. through 6 p.m. seven days a week. After hours calls will be responded to promptly the next morning.
– An email address, stcroix@epa.gov, invites community comments, tips, referrals and complaints.
The EPA's Limetree Bay website has current permitting and enforcement information.
– Health concerns or questions can be addressed by the V.I. Department of Health's Environmental Health Division at 340-718-1311, ext. 3709.
– To report an environmental emergency or major release, call the EPA's National Response Center at 1-800-424-8802.