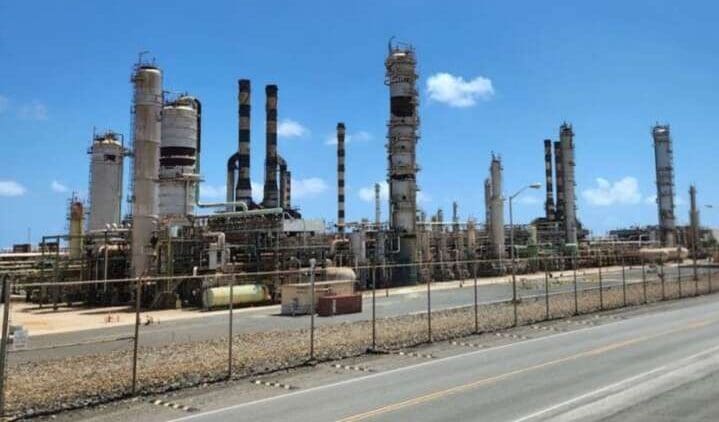 Owners of the St. Croix oil refinery must hire experts to safely remove dangerous chemicals stored at the plant and remedy systemic shortfalls that made keeping the materials unsafe, the Environmental Protection Agency said Monday.
Charles Chambers, Port Hamilton Refining and Transportation's principal owner said the company welcomed the environmental protection agreement and was already working to implement its stipulations.
The EPA order, part of a consent agreement, requires Port Hamilton, which bought the refinery early this year, to remove chemicals used in petroleum refining: ammonia, liquified petroleum gas, amines, and hydrogen sulfide.
The refinery houses more than 40,000 pounds of anhydrous ammonia, which is poisonous, flammable, and highly corrosive. Piping and valves used to handle more than 37,000 pounds of liquified petroleum gas "are in an advanced state of corrosion and disrepair," according to the EPA, which found similar potentially dangerous maintenance problems in September.
EPA inspectors identified safety concerns, including corrosion of piping and valves, that could result in a chemical release or fire, particularly in areas where there are large quantities of ammonia, liquified petroleum gas, amine, and hydrogen sulfide.
EPA inspectors warned a release of anhydrous ammonia could be catastrophic and affect people outside the refinery's fencing.
In November, the EPA announced the refinery needed new permits and equipment to restart — a process that could take three years and cost hundreds of millions of dollars.
The new order requires a qualified contractor to assess three refinery systems containing the dangerous chemicals and determine how to safely remove them. A timeline for removing the chemicals depends on several factors.
Once a contractor is approved by EPA, that contractor has 30 days to perform an assessment of the infrastructure systems and propose safe chemical removal options. The contractors have seven days to report proposed options after the initial assessment. EPA will review the report and comment if needed. Work on the removal must start within five days of EPA's approval.
The order also requires reports to be submitted to EPA during and upon the completion of work. The order provides for EPA's oversight of all work and contains enforcement provisions.
Chambers said the company was working on it.
"We had already retained certified third-party experts to complete an inspection as part of our corporate due diligence to restart the refinery and immediately engaged them to help us address the mechanical integrity concerns of EPA. We have since implemented measures to enhance the safety of our operations as we complete the work requested by the EPA," Chambers said in a written statement.
The EPA said the consent agreement order addresses the most pressing problems at the refinery, but other environmental issues would be acted on in the future. The agency has a toll-free hotline at 866-462-4789 and an extensive webpage dedicated to the refinery.
The refinery has been controversial since its opening in 1965. It's faced numerous pollution accusations, including spraying St. Croix homes with oil at least twice in late 2020 and early 2021, causing sickness and contaminating cisterns and gardens. Those incidents led the EPA to issue an emergency order shutting down the refinery for 60 days.
The refinery ceased operations in 2012 only to partially restart in 2020 under Limetree Bay Refining. The refinery has been shuttered since May 2021 after the disastrous restart attempts. In June 2021, Limetree Bay announced it was closing indefinitely and, one month later, filed for Chapter 11 bankruptcy in the U.S. Bankruptcy Court for the Southern District of Texas.
Port Hamilton emerged the winning bidder but even that was coated in uncertainty as initial reports had the company partnering with another in the sale, West Indies Petroleum. In June, Limetree Bay, as Limetree Bay Terminals, sued Port Hamilton, West Indies Petroleum, and Excel Construction for unpaid debts.
In a Nov. 15 filing with the Superior Court of the Virgin Islands, attorneys for Limetree Bay claimed Port Hamilton was "an alter ego under the directive of West Indies Petroleum" as well as Excel and Port Hamilton's owners, Chambers and David Roberts.
In his statement Monday, Chambers said Port Hamilton was "an independent U.S. company based in St. Croix, U.S. Virgin Islands and majority owned by Caribbean business people."
In a Thanksgiving letter to employees, Chambers and Roberts said they would press ahead in opening the plant.
"We are also immensely grateful and appreciative, not only to you, but also to those people who stand firmly behind you and encourage you daily — your families, and your friends and neighbors, who wish us success in our mission to safely restart this refinery," they wrote.