After watching the culmination of years of work, Bruce Schoonover shed tears of joy and pride on Wednesday, November 29, and he wasn't the only one in the room overcome by emotion.
Schoonover, a board member of the St. John Historical Society, gave St. John Tradewinds reporters a sneak preview of the 32-minute documentary which he, Steve Simonsen and William Stelzer have been working furiously on for the past several months.
"Establishment of the Virgin Islands National Park," has been a labor of love more than two years in the making for Schoonover, who first developed an hour-long power point presentation on the topic for the historical society last year.
[adrotate group="6"]
"It all started because my wife Sharon and I are docents at Annaberg Plantation and it's our responsibility to be able to answer visitors' questions," said Schoonover. "That led us to do a lot of research and we wrote a 50-page docents guide for the VINP. I also used the research I had done to develop an hour-long power point presentation for the historical society."
"Everyone's reaction to the presentation was amazement," Schoonover continued. "People said it should be turned into a documentary to reach a broader audience."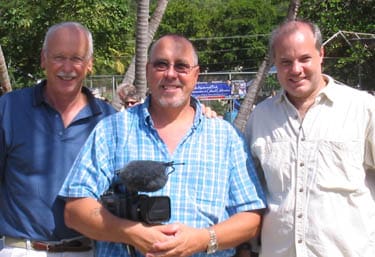 Broader Audience
Schoonover approached local photographer Simonsen who in turn brought on film editor Stelzer to collaborate on the project. The three decided the documentary should be attached to the Friends of the V.I. National Park, which ended up funding the project.
During the research phase, Schoonover had full access to materials at the Rockefeller Archive Center in Sleepy Hol-low, New York, and the Rocke-feller Foundation in New York City.
"The Rockefeller Center really got behind this and we were even in touch with Laurance Rockefeller's son, Larry, who supported the project," said Schoonover. "The Rockefeller Foundation also opened its doors. We clearly had the incredible support of the Rockefellers and David Stick."
Stick Family Support
David Stick is the son of Frank Stick, who, along with Laurance Rockefeller, played a key role in establishing the VINP by securing many of the deeds included in the original Deed of Gift. David Stick welcomed the Sc-hoonovers to his home in North Carolina and opened his personal archives as well.
Original Texts
"My wife and I stayed with David for four days at his insistence," said Schoonover. "He turned over papers to us from the Outer Banks History Center and I was able to copy more than 700 pages of original text. David also had an eight minute home movie in its original 15-millimeter format from Lameshur Bay."
After about two and a half years of research, Schoonover and Carolyn Kormann wrote the preliminary script for the documentary, and the work was turned over to Simonsen, director of photography and narrator, and editor Stelzer.
"First of all, it was probably the second most ambitious project I've taken on," said Simon-sen. "It was definitely the largest video project, the most involved and the most like a big budgeted documentary program."
Professional Feel
"Our goal was to have people see this project and not say 'this is a homegrown little movie,' but have the look and feel of something you would see on the History Channel," Simonsen continued.
Simonsen, Stelzer and Schoo-nover definitely accomplished their goal — the film is beautifully narrated, shot and edited with a distinctly professional feel.
Original films, photographs and paintings from the 1930s, 40s and 50s are interspersed with Simonsen's impressive footage of current day St. John — both above ground and underwater.
St. John Better Than Ever
Comparing archival and present-day footage impressed Simonsen.
"One of the most remarkable things that I discovered shooting the project and capturing and logging the archival films was that the natural part of St. John looks so much better than it did 50 years ago," said Simonsen. "There are more trees, bigger trees and more vegetation. The rocks and hills look identical to how they did in 1956, but with more lush vegetation."
"Basically that means the VINP is doing its job and doing what it was intended to do," Simonsen continued.
The end of the video shows key people in the community, such as Guy Benjamin, Eleanor Gibney, Rafe Boulon, Elroy Sprauve and Andromeada Childs discussing their personal associations with the VINP. As impressive as this footage is, it almost didn't make it in the final product, Simonsen explained.
Keeping In Interviews
"The film is two minutes longer than 30 minutes and that is probably because of the end which I feel is probably the best four minutes in the whole program," said Simonsen. "There was a time in the editing where there was huge consideration to not having these interviews in at all and I just about died because of the amount of time I put into capturing those interviews. I thought they were really important."
The interviews did make the final cut, but editing the project was no easy task, explained Stelzer.
Showing and Telling Story
"I kind of took a more challenging track when I started because there are a lot of documentaries that are done which show the place today and say this is what happened here," said Stelzer. "I wanted to show the place today and say this is what happened here and show the story in that time. I limited myself to source film, source stills and source drawings from the 1930s, 40s, and 50s."
Stelzer spent most of his time acting as a detective, tracking down the original images, he explained.
"Using the original works made it much more difficult for me, but I learned a lot more and met a lot of people in the process of trying to find these images," Stelzer continued.
Simonsen and Stelzer occasionally butted heads during the editing process, yet most great collaborations seem to work the same way.
Editing Issues
"During the process there were times when I was terribly disappointed and would have done things quite differently, but at the same time, I hired a very capable editor to make those decisions," said Simonsen. "I can say that Bill (Stelzer) did so many things that I would not have been capable of and that's why I hired him. If the project was mine, it would not have reached the professional level as the collaboration that the final product did."
Each of the collaborators on the documentary gained meaningful experiences from the project, but when asked what was most rewarding, the three had very different answers.
Rewarding To Finish
Stelzer, who had been working on edits for 18 hours a day for the past month, was happy to finally be finished.
"The amount of work was so much," Stelzer said. "There was a lot of technical work by trying to create some kind of emotion with the story you are telling. The most rewarding part is to be done."
Rockefeller Archive Center's support was the biggest thrill for Simonsen.
"To me, the most rewarding part of working on this project was having the Rockefeller Archive Center be so supportive of us," said Simonsen. "We would say to them 'we need a shot of Laurance Rockefeller and his wife on the boat he owned in 1953,' and they would come back to us with the image. That to me is why people want to see this video — to see what St. John looked like 50 years ago."
Preserving the history of St. John and making that history accessible were Schoonover's biggest rewards.
Preserving History for Future
"I felt very strongly that this history is very important to preserve," said Schoonover, who did all his work on a strictly volunteer basis. "Some things you do for money and some things you do for your heart — this was for my heart. It's just terribly gratifying to see your work so well received."
"Establishment of the Virgin Islands National Park," is available for sale through the Friends of the VINP and Schoonover would like to see the documentary at all St. John schools.
"I think the video should be available to every school on the island and I would love to see it featured at a viewing room at the VINP's visitors center," said Schoonover.