The four renovated units, designed by Roseanne Ramos Lloyd of Inclusion by Design, have improved airflow and a sleek new look.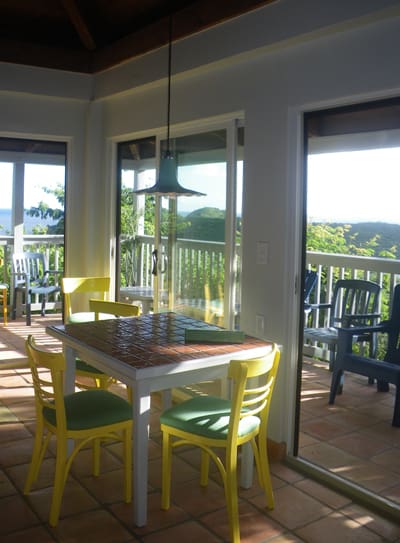 Estate Concordia Preserve recently unveiled four newly renovated units, which boast the latest in environmentally friendly design and products.
After several months of hard work, Concordia staff hosted an open house on Thursday afternoon, November 14, and invited the public to take a peek at Units A3, A4, A5 and A6 at the eco-resort's central campus.
What were once dark and outdated one bedroom and efficiency units built in 1993 are now bright and inviting accommodations which feature environmentally friendly design elements throughout, explained Rosanne Ramos Lloyd of Inclusion by Design, who designed the new units.
Lloyd is also a Concordia employee and was the project manager for the renovation project. She worked with contractor Ken Betts, Meyer Electric which installed the electrical and solar aspects, Tim Tacquard of Leeward Islands Plumbing, cabinetwork specialist Steve Bond, and Blue Bay Construction which created the countertops.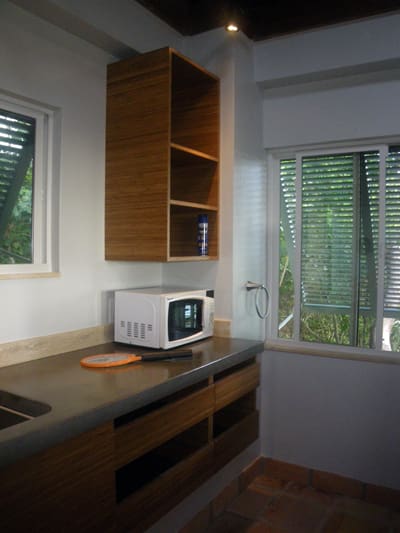 Newly renovated units at Concordia boast brand new, modern cabinets, LED lighting and spacious decks.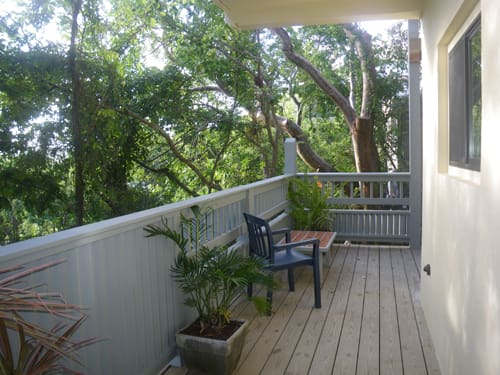 With an eye toward improving the quality of the interior space and the guest experience, improvements to the units included reducing the number of appliances while increasing passive cooling and cross ventilation, explained Lloyd.
The units now feature 100 percent LED lighting, solar hot water heaters, cool roof reflective colors and improved water collection and filtration, she explained.
It was important for the design team to "maintain the charm and character" of the units while getting rid of disposable furniture like roll-away beds, Lloyd added.
The units still feature their original Saltillo floor tiles, where possible, and exposed heavy timber rafters and now incorporate chairs and tables from the shuttered Maho Bay Campground.
Since Maho Bay Campground's closure last year, Estate Concordia is the island's sole eco-resort and has seen an increase in both interest and business.
As environmental design has progressed by leaps and bounds over the past few years, several of the resort's units were simply outdated, explained Lloyd.
"We redesigned the units because we were no longer maintaining what we call 'central campus,'" she said. "Instead, we were in constant repair mode and just trying to keep up. We reached a tipping point."
As opposed to constantly investing money to keep the old units going, Concordia management decided to improve the units and introduce additional "eco" features, Lloyd explained.
"We recognized the amount of energy and resources expended annually toward the constant 'fix-it-up' was no longer sustainable," said Lloyd. "We took this major repair agenda as an opportunity to improve the guest experience and update systems, bringing Central Campus further into the eco fold."
The results are impressive. From the beautiful balconies, sleek cabinets and oversized showers to the breezy rooms and well-thought-out out use of space, these new units feel open and airy.
Although there are more updates at Concordia planned, management at the eco-resort decided to begin with Units A3 through A6 because they saw the slowest bookings, Lloyd explained.
"We have six buildings with nine units to tackle," said Lloyd. "Our strategy was to start with the units that are the last to book; our least revenue producing units."
It seems likely that these four units will go from seeing the fewest bookings to seeing some of the most bookings. 
In deciding which units to overhaul first, Concordia officials also looked at their proximity to water and plumbing, Lloyd added.
"Then we considered proximity of systems to update and bundled the location to A3, A4, A5 and A6," she said. "The remaining five units to renovate are larger, so this phase gave us an opportunity to work out the details on a smaller scale."
The units book for between $195 and $275 per night. For more information on Estate Concordia, check out www.concordiaeco-resort.com.
For more information about Inclusion by Design LLC, check out www.incluisonbydesign.us.