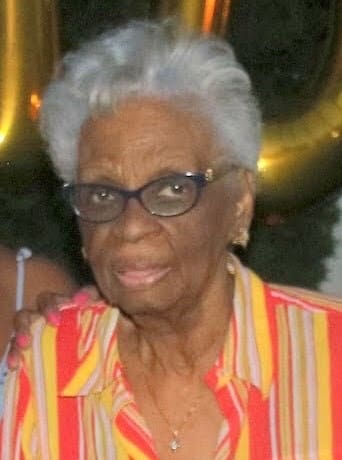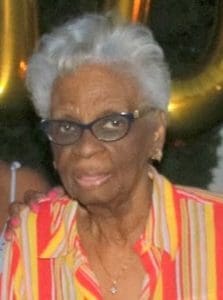 Eugenie Castillo Milliner died on Dec. 12 at the blessed age of 100.
She is survived by her four daughters: Nydia Burt, Ruth Morris-Flax, Juanita Milliner and Julita Milliner-Waddell; sons-in-law: Frederick Waddell and Ottley Flax; sister, Bernice Harrigan; sisters-in-law: Yvonne Bowsky, Leona Smith and Susanna Brin; grandchildren: Ethanie Sille, Jenna Milliner-Waddell and Loorn Cameron; and great-grandchildren: Ava Watkins, Amara Watkins and Lauryn Cameron; nieces: Delia Francis (Andre) Cecilia Hawley, Laura Wilkinson, Katherine Benjamin and Helen Castillo.
She is also survived by nephews: Cleve Harrigan (Marusha Soledad) Dale Harrigan, Frank Wilkinson, (Carol) Robert Wilkinson and Carlos Castillo (Jessy); great nieces: Andrea Francis, Shabre Providence (Patrick), Shatel Noe (Prestom), Jeune Provost (Eric), Camilla  Gabriela Harrigan, Jillian Harrigan Falcon, Jada Wyatt, Blisse Wilkinson and Morgan Wilkinson; great nephews: Khari  Harrigan, Sébastien Harrigan, Dante Bostic, Bobby Castillo, Gary Castillo and Meleck Castillo; and great-great nieces: Azariah Providence and Melania Provost.
Other survivors include great-great nephews: Jaden Providence and Preston Noel Jr.; adopted daughters: Dian Greaux-Levons, Karen Fleming, Rita Waddell-Green, Sandra Hintob, Cassandra Halliday, Donna Oliver, Retha Campbell and Averill  John; adopted sons: Melvin Hintob, Ric Halliday and Will Oliver; special cousins: Lillian Greaux and Luna Nibbs-Frett; awesome caretaker, Januce Guishard; special friends: Judy Maynard, Carol Dokes and the Virgin Islands Urban Renewal Board; as well as numerous other relatives and friends.
Tributes can be sent to: TributesToJenJen@gmail.com
There will be no viewing.  Funeral services will be held at 10 a.m., Wednesday, Jan. 5, 2022, at Christ Church Methodist, Market Square.  Burial will be at Western Cemetery No. 1.
Funeral Arrangements are under care of Dan Hurley Home for Funerals and Cremation Center of St. Thomas, St. John and St. Croix.
All COVID-19) protocols will be observed.
Family and friends may offer their support by sharing a special memory or message at www.hurleydavisfuneralhome.com