"Simply Paradise" is getting a bit fancier.
While eco-resort pioneer Stanley Selengut is usually associated with the popular Maho Bay Camps, his venture on Love City's southeast shore is quietly expanding.
Concordia already includes 25 eco-tents and nine studio apartments, and soon environmentally sensitive villas will be a part of the 50-acre spread as well as a 1,500 square-foot yoga pavilion, cafe, massage room and full commissary store, explained Maggie Day, vice president of Maho Bay Camps and Concordia Resort.
[adrotate group="6"]
"The whole project started because we wanted to have a yoga center here," said Day. "We can't accommodate all the groups at Maho — we're literally booked solid there all season."
Expanding Yoga Leads to More
From the original concept in March 2006 of constructing a yoga pavilion, the project now includes a cafe, large store and a beautiful promenade overlooking Ram's Head, Drunk Bay and Salt Pond, which are all wheelchair accessible.
While the Glen Speer-designed structure was originally intended as a multi-room massage center, it easily accommodated additional uses, explained Day.
"Originally we were going to have five massage rooms out here, but we have changed our scope," Day said. "We still have a massage room but we decided to make the massage much smaller. So now we also have room for a meeting space, bathrooms, the cafe and a store with internet access and our activities center."
The 100-foot long promenade will be bordered by an eight-foot wide interpretive garden which will consist entirely of native plants, according to Day.
"We've been working with Gary Ray of Virgin Forest Restoration who will be planting all native plants here," Day said. "You can tell how difficult it is to landscape out here with the wind and dry conditions. The native plants really take off here and there will be information about what is planted as well."
Commanding Views
The yoga pavilion is situated near the promenade — offering the same commanding views of the neighboring V.I. National Park — and is being constructed of a recycled wood and plastic composite.
"I'm really excited about this pavilion," said Day. "We're going to paint the floor celestial blue and we'll have a ballet bar along the wall. I think it's going to be really popular."
The pavilion is already operational and the first yoga group was scheduled to use the area on March 21.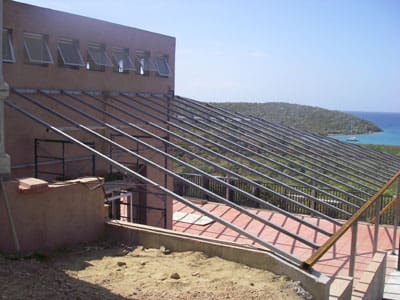 Space for Community Groups
"I also see this pavilion being used as a performance space for community events and non-profit groups," said Day. "We also expect to attract astronomy groups because it's such a phenomenal spot for star gazing with the nearest light being St. Croix. We're also going to put a telescope out here."
The expansive store is located on the upper level of the new building and will be turned over to Maho's hotel operations staff shorty, explained Day.
"The logistics are all getting worked out, but we know there will be internet access and our activities center will be based here," said Day. "We want to offer enough so our guests can fully provision and our neighbors will shop here. We expect the store to be fully operational by the end of the month."
Communal Dining Experience
The cafe, located on the lower level of the store building, will be open for breakfast and dinner and will have seating for about 60 guests.
The center piece of the restaurant is a huge grill which will encourage the communal aspect of dining, according to Day.
"We're going to have a 'grill your own,'" Day said. "Like at Maho, we're trying to keep our costs reasonable and we like to encourage the communal aspect of dining. I think it's going to be really interactive and fun."
A large fresh salad bar and outdoor seating will complete the cafe which should attract a wide-range of diners since entrees are expected to stay in the $10 range, explained Day.
Attraction for Beach-goers
"We hope to be a big attraction for people at Salt Pond," said Concordia's vice president. "There is a trail from the parking lot right up here and we'll have bathrooms, cold drinks and ice cream."
While the cafe is not expected to be open during lunch hours, pre-made sandwiches will be available at the store. The Concordia cafe will be open by the end of the month.
The new amenities at Concordia should encourage visitors to forgo car rentals, according to Day.
"With the restaurant here and the store, guests won't have to rent a car," Day said. "As we grow, we don't want to encourage cross-island traffic. We're looking to do a shuttle service to Cruz Bay for arrivals, departures, shopping, dining, beach excursions and island tours."
Largest Site Alteration
The cafe and store project is largest site alteration undertaken by the Concordia group. Other buildings at the site were constructed without digging into the hillsides.
"We've never gone into the hillside with equipment before, but if we were going to get away from using treated lumber with high posts, we had to come into the hill," Day said. "We used gabion baskets filled with all rocks from our site and we'll be planting them with vines. It will be like a living wall."
Concordia officials will also be working with Ray on a three-year plan to restore the 10 feet of disturbed area surrounding the gabion baskets, which will also be planted with native fauna, Day added.
The new buildings are part of future expansion plans, explained Concordia's vice president.
"In the event that Maho closes, we'll move the arts center, store, restaurant and administration out here where we'll build a center on the five-acre knoll near the entrance," said Day. "Then the cafe and store will revert back to massage rooms and be part of our holistic center."
Maho Future Uncertain
Maho Bay Campground's lease is due to expire in January 2012. While several land conservation groups have expressed interest in purchasing the roughly 15-acre site, there has been no agreement about preserving the land or extending the campground's lease.
Selengut, however, owns the property at Concordia and can expand services and amenities without the threat of an expiring lease.
Concordia officials already have a Coastal Zone Management permit to construct 15 additional eco-tents, but are hoping to receive a modification for their permit, explained Day.
"We want to put in a request for a modification for more solid structures that can be air conditioned which will allow us to build on the south west side of the site," Day said. "It's too hot without the air conditioning there, but we want to be able to hide the buildings in the trees. Stanley (Selengut) is very conscious about building on the hillside, but not out and down the hillside in order to preserve the view shed."
The resort area consists of 20 acres of the Concordia land with the remaining 30 acres sub-divided and available for up to 23 individual home sites at Estate Concordia Preserve. The villa parcels, however, are not the typical developments seen around Love City.
Environmentally Sensitive Construction
"The mission of the Preserve is to achieve optimal bio-diversity and sustainability of the natural environment consistent with St. John's native plant, bird and animal life as well as low impact development and human habitation," according to the Estate Concordia Preserve mission statement. "Land owners within the boundaries of the preserve will be encouraged and expected to support and participate in the fulfillment of this mission through mandatory membership in the Estate Concordia Preserve Association and providing reasonable access to their bird and wildlife habitat."
While 13 of the units have already been sold, there is a substantial portion that will never be developed. Selengut plans to donate the two-acre Nanny Point, which is filled with local turk's cap cacti, to a land conservation group.
VINP Donation
Another roughly eight-acre parcel was purchased and donated to the V.I. National Park, explained Day.
"Michael Carper purchased a substantial portion of the area bordering Drunk Bay and donated it to the National Park," Day said. "He only kept a small piece for himself to build a small environmentally sensitive home."
Be sure to check out the new Concordia cafe and store at the end of March and anyone planning to tie the knot should consider the site as well, explained Day.
"We'd love to have weddings on the pavilion deck," Day said. "It would be such a great spot for weddings and people can stay out here too."
Concordia is also ideal for an on-island getaway, especially since locals enjoy a 50 percent discount during the summer months.
For more information on Concordia eco-tents or studios, call 776-6226.
For more information about Estate Concordia Preserve contact Christie O'Neil of Holiday Homes of St. John at 774-8088.