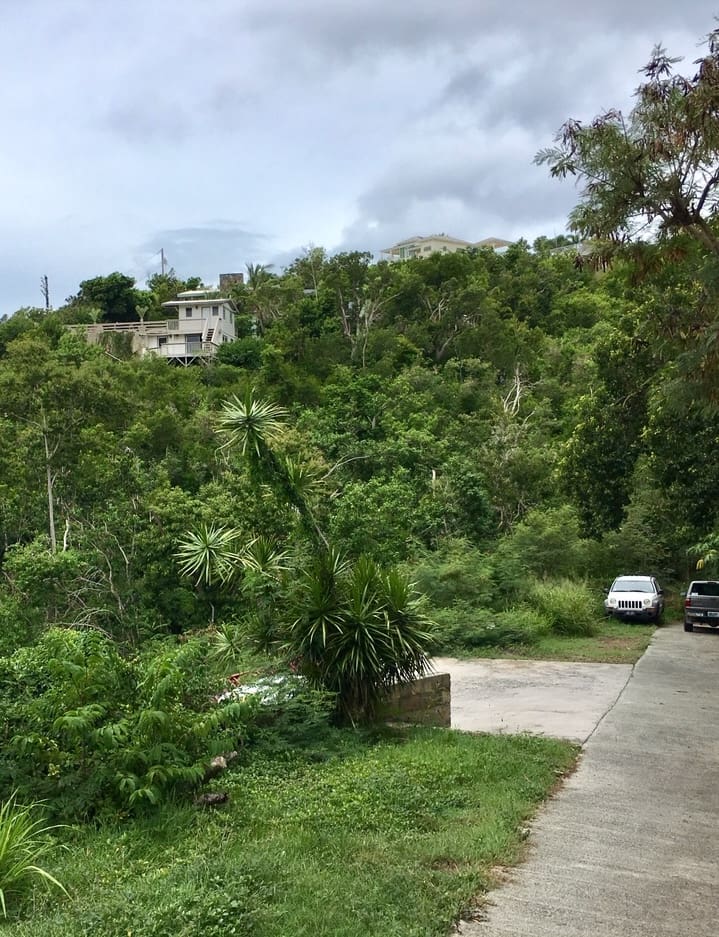 Nearly 20 members of St. John Rescue received training last weekend from the retired Connecticut State Police officer who found the body of a missing St. John man last February.
Stowell Burnham, from North Windham, Connecticut, led volunteers with St. John Rescue through a challenging search and rescue course at Cinnamon Bay using many of the techniques he employed to find the body of Mark Maroney.
Maroney, a 70-year-old part-time resident of St. John, disappeared around 8 p.m. on Sunday, February 11 during a power outage.  He and his wife Susan were staying in a rental home on Rainbow Road in Chocolate Hole after their own home was destroyed by Hurricane Irma.
Maroney stepped out of the house to retrieve a flashlight from the car and was not seen again until his body was discovered under thick brush about a half mile from the rental home on Friday, February 23.
Local law enforcement officers, search and rescue teams, and volunteers had combed the area on foot, by boat and by drone.  They'd posted signs throughout the island, alerted electrical linemen working in remote areas to be on the lookout, and contacted ferry personnel who might have seen him board a boat.
"I've been doing this for 50 years, and I've never seen a case like this," said Bob Malacarne, training officer for St. John Rescue, who had chatted with Maroney only hours before he vanished. "It's absolutely like he disappeared."
About ten days after Maroney disappeared, Stowell Burnham, who was on St. John helping a friend with hurricane repairs,  overheard a conversation about Maroney's disappearance while dining in Greengo's in Cruz Bay.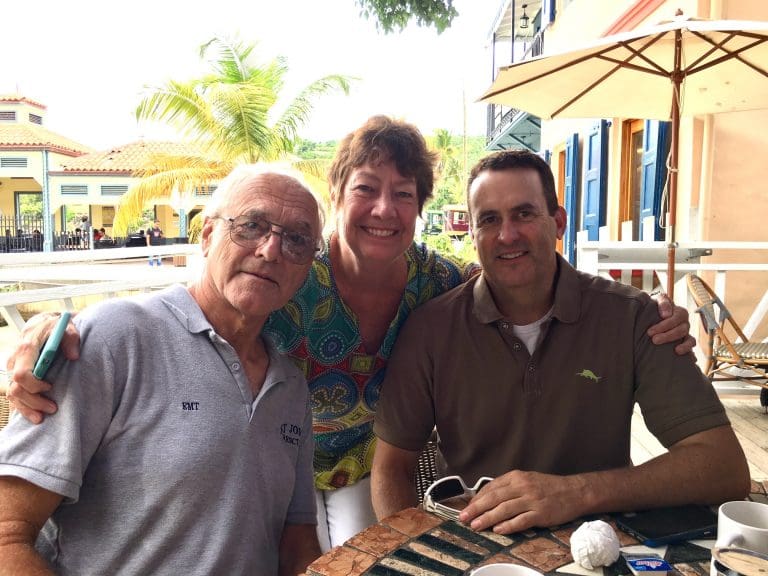 Burnham had retired in 2014 after running an Emergency Services Canine Unit with the Connecticut State Police, where ten dogs were employed to answer nearly one hundred search-and-rescue calls a year.  The mystery involving Maroney piqued his interest, and the next day he went to Connections, a communications center in Cruz Bay, and spoke to owner Cid Hamling.
Hamling immediately directed him to Malacarne. "I had felt so defeated, and to have this guy knock on my door and say, 'Can I help you find him?' was amazing,"  said Malacarne.
The first thing they did was complete a profile on Maroney, a highly regarded attorney who practiced law on the Isle of Man between England and Ireland.  Maroney had recently begun showing signs of mild dementia, and this clue resonated with Burnham.
"At least once in a lifetime, someone with Alzheimer's is going to wander," said Burnham. "Stress can exacerbate dementia. My instinct said he was in full dementia mode."
According to his wife, Maroney appeared agitated when he went out to get the flashlight, Malacarne confirmed.
Burnham started looking in two areas within Chocolate Hole, focusing on Maroney's often-visited Hart Bay Trail and then a steep slope below the rental home from which he disappeared.  He followed some of the techniques of his craft– heading downhill, the path of least resistance, and turning right when he had a choice because Maroney was right-handed. In an area dense with fallen brush and catch-n-keep, he found a pair of glasses.
Burnham contacted Malacarne, who was looking at another location, and they texted Maroney's wife who confirmed that the glasses belonged to her husband.  Then Burnham found a sneaker, and then Maroney's body, wedged under some fallen fencing covered by catch 'n' keep.
They contacted 911, and recovery personnel brought in generators, lights, and tools to cut through the covering and clear the way for the forensic unit,  "We kept getting stuck in the brush.  At one point my boot pulled off," said Malacarne.  "I kept wondering, 'How did he get that far?'"
"Someone with dementia can get that far,"  said Burnham.  "He might have walked a mile and a half, but in a direct line, he was within half a mile of his house."
Burnham, who has worked with canines for a variety of purposes, said he kept asking himself, "What would my dog do?" He could not comment as to why dogs brought over from St. Thomas were not effective in the search. So much rain had fallen that it might have wiped out the scent that tracking dogs depend on.
Burnham is most experienced with HRD's–Human Remains Detector dogs  (formerly called "cadaver dogs,") which are capable of detecting a drop of blood that had been washed down with bleach.  "Their ability to find remains is amazing," he said.  "If the winds blows the right way, I've seen a dog find someone a quarter mile away."
St. Thomas presently doesn't have a dog with that kind of training, according to Malacarne.  Shepherds and Labradors are generally used for this purpose, but Burnham said a border collie might be better suited because of their indomitable nature and ability to tolerate heat.  (He said he knew a canine officer who never turned on the air conditioning in his vehicle so that the dog would get used to working in the heat.)
Last May, Malacarne enrolled in a three-day Emergency Medical Services conference in Connecticut near where Burnham lives, and while he was up there, he broached the idea of bringing Burnham back to St. John to conduct training for St. John Rescue.  It was not a hard sell.  Burnham, 48, had been visiting St. John whenever he had free time since he was 22 years old.
This past weekend, Burnham guided trainees as they searched through the fallen brush at Cinnamon Bay for a "missing person."  Burnham had left clues, including a pair of glasses and a shoe, for the trainees to find.  Veteran St. John Rescue member Darrell Tasman eventually found National Park Ranger Dave Horner hiding in a dilapidated bathroom.
Searching through St. John's terrain is challenging, according to Burnham. "You have some of the best prickers I've ever seen," he said, referring to the catch-n-keep.  "And then you have iguanas falling out of the trees.  That's bizarre."
Burnham has since returned to his life on the farm in Connecticut his family has owned since 1830, but Malacarne says after last week's training, "If it happened again, I feel much better; at least we'd have a plan."
In the future, he may also have the assistance of Burnham who's now thinking through the possibility of splitting his time between Connecticut and St. John.
In the meantime, Burnham recommends that when someone goes missing, family and friends should not wait to report it.  "The average person can walk three miles in an hour.  You can limit the area for searching the sooner you know.    "I'd rather activate a team as soon as possible and then get a call saying, "He's already home."
Shared content for St. John Tradewinds and Virgin Islands Source.