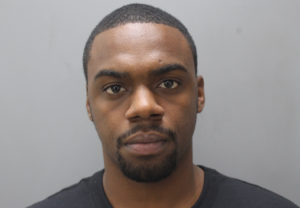 An extension of a ban on in-person court proceedings where large gatherings are involved has pushed the federal trial date for former Olympic boxer John Jackson back to April 11. Jackson's federal trial on child pornography charges was set to begin on Feb. 14.
But Wednesday, Chief District Judge Robert Molloy held a hearing that was already on the schedule ahead of the previous trial date. At that hearing, the judge established the protocols to be used when Jackson's trial takes place in the main courtroom at the Ron de Lugo Federal Building on St. Thomas.
Jackson, 32, is charged with the production of child pornography – a federal offense – as well as first-degree rape, aggravated second-degree rape, and transportation for the purpose of committing sex acts. The defendant has been held at the Federal Detention Center in Guaynabo, Puerto Rico, after his arrest in February 2019.
He is accused of engaging in sex acts with female minors under the age of consent. According to court documents, some encounters between the defendant and his alleged victims involved the use of intoxicating substances. And in at least one instance, Jackson is accused of recording an encounter using his cell phone and attempting to transmit the image to an alleged victim.
Because of the emergence of the Omicron variant of the Covid-19 virus in the U.S. Virgin Islands in late December and January, court officials suspended in-person proceedings. A recent notice appearing on the court's website extended that suspension for hearings and trials through February.
In anticipation of the need to take further health precautions past the end of the month, Molloy informed prosecutors and the defense attorney involved in the upcoming trial that proceedings will be held in person. However, the judge said lawyers will argue their case, question witnesses and address the jury without standing at the podium placed between the tables where they sit, adjacent to the jury box.
Everyone attending trial will be instructed to wear masks throughout the proceeding; the only person to appear without a mask will be witnesses as they appear on the witness stand. The court also instructed the legal teams to submit photographs of each witness they plan to present prior to the start of the trial.
Another pre-trial hearing was set for April 7 and the judge ordered jury selection to take place, starting April 11 at 9 a.m. Assistant U.S. Attorney Natasha Baker is expected to lead the prosecution team at trial. Yohana Manning serves as Jackson's defense attorney.