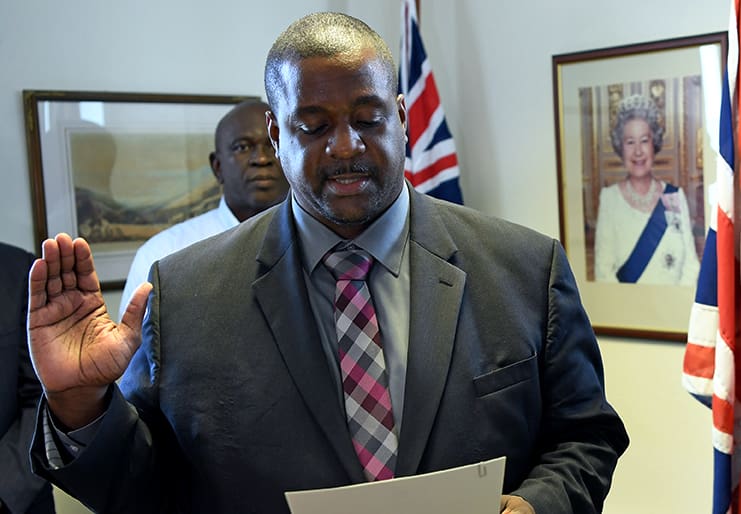 Former British Virgin Islands Premier Andrew Fahie has six more months to prepare for his defense against cocaine smuggling and money laundering charges as a Florida judge has delayed the trial to January.
Fahie's attorney had asked the July 17 trial date be pushed back to at least Nov. 1 to process voluminous evidence collected during the alleged drug-running scheme as well as new information provided by two co-defendants who pleaded guilty June 12. Fahie also wants to know the identity of the person who secretly recorded him allegedly agreeing to the plot.
In a court filing published late Monday, Judge Kathleen M. Williams moved the trial to Jan. 8.
Former BVI Ports Authority Managing Director Oleanvine Pickering Maynard and her son Kadeem Maynard pleaded guilty to a single cocaine smuggling charge, agreeing to tell prosecutors all they know, according to court documents.
The Maynards have been held in a Florida detention center since the three were arrested April 28, 2022. Fahie, however, made bail 46 days later. He later received permission to broaden the conditions of his house arrest when a judge allowed him to leave his daughters' Miami apartment for dental procedures and to visit his lawyer.
In addition to potential new evidence from the Maynards, Fahie's attorney has filed a series of motions asking the court to compel prosecutors to reveal the names of people who recorded more than 8,000 minutes of audio tape.
Not knowing the secret source's name and how much they were potentially paid to make the recordings hinders Fahie's ability to adequately defend himself, his attorney argued.
The issue of the confidential source's identity, transcription of the tapes, and multiple terabytes of evidence extracted from Fahie's digital devices and other data has been a point of contention since at least October. Prosecutors delivered the most recent batch of tape transcriptions June 9, according to court records.
Prosecutors said the tapes contain Fahie agreeing to make Tortola a major transshipment point for cocaine while setting up shell companies to hide the proceeds. Allegedly thinking he was dealing with international drug cartels and a terrorist organization, Fahie was said to have both bragged about previous misdeeds and complained about not being compensated well enough.
Fahie was first elected to public office in 1999. He was investigated for money laundering in 2003 but faced no charges. In 2019 he replaced Orlando Smith as premier, the BVI's highest elected office. U.S. federal investigators called Fahie "corrupt to the core."
Fahie faces the possibility of life in prison if convicted.