Slain firefighter Gregory Louis frequently reported for duty at the Robert O'Connor, Sr. Fire Station in Cruz Bay during his 22-year career with the V.I. Fire Service. St. John Tradewinds photos by Judi Shimel. [hr gap="1″]
ST. THOMAS — The emergency services community is reeling after, for the second time in less than two weeks, one of their own was shot and killed.
This time,
on Thursday
, violent death came knocking at the Fort Christian Fire Station in downtown Charlotte Amalie. According to police, an unidentified gunman approached firefighter Gregory Louis and shot him execution style while he was sitting outside the station on a bench.
An unconfirmed source said another firefighter was sitting nearby but was not harmed.
Louis, a supervisor, was on duty at the time, along with five other members of the Virgin Islands Fire Service. He was a 22-year veteran of VIFS, said St. Thomas-St. John District Chief Oriel Wheatley.
Ft. Christian station remained open after the
Thursday
night incident, although Wheatley said three of the on duty firefighters left the scene. The chief appeared stunned by the sudden events, but said he was awaiting an assessment before figuring out what comes next.
"We're just waiting for the information from the Investigations Bureau. Once they complete their investigation and produce their findings, they'll turn the information over to us," Wheatley said.
Neither Wheatley nor Fire Service Director Clifford Joseph was available to comment on whether security around the district's fire stations had ever become a concern.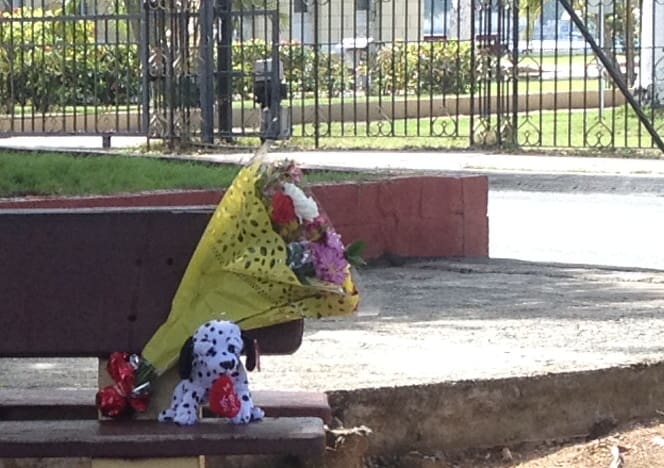 Two days later, on a normally busy Saturday morning where firefighters checking equipment outdoors is often scene, there was only quiet. A black and purple bow appeared on the door of the fire station. A bouquet of flowers and a small, stuffed dalmatian sat on the bench nearby.
The fatal shooting of Louis comes nine days after two police officers were found shot to death on a St. Croix beach.
Louis was also well known on St. John where he frequently reported to the Robert O'Connor Fire Station in Cruz Bay and the Romeo Company station in Coral Bay.
The impact of the killing was expressed on social media. Family Resource Center Executive Director Vivian St. Juste usually responds to situations where violence has left victims in its wake. This time she mourned the loss of Louis, a relative and one she counted as part of her support system. "The anguish of losing a loved one in this brutal and callous way, is a cold and rotten hole," St. Juste said.
VI Police Public Information Officer Glen Dratte said the case has been turned over to the VIPD Criminal Investigation Task Force.