Summer Trends and New Bikini Looks
The days getting hotter, the clothes getting thinner, and hem lines getting shorter are sure signs that summer is here and it's time to hit the beach!
On our pristine white sand beaches, you will find asymmetrical designs, geometric and African prints. Tankinis, itsy- bitsy bikinis, and cut-a-way swimsuits are just some of the trends for 2008, which totally redefine "beach chic," with bold, tropical colors.
There is also a revival of the more conservative retro 1940s and 50s styles including the one-piece suit, which is often more flattering than a bikini.
This summer's trends have something for every inclination. Most notable this season is the bandeau top, which is back in style and best worn with boy shorts or skimpy bikini bottoms.
Classic white ensembles are being re-invented with the newest designer craze — eyelets, which are being injected with lots of colors this season.
However, the hottest piece of swimwear this year is the cut-out or cut-away, according to Styledash in online article, "Trend alert: Cut-out swimwear."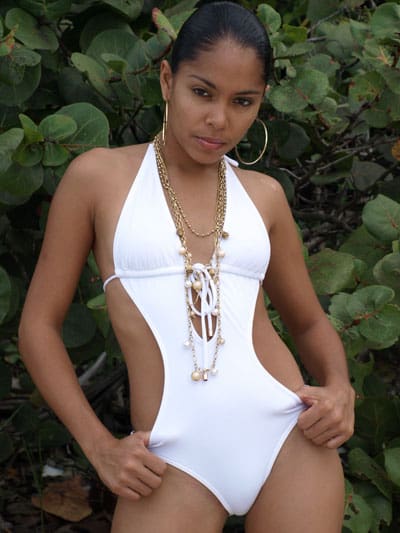 Sexier than a one-piece and less revealing than a bikini, the cut-away swimsuit is a great alternative, giving more coverage around the stomach area while providing a larger tanning area than a one-piece.
Redefining Classic
Embellishments, such as fringes, appliqué, Swarovski crystals, beads and bows can be seen adorning swimsuit bottoms and tops this season, truly re-defining the "classic" suit.
One practical development in this season's swimwear trend is the inclusion of the reversible bikinis, such as Vitamin A's Exotique shimmer print reversible halter bikini top.
The perfectly chic beach ensemble would not be complete without a statement-making accessory. Caftan dresses, sarongs, wide brimmed hats or fashionable panama hats, not forgetting stylish necklaces, beads and earrings are needed to create the "complete look" this season.

Underwear Becomes Outerwear
Lingerie inspired clothing is the "in" thing now. This was first introduced late in the eighties when Madonna wore her body-shaping bustier. Now, with the evolution of fashion and a shift away from the corsetry and structured tight-fitting forms, this season's trends flow, drape and fall in seductive styles.
Nickolas Wilkerson Struts His Stuff
On June 21, 25-year-old Nickolas Wilkerson of STAR Models Management represented the Virgin Islands at the 2008 Renaissance Man Male Model Competition on Tortola.
Wilkerson took the 1st runner up position while also capturing the prizes for Mr. Photogenic, Mr. Congeniality and Best Swimwear from the line-up of delegates from five other Caribbean islands, including the BVI.
Virgin Islands Fashion Week and Signature by Terry Donovan will be hosting a model call on Saturday, July 19, at Tutu Park Mall from 10 a.m. to 2 p.m.
Models will be selected for the BVI's Summer Sizzle and the 2nd annual Virgin Islands Fashion Week. For more infomation email vifashionweek@yahoo.com or call 340-998-1013.