The deadline may have passed for individuals filing for personal disaster assistance, but FEMA programs are continuing in the territory, according to Eric Adams, a FEMA public information officer.  "FEMA is going to be here for the long haul," he said.
Manuel Broussard, another public affairs officer for FEMA, said late applications may still be considered if there's a strong justification for missing the deadline.  "We would take care of it on a case-by-case basis," he said.
As of Friday, Jan. 5, FEMA has provided $118 million throughout the territory to repair public infrastructure including roads and utilities damaged by hurricanes Irma and Maria, Adams said.
Adams and other FEMA officials were on St. John Wednesday to share information about FEMA funding disbursed on the island. As of Tuesday, Jan. 9, $5.8 million has been approved for St. John residents under the Individual and Households Program (IHP.)
This program provides financial assistance for those who have been temporarily displaced from their primary residence, according to a FEMA Fact Sheet, and could be used for temporary rental assistance, financial assistance to repair or replace a primary residence, or for other needs that are not covered by insurance.
"The Individual and Households Program's sole purpose is to get you back on your feet following a disaster," according to Bruce Bouch, a FEMA public information officer.  A total of $48.2 million has been disbursed throughout the territory under this program.
Of the $5.8 million approved for St. John, $5.1 million has been used for housing costs, and the remainder has gone to assist with other needs, including personal and household items such as clothing, computers, school books, cleaning products, prescriptions, and even funeral expenses.
By the close of disaster assistance registration on Jan. 8, Adams said 2,862 households on St. John had turned in applications. The total for the entire territory was 37,746 households.
A "household" is defined as the people living at a particular address at the time the storm hit.  Only one person at each address could apply for assistance.  Bouch acknowledged that because of the storms, family members may have dispersed, and individuals may appeal their cases to FEMA if their claims are denied as a result of changes in family units.
FEMA is continuing to process applications for assistance through the Permanent Housing Construction Program (PHC.)  On St. John, 106 residents have applied out of a total of 393 from throughout the territory.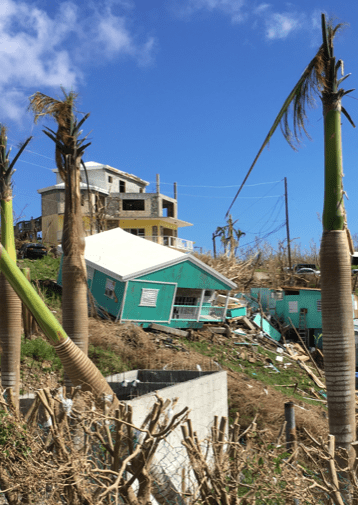 The PHC program provides up to $75,000 in grants to repair a home that was partially damaged by hurricanes Irma or Maria.  Federal inspectors must determine that the cost of repairs is greater than $17,000, and that the house can be made habitable again for $75,000.  Homeowners who needed more than that amount were required to apply to the Small Business Administration for a low-interest loan.
Bouch said federal funding has been approved for a program known as STEP—Sheltering and Temporary Essential Power. This program is being administered by the Government of the Virgin Islands and provides up to $25,000 in grants for people who can remain safely in their home while repairs are being made.  Individuals must contact VITEMA for further information.
FEMA is tackling the problem of insufficient housing throughout the territory by implementing two other programs "in addition to our regular grants that go directly to disaster survivors," according to a FEMA handout.
Under the Direct Leasing program, "The agency leases directly from property owners only in situations where there is a severe shortage of rental housing, such as here in the U.S. Virgin Islands.  Direct leasing is only used in circumstances where a disaster survivor is unable to secure housing with FEMA rental assistance.  Property owners interested in having their rental property considered for direct lease should send an email to FEMA-USVI-DirectLease@fema.dhs.gov," the handout states.
"The units must meet standards for providing survivors a safe, sanitary, and functional home," according to a news release.  "The maximum amount of time a survivor may live in a rented unit is 18 months after the date of the disaster declaration."
A second program seeks to expand the number of apartments available by providing funds for repairs. "The Multi-Family Lease and Repair (MLR) program targets owners of eligible multi-family dwellings in need of repairs, are willing to lease to eligible hurricane survivors and meet certain criteria."  Property owners interested in having their rental property considered for this program should send an email to FEMA-USVI-MLR@fema.dhs.gov.
Four months after Hurricane Irma struck the territory on September 6, FEMA is consolidating its operations on St. John. The Disaster Recovery Center in Coral Bay closed at the end of the day on Saturday, Jan 13.
Operations will continue at the Cruz Bay Disaster Recovery Center at the Legislature Annex.
"Our role is now shifting to mitigation," said Adams.  "People are going to want to fortify their homes," he said, mindful that the next hurricane season begins in less than six months.
Counselors are on hand to assist survivors with everything from personal counseling to tips for battling mold.  They've prepared handouts to help storm survivors deal with the complexities of repairs and reconstruction, including "Checklist to Acquire a Building Permit," "Building Codes Fact Sheet," and "Checklist of Questions to Ask your General Contractor."
On St. John, several community organizations are also offering help, including the Kenny Chesney Love for Love City Foundation which has been helping individuals and businesses since the first days after the storm. Contact them through their Facebook page or by emailing mcenright@gmail.com.
The St. John Community Foundation has two case managers working through the foundation's Disaster Case Management team. They can be contacted through an email sent to case@stjangels.ngo.
Residents who need help with demolition, or have debris at their homesites that must be moved to the public right of way for pick up, can contact the All Hands organization by emailing tiara.j@hands.org.
Debris removal from public roads continues on St. John. The number for the Debris Hotline for St. Thomas and St. John is (340) 643-3296.  Callers should be sure to identify the island they're calling about when they make the call.
The Small Business Administration sent out a press release stating that although the deadline for applications was officially Jan. 8, it would continue to accept late applications for low-interest loans for individuals and businesses who had suffered losses.  They can be reached at 1-800-659-2955 or at the nearest Disaster Recovery Center.
FEMA is continuing to hire additional Virgin Islanders to help with disaster recovery.  Applicants may email the V.I. Department of Labor at www.vidol.gov or send their resume to FEMA at FEMA-DR4340USVI-LocalHires@fema.dhs.gov.
Shared content for St. John Tradewinds and Virgin Islands Source.