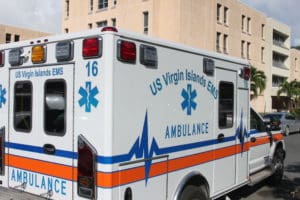 A female tourist got knocked off the rocks at the tide pools in Annaly Bad Tuesday and drowned, the V.I. Police Department reported in a news release issued Wednesday.
The name of the victim was withheld Wednesday pending notification of next of kin.
Police said at 12:50 p.m. Tuesday the 911 Emergency Call Center received a call of a missing swimmer in Annaly Bay. The preliminary investigation revealed a female tourist had been knocked off the rocks by waves and pulled out to sea.
A few minutes later, the 911 Emergency Call Center received reports of an unresponsive female floating at sea in Annaly Bay. Police officers, the U.S. Coast Guard, and enforcement officers from the Virgin Islands Department of Planning and Natural Resources located, identified and recovered the body of the missing swimmer. Detectives processed the body which was then turned over to the Medical Examiner's Office.
This case is under investigation, police said.