An aerial view of Hurricane Hole by St. John Magazine photographer Fernando Ramos, who contributed to two feature spreads in the next edition.
The anticipation is almost over! The newest edition of St. John Magazine, the magazine everyone on Love City is dying to see, will hit newsstands next month.
The 2011 edition of the glossy, luxury St. John Magazine is at the printers, explained publisher MaLinda Nelson, owner of MaLinda Media, which owns St. John Magazine, and Tradewinds Publishing, which owns St. John Tradewinds.
"The fifth edition of St. John Magazine is currently being printed in Miami and will be in retail outlets mid-December and available for guests at island resorts and villas," said Nelson.
"I was dealing with excruciating neck pain and I was not able to work on the magazine for nearly a month," Nelson said of the delay in the release of the 2011 edition.
"My time at the computer was very limited each week," added Nelson, who designs, edits and produces the publication.

James Penn posing in front of his garbage truck with one of his workers at the wheel.
Not about to rest on the laurels of her four previous stunning magazines, which capture St. John life in vivid photography and well-written features, Nelson is more excited than ever about her newest creation.
While she declined to reveal specific feature stories subjects, wanting readers to enjoy the surprise when they crack open the thick-stock glossy cover, Nelson is exceptionally proud of several elements in the fifth edition of St. John Magazine, she explained.
"Our content is always kept secret until it's released, however, the featured island home is truly unique and has a fascinating history," said the publisher. "And the photography in this issue is some of the best we have ever featured, including extensive underwater photography and nature photography."
Readers can also expect to enjoy some of the best amateur photography around as part of the issue's photo contest, Nelson added.
"We do have our amateur photo contest results in this upcoming edition and I got a kick out of all the submissions," she said. "One of my favorite photo submissions was a smiling woman in a chaise lounge sporting a deep, dark tan. The name of the photo was 'People: St. John Tan.'"
"I've decided to dedicate a wall in my office to honor all the photos that didn't make it in," Nelson said.
As she culls through endless possible story ideas deciding which features will be presented in each edition, Nelson said she is guided by one simple motivation — the magic of St. John.
"There is a magic on St. John and those who can feel it know there's no other place quite like it," said Nelson. "This is an island of tradition and the island people make it special."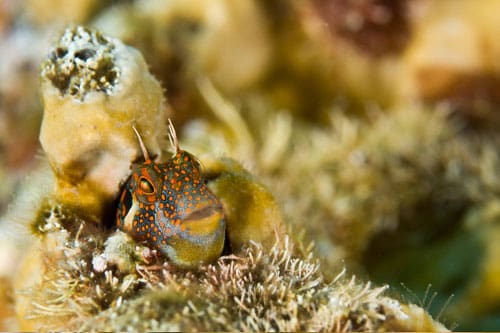 A blenny, just a few inches long, peers out from his hole in a rock (photo by Steve Simonsen).
While readers are sure to be amazed at the beauty of Love City captured in the pages of St. John Magazine, Nelson also hoped they would also take away a respect and admiration for the local culture, she explained.
"I hope readers embrace the history and culture of St. John the most," said the publisher. "St. John will always remain naturally beautiful, however, I believe its cultural resources are very important and need to be highlighted."
And it is exactly the people of St. John which kept Nelson dedicated to seeing St. John Magazine published through difficult economic times.
"The people of St. John and the people who love St. John keep me dedicated to spending so much time and energy on the publication," said Nelson. "There are so many people who are die-hard lovers of the island. I receive so many emails and notes of support from readers and residents."
With its definitive photography and professional writing, St. John Magazine sets itself apart from the other island publications, which is no accident, explained Nelson.
"We pride ourselves on our exclusive and professional content," she said. "My contributors can be very proud of their work and I'm very proud to work with all of them."
The fifth edition of St. John Magazine, will be on newsstands across the island in mid-December. While readers will be devouring the publication's photography and exciting feature stories, Nelson will already be back at work, planning the sixth edition for 2012.
"We already have some stories for this last issue that didn't make the limited page count," Nelson said about her next publication's storties and photography. "In January, we'll start another round of story assignments and I'll start laying out our 2012 edition next April."
Hopefully, the next one won't be a pain in the neck!