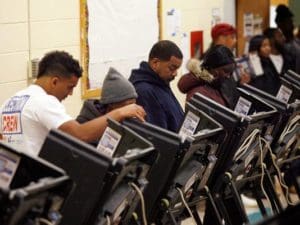 The Source asked every senatorial candidate ten questions, to fairly give every candidate an opportunity to tell our readers about themselves and where they stand on some of the most important issues of the day. This is something we have done before.
We reached out through the contact email addresses and phone numbers provided with candidacy filing. Here are the responses from all the candidates who have responded to date. You can also click on our Elections section and see all of them, along with other 2020 V.I. election-related news.
These are the candidates who have responded so far. You can click on their name to see their responses or click here to see our ongoing V.I. 2020 election coverage.
Stedmann Hodge Jr. – St. Thomas
Genevieve Whitaker – St. Croix
Donna Frett-Gregory – St. Thomas 
Jonathan P. Tucker – St. Thomas
Steven D. Payne Sr. – At-Large
Norman Jn Baptiste – St. Thomas
Dwayne M. DeGraff – St. Thomas
Samuel "Sam" Carrion – St. Croix
Alma Francis Heyliger – St. Thomas
Athneil "Bobby" Thomas – St. Thomas
Irvin Pudna Mason Sr. – St. Thomas
The following candidates have not responded as of Oct. 21:
Stephen "Smokey" Frett
Javan E. James Sr.
Michael J. Springer
Franklin D. Johnson
John McCoy
Alicia "Chucky" Hansen
Oakland Benta
James "Moonark" Wakefield
Novelle E. Francis Jr.