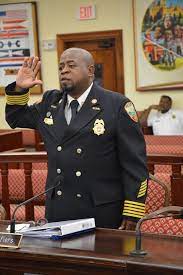 A joint investigation between the Virgin Islands Fire Service and police is getting underway, looking into the circumstances that led to the death of a firefighter and the injury of another, Monday on St. John. That was the statement given by Fire Service Director Daryl George at a press conference held Tuesday at the Omar Brown Sr. Fire Station on St. Thomas.
George, flanked by two other ranking first responders, also announced the names of the accident victims. Firefighter Kasey Callwood was pronounced dead on the scene of the single-vehicle accident where he and co-worker Nikye Knight were thrown from a fire truck as it tumbled down a hill into a curve and flipped over.
"The Fire Service will be doing an in-depth, transparent investigation, along with the Virgin Islands Police Department Motor Carriers Unit," the director said.
Callwood was pinned under the vehicle as it landed in the roadway near Princess Bay around noon on Monday, George said. Knight was operating the vehicle at the time. Officials said he was injured but later released from duty to recuperate at home.
The pair had just completed a training exercise at the time of the incident. "The firefighters in the lead truck stopped and began rescue extrication," George said. "This is a hurtful day for the Fire Service."
Fire Chief David Hodge sent condolences to Callwood's family, friends, and co-workers on behalf of the Fire Service. As word of the accident circulated, Hodge said calls expressing sympathy came from other fire departments, including one from the Fallen Firefighters' Memorial in Maryland.
Assistant Emergency Medical Service Director Lisle Evelyn stood near the podium in support of fire officials at the press briefing, which was live-streamed over the Government House social media page. Callwood completed firefighter training and joined the service in 2019 but was also a trained emergency medical technician.
On Tuesday afternoon, Gov. Albert Bryan Jr. ordered the territory's flags to be flown at half staff in honor of Callwood.
After the Tuesday afternoon press briefing, George explained that firefighters on St. John practice navigating the island's roads regularly because crews are frequently rotated between St. John and St. Thomas. "Every shift goes on training in Coral Bay," he said.
The Romeo Company Fire Station in Coral Bay is one of two stations located on St. John; the other — Zulu Company — is in Cruz Bay.
The police motor carrier division is required by law to investigate accidents like the one that happened Monday. "They handle all heavy equipment. A fire truck is considered heavy equipment," George said after the briefing.