After months of planning, the Department of Tourism kicked off the St. John greeter program on Friday morning, January 23.
Cindy Jurgen and Oscar James were stationed at the V.I. Port Authority Dock starting at 8 a.m. on Friday morning to welcome guests arriving from the Azamara cruise ship.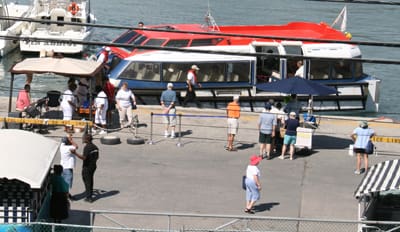 Jurgen and James offered visitors a complimentary sample of ice cold Cruzan Rum and answered a variety of questions. Carl Freeman was even on hand playing steel pan music for the arriving guests.
St. John/St. Thomas Chamber of Commerce officials, who worked on the greeter program with DOT, were delighted to get the project off the ground.
"The greeters are on the dock at the creek today welcoming guests and handing out information and sips of cool rum," said Kate Norfleet, St. John representative for the local chamber. "There is even a pan drum musician. This is their first day and they are getting a very positive response."
"Hats off to DOT and everyone who has worked so patiently to make this happen," Norfleet said.
The greeters will be stationed at a madras-clad table while local woodworker Les Anderson constructs a welcome cart. Anderson is expected to complete the cart within the next week, according to Norfleet.
DOT officials hope to have greeters at both the Port Authority dock and the Loredon Boynes Sr. ferry dock in Cruz Bay, explained the department's special events coordinator Diana Brown.
"This is going to be a regular thing and we're trying to have greeters at ferry dock as well," said Brown. "We'll have people there from 8 a.m. to 6 p.m. We're going to try to do this as regularly as possible."
In addition to the Cruzan Rum samples, the greeters distributed USVI luggage tags and T-shirts, Brown added.