The smell of frying fish and johnny cakes floated on the breeze, dancerss dressed in bright madras twirled in the shade and the sounds of Smalls and the Music Makers filled the air at the Annaberg Plantation ruins on Tuesday afternoon, February 27.
The 16th annual Folklife Festival lived up to its theme of "Food, Music and Dance, A Cultural Diaspora," as some of the best local treats — edible and auditory — were on display throughout the sun-filled day.
Hundreds of students from across St. John and St. Thomas enjoyed the sights and sounds of the annual cultural festival organized by VINP Interpretive Ranger Denise Georges.
[adrotate group="6"]
Growing from Small Start
What started 16 years ago as a small gathering of local artists and craftspeople has grown to one of the most anticipated events of the year, and Georges is as surprised as anyone with the festival's popularity.
"I never imagined all those years ago that it would grow into something like this," Georges said. "I'm so happy with the turnout. It's a great experience for the children."
A number of local artisans were on hand selling a range of goods, from traditional crafts to elegant candles.
Ital Anthony offered a collection of locally-made crafts from toy boats fashioned out of bamboo, coconut and scrap wood to coconut bird feeders and calabash maracas.
Andro Childs and Vashti Boynes displayed their fine needlepoint and crochet goods which showed off years of meticulous practice.
Keeping Busy
"My mother taught me when I was 10 and now I'm in my 80s, so I've had a lot of time to get better," said Boynes. "As long as my eyes are open my hands must be in gear. I have to keep busy."
Aromatherapist Marq James offered a selection of luxurious soaps and candles with Caribbean-inspired scents including enticing bay rum blends.
Although Elmira Farrell wasn't selling any goods, the laughs never stopped at her table. Surrounded by a variety of local "bush" Farrell's quick wit kept passersby on their toes as she rattled off the health benefits of a number of local plants like prickly pear, noni and white cap.
"We used bush all the time when I was growing up," said Farrell. "We didn't use any doctor, we just figured things out by trial and error. Your body talks to you, you just have to pay attention."
Local Crafts
Self-taught artist Alton Evans Jr. displayed his collection of hand-crafted jewelry mostly made from local seeds, shells and wood.
"When I was 12, I just started making jewelry for myself and my friends," said Evans. "It became a hobby. Eventually I got tired of making silver and gold jewelry so I started playing around with natural things."
Yolanda Morten offered a variety of jewelry made from wood, coconut and fish vertebra.
"It's called surviving in the Caribbean," Morten said about her earrings and necklaces. "When we were growing up we had to make everything and I just kept it up."
Dressed in a hand-made ensemble herself, Esther Frett displayed her collection of dolls in dresses of madras and banana leaves, shell frames and coconut bird feeders. Frett also offered home-baked tarts, johnny cake, fried chicken and vienna cake.
There were more madras-clad dolls at Gwendolyn Harley's booth. Both quadrille dancers in fancy frocks and market ladies in basic dresses lined Harley's stall, along with dolls made from mango seeds.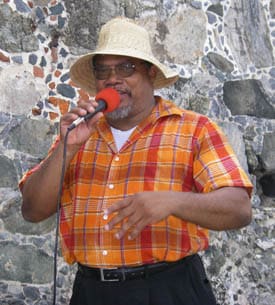 Guided Tours and Music
Volunteers led guided tours of the ruins which date back to 1789, when construction commenced on the Annaberg factory while Chester "The Mighty Groover" Brady and Smalls and the Music Makers kept the crowd going through the heat of the day.
The St. Thomas Heritage Dancers and the Lockhart Elementary School Quadrille dancers displayed their moves.
Throughout the afternoon Georgse kept her eye on the various happenings, and made sure a pot of frying fish turned out perfectly. Deftly combining a mixture of cracked peppercorn, thyme, garlic and sea salt, Georges explained just how to make the perfect fry fish.
"Clean the fish with vinegar and lime and then rub it all over with the seasonings," said Georges. "Make a sauce out of the same seasonings and add green peppers, celery, a hint of tomato paste and the oil from the fried fish. A touch of brown sugar and hot pepper sauce and you've got it."
"For All of We"
The afternoon sun stretched across the sky as George — with eager school children looking over her shoulder — tended the fish fry pot.
The food, music and dancing did not let George forget the true reason for the folklife festival.
"It's not for me, it's for all a we," Georges concluded.