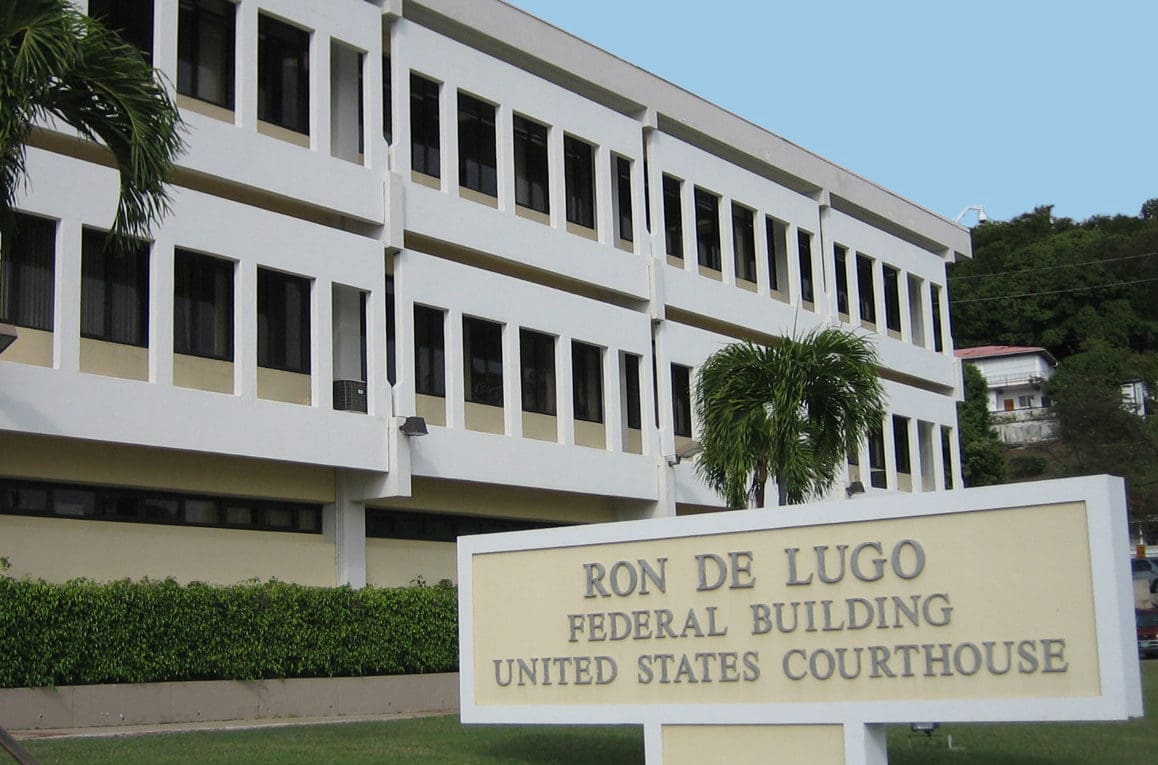 A man accused of concocting a scheme to hide his role in a major drug conspiracy was sentenced Thursday to almost 30 years in federal prison. The sentencing of Samuel Pena-Columna took place before Chief District Court Judge Robert Molloy at the Ron de Lugo Federal Building on St. Thomas.
Columna was arrested and charged with being part of a drug smuggling operation that took place on St. John's east end in late September 2019. The transfer of 100 kilograms of cocaine was interrupted when federal interdiction agents confronted the smugglers. Gunfire erupted, wounding one agent and one of the gunmen.
The defendant was found guilty by a jury at the end of a trial in September. As he pronounced Columna's sentence Thursday, the judge explained the grave nature of his crimes.
"The exchange of gunfire resulted in a federal officer being shot and one of your co-defendants having a leg amputated as a result of being shot and wounded … The crimes are very serious and could have resulted in the loss of life of government employees," Molloy said.
There was also a reference to arguments raised by defense attorney Michael Sheesley. Sheesley asked the court to consider how much help his client had been to the Drug Enforcement Agency, serving as a paid informant.
Assistant U.S. Attorney Meredith Edwards, who led the prosecution, acknowledged that fact but said the evidence presented at trial showed Columna had been involved in drug smuggling since 2017. Edwards also suggested the defendant used his influence with the government to eliminate rivals for the drug business.
The judge took it further, telling Columna he never disclosed to his DEA handlers that he was living with one of his co-defendants and while he was working as an informant he was also engaged in a large-scale drug trade with his partner.
Sheesley asked the court how the two co-defendants who arrived at the smuggling site bearing firearms drew sentences of 121 months and 141 months, while his client faced a much harsher sentence. At Columna's current age — 50 — 30 years in prison amounted to a life sentence.
The judge turned to Edwards for an explanation.
"The law recognizes and appropriately holds responsible these individuals who know the risks and knowingly engage in this type of conduct," she said, adding that the defendant insisted he was at the crime scene on Sept. 25, 2019, gathering information for the DEA.
At no time — before, during, or after the trial — had Columna taken responsibility for his actions. "We are at sentencing now, and there is no indication that the defendant has appreciation for his conduct," Edwards said.
Molloy agreed. He said that co-defendants Rammer Guerrero-Morales and Joan Morales Nolasco got lesser sentences because "they accepted responsibility, they cooperated with the government and they pled guilty."
Prior to sentencing, Columna had a chance to speak. "I want to apologize if I have offended everybody. I'm really sorry. I didn't think it was going to get this much," he said.
With that, the judge sentenced him to 358 months in prison and a fine of $10,000. Molloy also ordered Columna to serve a total of eight years of supervised release after prison. He also directed Edwards to return to court within 90 days and recommend the amount of restitution that the wounded interdiction agent should be paid.