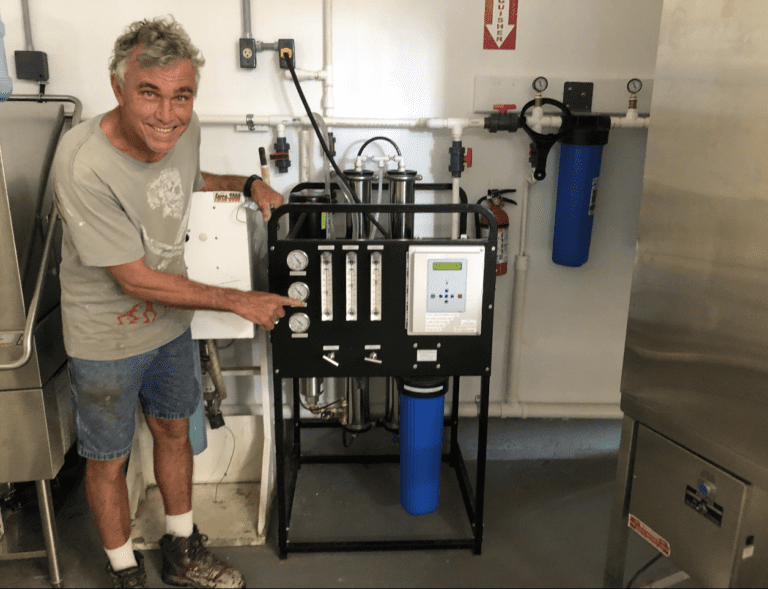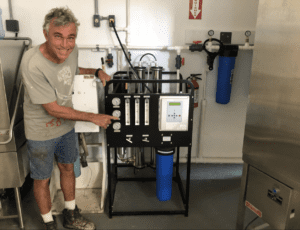 With the opening of Love City Ice at the former site of the Old Lumberyard Complex in Cruz Bay, St. John residents once again have a storefront to refill their water jugs and buy ice made with highly filtered water.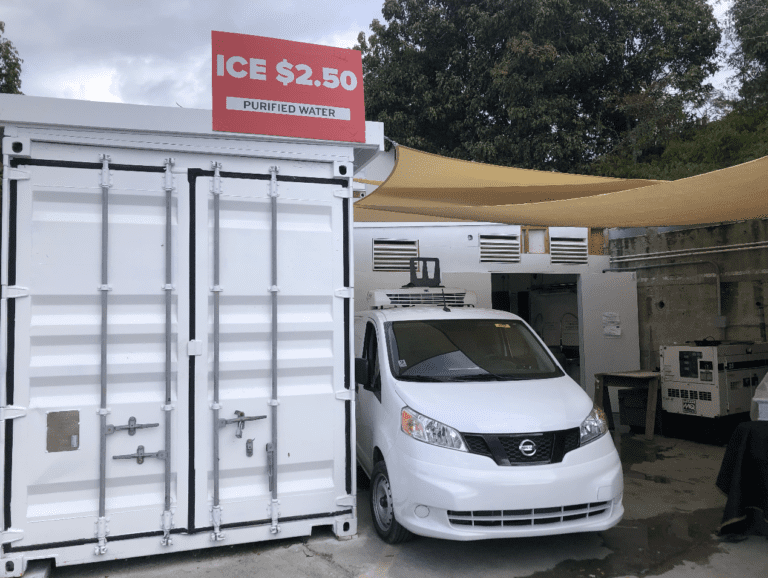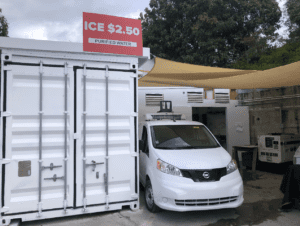 Although owner Mike Feierabend opened the doors to the business at the end of November, many St. John residents are still unaware of its existence because of its obscure location; the plant is situated at the far end of the parking lot – past St. John Eco-Station's green trailer and Roti King's red bus. Only a small sign posted along the road that runs between the Creek and Boulon Center advertises its presence.
The plant's exterior may be humble, but its interior is filled with shiny, new state-of-the-art equipment that purifies public Water and Power Authority water by channeling it through a series of filters. "It's a long process," said Feierabend, pointing to the pathway of pipes and machinery.
"WAPA water is potable," said Feierabend, displaying a website on his computer that details a readout of WAPA's water test results, but he said there are still good reasons to purchase water from Love City Ice.
"Municipal water usually contains between 200 and 250 parts per million of dissolved solids," he continued, dipping an instrument into a sample coming from a tap to confirm. "Today it's 164 parts per million, which is very good for WAPA, but we put our water through an extra set of filters, then reverse osmosis equipment, and sterilize it with ultra-violet light."
The reverse osmosis equipment is slow – only producing three gallons of water per minute – but those three gallons are very pure, containing only six parts per million of total dissolved solids. For every three gallons he makes and sells, Feierabend discards two gallons of less pure water. (He's working on a plan to find a use for this water, perhaps in construction or agriculture.)
Love City Ice uses the purified water to produce its ice as well as its drinking water.
In spite of extra work that goes into his products, the prices are comparable to those found throughout the island: $2.50 for a ten-pound bag of ice; $2 for a brand-new gallon of water, and $1 for a one-gallon refill. To assure that the containers he uses are clean, Feierabend uses a high-temperature washer to sterilize the recyclable three and five-gallon water jugs.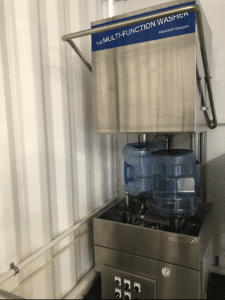 Contractors are starting to make Love City Ice their first stop of the day, and Feierabend has set up a separate area for them to clean their jugs and coolers across from the spotless filling station.
Feierabend, who's interested in sustainability, has worked as a contractor and a professional sailor since he first moved to St. John in 1980. He decided to open the plant after seeing too many empty single-use plastic jugs litter construction sites.
He's not the first to set up an ice plant at this location.
From 1983 until 2018, Alan Johnson operated St. John Ice; a water and ice plant, at another spot in the Old Lumberyard Complex. The business continued even after Hurricane Irma destroyed most of the buildings at the complex in September 2017. It served as an oasis for residents who had no source of drinking water and no electricity to make ice following the storm.
Nearly a year after the hurricane, the owners of the Lumberyard property demolished all of the structures on the site, and Johnson had to shut down manufacturing. He has continued to deliver ice and water produced on St. Thomas to his customers on St. John.
Feierabend said he approached Johnson to discuss forming a partnership, but after months of discussions, they weren't able to move forward. In June, Feierabend decided to strike out on his own and build out the new site, which he did "with a little help from my friends."
Now he sometimes wonders at the decision to invest in a business that required expensive equipment, long hours, and sales of products that can cost as little as a dollar an item. He continues to expand his line of products to include filters, water dispensers, and residential water purification systems.
Feierabend's customers, however, are glad he's set up shop. Genevieve Evans, who teaches sailing, stopped by one afternoon to refill ten one-gallon jugs. "I think it's great, from a boating perspective. I don't have to throw these jugs away," she said.
Love City Ice is open Monday to Friday from 6:30 a.m. to 4 p.m., and Saturdays and Sundays from 7 a.m. to noon. For further information, call Love City Ice's landline at 340-776-0600 or visit the website.