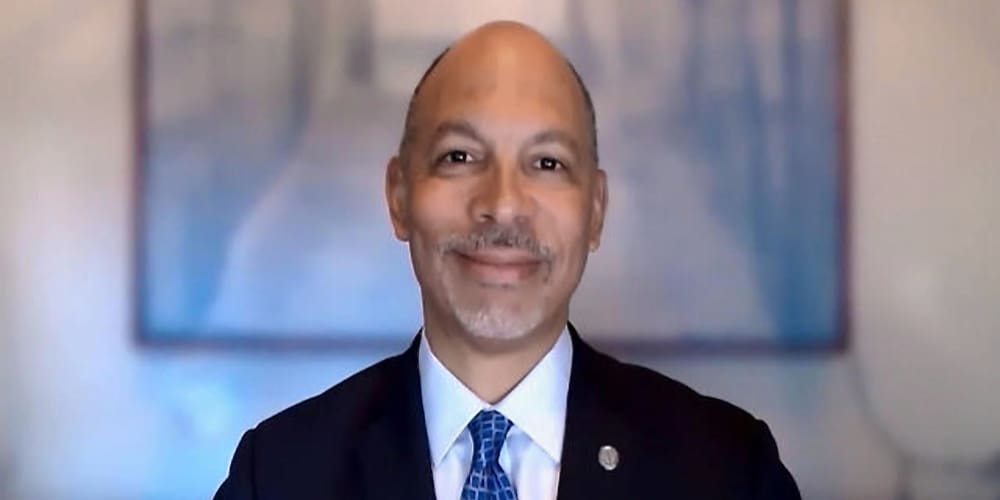 If the chief executive officer of Atrium Health had his way on the COVID-19 pandemic, there would be a national registry for testing supplies, telemedicine would become widely adopted and supported with federal funds and underserved communities would find mobile clinics in the places where they live.
Eugene Woods, former chief executive officer of the Roy L. Schneider Hospital (now Schneider Regional Medical Center) on St. Thomas, recently testified before the U.S. Senate Special Committee on Aging, where he shared some of the strategies his network of 41 not-for-profit hospitals has done to confront the COVID-19 pandemic.
His testimony caught the eye of network news producers at CBS. By the end of the week, Woods had made a guest appearance on the Sunday talk show, Face the Nation.
There was also testimony to the Senate about the wins and challenges Atrium has faced since before the pandemic became a national emergency in March.
Woods expressed the belief that some of the proactive steps taken across the network have saved lives and led to better management of resources in the company's facilities in North and South Carolina and Georgia.
Those steps included geospatial surveys of communities where COVID-19 infections were occurring in higher ratios than the general population. Identification of COVID hotspots was followed up by deploying Atrium mobile testing clinics, serving 13,000 people with the help from 55 community host sites.
Woods also told lawmakers that in-house lab facilities sped up COVID diagnoses. Then came the expansion of telemedicine services and implementation of a virtual hospital, serving 11,000 patients since March 20.
Two models of virtual hospital care were used for patients displaying mild COVID symptoms and for those showing signs of severe illness.
"Principal components of this model of care include telephonic assessment and monitoring by a registered nurse, as well as daily provider virtual visits and in-home care provided by community paramedics for the most acutely ill," he said.
Medical translators were deployed to serve the Spanish-speaking population. That was followed by an education campaign called "Para Tu Salud," offering advice on safe health practices and raising COVID awareness in the Hispanic community.
Woods said these steps were taken early in the national health emergency, once data analysis showed medical center officials that communities of color were getting sicker at a faster pace than white communities, while COVID testing lagged behind.
"We continue to be deeply troubled by the disparities in the percentage of positive COVID-19 tests and deaths among our Hispanic and Black neighbors. To put it into perspective, in looking at test results since the beginning of the pandemic, the percent positive rate for Blacks has been roughly double that of whites, and the percent positive among Hispanics have been more than three times that of Blacks. According to the Brookings Institute, Black and Hispanic/Latino death rates are at least six times higher than for whites. This shows that there is clearly more work to be done," Woods said.
Especially for the elderly. At the time of the Senate hearing, the topic that prompted Woods' appearance was "The COVID-19 Pandemic and Seniors: A Look at Racial Health Disparities," said Atrium Media Relations Director Daniel Fogleman.
As of July, 54 percent of COVID infections in North Carolina were found in nursing homes. Woods said that the elderly in underserved communities are especially vulnerable. In response, he said, Atrium chose one facility in the network to treat nursing home residents in need of special care.
And after months of relatively low infection rates, St. Thomas experienced its own COVID crisis in an elder care facility. When the Queen Louise Home for the Aged came up with 12 infected residents, the head of the Schneider Regional Medical Center took his own innovative approach.
Residents were brought into Schneider, along with their beds, and treated there. One Queen Louise resident, age 101, died. The rest, as of Thursday, have been treated and were on track to be transitioned back home, said Schneider interim Chief Executive Officer Dr. Luis Amaro.
Schneider Hospital is part of the medical center. Amaro said it shouldn't come as a surprise that COVID could overwhelm the precautions put in place by Queen Louise administrators since March.
"They did as much as they could with preventative measures," Amaro said. "Right now, St. Thomas is the hot spot. The numbers here and the community spread that exists contribute to an area like Queen Louise Home being affected … It's a congregate area, it's not divided. It's very hard to isolate. And I think that's one of the things that needs to be addressed."
In his remarks to the federal lawmakers, the Atrium chief made several recommendations.
– Establish a national registry of supplies needed to fight the pandemic.
– When it became apparent that hospitals were short of PPEs, a nationwide effort began. The same should be done for reagent solution and other testing supplies.
– Permanently expand telehealth services and make additional COVID funding available for health care providers.
– Identify and address health disparities. Woods called for greater use of data analytics.
– Health insurance programs should cover the cost of interpretation and translation services.
– Lawmakers should reinvest in public health programs, including regional community health programs.
– When a COVID-19 vaccination appears, create a public campaign to increase confidence in taking a preventative shot.
Eugene Woods led Schneider Hospital from 1998 to 2002.
After he left, he served at MedStar Washington Hospital Center, the St. Joseph Health System in Kentucky and Christus Health – Hospital and Health Care in Texas.
With 30 years of experience in hospital administration, he joined Atrium in 2016 to lead a system with 41 hospitals and 900 care locations. A year after joining Atrium, he was named one of the 100 Most Influential People in Healthcare by Modern Healthcare magazine
Most recently, Atrium Health was recognized by the Centers for Medicare and Medicaid Services as a 2020 CMS Health Equity Award recipient for its dedication to health equity by reducing disparities and enabling communities to achieve the highest level of health.