Event-goers rumage through goods, finding items to buy, during the fundraiser.
The Winston Wells ball field was filled with deals galore last weekend as residents snatched great bargains while helping the island's furry friends.
The St. John Animal Care Center's Fourth Annual "No Fleas, Please" Flea Market drew a record number of participants and volunteers, and a record amount of funds.
After weathering a financial crisis this year, ACC members were thrilled to collect almost $8,000 from the flea market on Saturday, October 23. Great deals were found on everything from clothes and books to furniture and appliances.
Things really got interesting when the huge piles of donated gently used clothing were discounted to $1 a bag. After battling for bargains, the best place in the field was in the shade under Jennifer Troisi's tent for some delicious pulled pork sandwiches.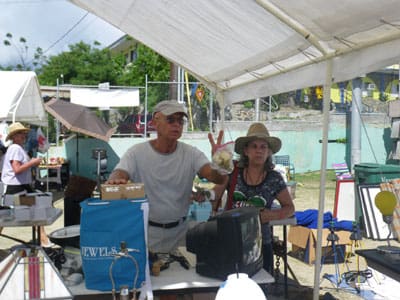 Animal Care Center advocate Bruce Munro, above left, negotiates with a buyer at the organization's "No Fleas, Please" Flea Market event on Saturday, October 23.
All in all, flea market organizers deemed the day a smashing success.
"We thought it was an excellent day and we did better than we had hoped," said Monica Munro, one of the event organizers and the ACC board vice president. "We pulled in about $8,000 and we were really happy with that."
The funds are critical to help the group continue to run its no-kill shelter and ongoing spay and neuter program. The 501(c)(3) organization is committed to the care of all of Love City's homeless, abused and abandoned animals. The cost of ACC's operation is huge and each of the group's three major fundraisers are essential.
Along with Munro, ACC board member Karin Schlessinger also organized the event with much help from ACC board president Diana Ripley and numerous volunteers.
With another successful flea market under their belt, ACC members are gearing up for their next big fundraiser — Christmas for the Animals.
Each year the group throws one of the biggest holiday parties on St. John, with all of the proceeds going to keep the ACC's doors open. Themes in previous years had party-goers decked out in hippie clothes and the flapper style of the roaring 20s.
This year, the event is sure to bring out some funky outfits with the theme "Walk on the Wild Side." Christmas for the Animals will be in early January at Glen and Joanne Hall's Estate Chocolate Hole home.
Keep an eye out for ACC Christmas for the Animals posters, which should start going up across the island this week.
In the meantime, the group always accepts donations. Volunteers are also welcome to help the group in a number of ways. To find out how to help the ACC, call the shelter at 774-1625 or check out www.stjohnanimalcarecenter.com.