The St. John Festival Fourth of July parade meant something different to each and every person who lined Cruz Bay's streets to see the colorful costumes and hear the pulsating soca music. To some, it meant starting a new tradition with family. To others, like Paul and Marcia Helson, it represented a homecoming of sorts.
Paul Helson, who worked as human resources director at Caneel Bay Resort from 1993-1996, returned to St. John just weeks before the festivities began to assume his new position as general manager of the Pond Bay Club.
"I just love seeing the parade," said Paul Helson. "It's such a unique part of St. John. You can meet your friends and neighbors here."
The Helsons were most excited to see Caneel's troupe, for which Paul Helson drove the truck during his tenure as the resort's HR director.
For Tom and Nicole Barnhorst, the parade offered family-friendly fun for their 11-month-old daughter, Carson.
"It brings families out," said Nicole Barnhorst, who watched the parade with several friends and their young children. "It's a good, wholesome parade."
In true Love City fashion, the parade kicked off later than expected, around 11:30 a.m. St. John Administrator and Festival Committee Chairperson Leona Smith, who was busy coordinating the start of the parade, was anxious for the show to begin.
"We're gonna have a big parade," said Smith. "There's a lot of colorful entries, and nice music. It's our last lap for Festival."
The procession was led by parade marshal Shuler Brown, followed by Festival royalty, including Miss St. John Lea Scott and St. John Princess Daniela Joseph.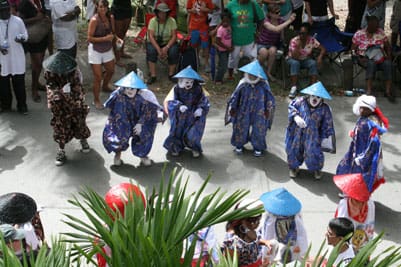 "I'm excited for a lot of cultural action," said Scott. "St. John is always very cultural when it comes to the costumes."
Also making appearances were the AARP's St. John Chapter and the Love City Leapers, who wowed the crowd with their jump rope performances.
This year's parade saw more than 40 entries from all three Virgin Islands, and even one from the states – Paula's School of Baton from Winchester, Tennessee.
"Some of the costumes were the best I'd ever seen," said Senator at Large Craig Barshinger. "I'm impressed at how many new groups are doing it, just for the joy of being in the parade."
The Middle Age Majorettes paraded down Cruz Bay streets in their traditional t-shirts, decorated this year with rainbow tie-dyed bathing suits for their theme, "Do Wah Ditty in Love City."
Chester "Mighty Groover" Brady made a colorful appearance as a one-man entry. Brady pushed a cart decorated with bright fruit plates, adorned with a sign reading, "A Cultural Day in Dey Canefield. A Tribute to Cane Cutters."
Gifft Hill School teachers and students alike paid tribute to Michael Jackson, who died recently, as they boogied down the street to the sounds of his music.
The crowd of hundreds was kept hydrated as the parade slowly wound through Cruz Bay thanks to Starfish Market, which provided free water, and St. John Brewers, which handed out samples of their beers.
The Westin Resort's massive troupe masqueraded as spiders of all different colors in "A Tribute to Anansi."
The festivities culminated later that evening, as residents and visitors crowded Cruz Bay Beach and the Battery to watch a lively fireworks display, launched from a barge anchored in Cruz Bay harbor.
"The parade was great and very lively," said Cecile deJongh. "I loved Cool Sessions' troupe. It's nice to see family and friends, and everybody's in a great mood."
Governor John deJongh mingled with party-goers at the Battery, where guests enjoyed an open bar and appetizers, and the perfect spot for viewing the fireworks – the Battery's grassy lawn.
"I thought the parade had great variety, and I especially enjoy watching the young kids," said the governor. "What makes this parade special is that people come from all the islands and the U.S. It's just a great opportunity to be with people, and it's an important part of our culture and history."