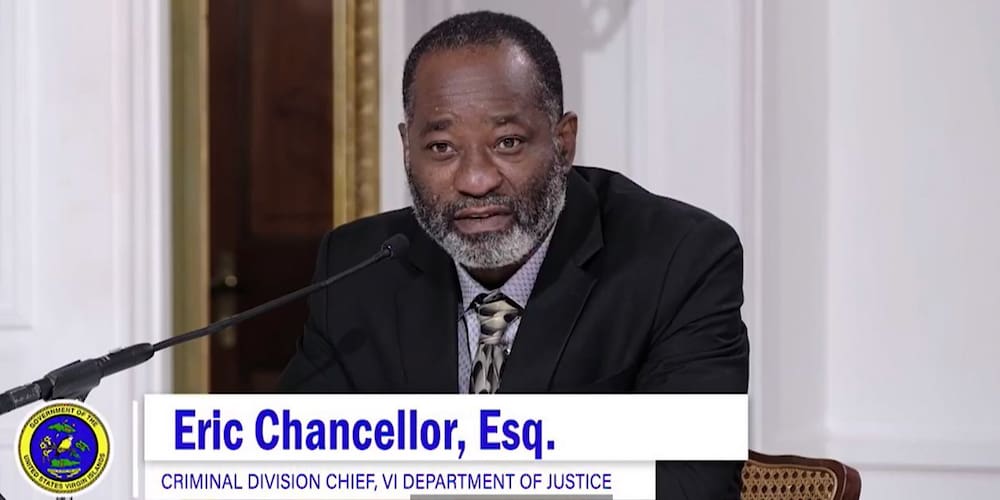 Within the past week, 64 sets of test results uploaded onto the territory's COVID-19 travel portal have been flagged for authenticity and, in most cases, have been found to be falsified or altered.
"In these trying times of the COVID-19 pandemic, we are all responsible for keeping each other safe from sickness," Attorney Eric Chancellor, chief of the Justice Department's Criminal Division, said during Monday's weekly press briefing. "That is why it is particularly disturbing to find out that some Virgin Islanders – and, primarily Virgin Islanders – are intentionally putting their fellow residents at risk from a potentially deadly virus. We are the ones that should care more about each other."
Chancellor said the department has identified two statutes that would classify such actions as "criminal behavior" and said that moving forward, anyone found to be falsifying test results will be prosecuted. Within the applicable laws, the penalties include:
– Title 14, Section 843 deals with false and fraudulent statements upon the government and violators face a fine of up to $500, imprisonment of up to two years or both; and
– Title 14, Section 795 relates to the recording of forged instruments, and violators face a fine of up to $1,000, up to five years imprisonment or both.
"Everyone knows it is wrong to make misrepresentations in situations as serious as the COVID virus and the purpose of this policy statement is to put those few who would do those wrongs on notice that their criminal behavior will not and cannot be excused any longer," Chancellor said.
[adrotate group="6"]
All visitors traveling into the territory, including residents, are required to upload either a legitimate negative antigen or negative PCR test within five days of travel, or a positive antibody test within four months of travel. The Health Department has discouraged all non-essential travel, but Territorial Epidemiologist Dr. Esther Ellis recommended Monday that another option for those frequently flying in or out is to get vaccinated.
This past weekend, the territory hit the 25,000-vaccination mark and continued to push toward Gov. Albert Bryan Jr.'s goal of having 50,000 residents vaccinated by July 1, Ellis said. So far, community health clinics on St. Thomas, St. John and St. Croix have administered 9,845 total vaccines, with 25,105 first doses administered territorywide since the vaccinations became available. Community health centers are open to all residents age 16 and older.
More information about the COVID-19 vaccines is available by calling the V.I. Territorial Emergency Management Agency hotline Monday through Friday from 8:30 a.m. to 3 p.m. at 340-777-8227 (340-777-VACS).
Despite the steady pace of vaccinations, however, the territory still has not achieved community immunity, said Government House Communications Director Richard Motta Jr.
"We are still losing people to this virus, so it is necessary for us to do the things we need to do – including avoiding mass gatherings, practicing social distancing and continuing to wear masks," he said.
As of March 27, the territory's weekly positivity rate has dropped to 2.4 percent, with 55 active cases in the territory: 26 on St. Croix, 20 on St. Thomas and nine on St. John. Overall, 70,342 COVID tests have been administered, with 2,907 positives. Five patients are being treated, including one on a ventilator, at the Gov. Juan F. Luis Hospital on St. Croix, and one ventilated patient at the Schneider Regional Medical Center on St. Thomas.
Meanwhile, in advance of the upcoming Easter holidays, restrictions have been eased for churches, which now can have gatherings of up to 200 people or 50 percent of their capacity, whichever is less. The new limit goes into effect immediately and will remain in effect moving forward.
"Just to be clear, you cannot seat 200 if your capacity cannot accommodate 200 people," Motta said Monday. Parishioners still must wear a mask and adhere to social distancing guidelines.
"We have an especially long Easter holiday weekend, beginning with Transfer Day on Wednesday and ending with Easter Monday. Government offices will be closed during this time, and Gov. Bryan encourages all Virgin Islanders to enjoy the long holiday weekend but do so safely and in accordance with our local health guidelines," Motta said. "Please do enjoy the beach but remember that they will be open at 6 a.m. and closed at 5 p.m. from this Wednesday until Monday. All other health guidelines apply while on the beach, including mass gathering restrictions and social distancing."
Editor's note: This has been corrected to reflect the correct time frame for testing. Travelers must upload either a legitimate negative antigen or negative PCR test within five days of travel, or a positive antibody test within four months of travel.