Paddle The Park is the first of some 275 events, seminars, boat trips and hikes that Friends of Virgin Islands National Park will hold this season.  Like all of the Friends' events, this fun stand-up paddle board race that takes place on Sunday, Nov. 13, aims to engage the community and visitors with V.I. Virgin National Park.
"We look forward to this fun community event that kicks off our season every year," said Tonia Lovejoy, executive director of Friends of Virgin Islands National Park.  "Anyone that has been lucky enough to paddle in our ocean knows the magic of cruising on the surface looking down on the sea turtles and fish that are part of St. John's marine resources. We sincerely thank the volunteers, supporters, and sponsors, who make this event possible and contribute to the conservation of the park."
The race's start time on Sunday is 8:15 a.m. with three distances all starting and ending at Maho Beach Bay, which allows the 51 registered paddlers options that suit their personal skill level.  The three distances are the Short Course (1 mile), the Open Course (2.7 miles) and the Elite Course (5.5 miles). This is a race for all ages with the youngest participant being 9 and the oldest 72.  The race will end with a community BBQ on the beach.
Paddle The Park raises funds for Friends' programs to protect and preserve the natural and cultural resources of the park, including turtle protection, mangrove research and restoration, and coral reef protection.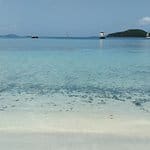 The event is made possible thanks to 45 volunteers including 13 high schoolers doing community service who help with registration, board handling and more.  Stand-up paddle boards are provided by Reef to Peak and Virgin Islands Expedition Company.  Safety on the water is provided by St. John Rescue supported by a number of kayakers, dinghies, and boats.  Essential sponsorship support is provided by some 45 local businesses and organizations.
To learn more about Paddle The Park and all Friends events, follow Friends of Virgin Islands National Park on Facebook or Instagram, or visit its website at  www.friends.vinp.org