More than 100 people gathered at Trunk Bay Sunday afternoon for the annual meeting of the Friends of Virgin National Park (Friends VINP), but one official who usually attends was conspicuously absent.
The superintendent of the Virgin Islands National Park, who usually presents a report on the state of the park, was unable to attend because of the Federal Government shutdown.
Aside from critical emergency personnel, National Park Service employees are not allowed to work during the government shutdown, and that includes representing the park during their own free time, said Friends VINP President Joe Kessler.
"It's a huge concern, just as the park is focusing on getting things done," said Kessler.  "The shutdown is slowing down the recovery.  We need to have the government appropriate money," he said.
In spite of the shutdown, the Virgin Islands National Park (VINP) is remaining open, Kessler said.  "Anything that is locked at night is staying locked, like the Visitors Center in Cruz Bay.  There's no staff, but the trails and beaches remain open."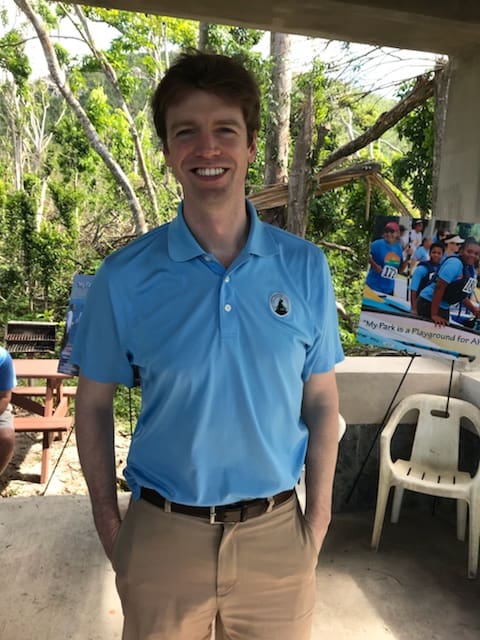 The shutdown comes at a critical time for the VINP.  Over a three-month period, nearly 450 NPS employees rotated through St. John on temporary assignments to respond to the disaster and assess the damage to the park after Hurricane Irma struck on September 6 and Hurricane Maria on September 19.
"No one was hit harder than you," said guest speaker Collin O'Mara, president of the National Wildlife Federation, which counts six million members among its affiliates in 51 states and territories.
O'Mara gave an overview of the natural disasters which befell the United States in 2017.  The cost of a typical disaster—a mudslide, drought, or cold weather event, is $3 million, he said, but the estimated cost of the hurricanes to the VINP is $68 million.
"We have to get this story out," O'Mara said, adding that he hadn't seen a national story about the Virgin Islands in three months. "Things are pretty screwed up in Washington.  They're jumping from crisis to crisis, while the need of this park is not being debated.  If we don't get funding in the next three to six months, we may not get it."
Congress went on recess in December before addressing a proposal to provide $81 billion in funding for recovery from natural disasters in 2017.
Although Acting Superintendent Darrel Echols did not attend the Friends VINP meeting, he did give the text of his speech, which he completed before the shutdown on Friday, to Kessler.  Rafe Boulon, who served as the VINP's chief of resource management before retiring several years ago, read the speech which summarized the accomplishments since the storm and the challenges ahead.
Of the 21 houses for VINP employees, five were destroyed and 13 were badly damaged.   Nearly 90 vessels were washed ashore or sunk. Many of the 400 buoys and aids to navigation in park waters were lost. The potable water plants and sewage systems at Trunk Bay and Cinnamon Bay were badly damaged, preventing most services there from being restored.  The archaeology lab, the pavilion at the beach at Maho Bay, and the offices at the Biosphere Reserve Center at Lind Point were destroyed.
Echols, who's had an extensive career with the Park Service, wrote in his speech that storm damage typically takes two or three weeks to repair.  Initial estimates for repair of the VINP were closer to a year, but thanks to the efforts of so many, ten beaches were safely opened by mid-December.  Twenty-one miles of road and 24 miles of trails have been cleared. He thanked the Friends/VINP for their contribution.  "We're glad to have you on our side."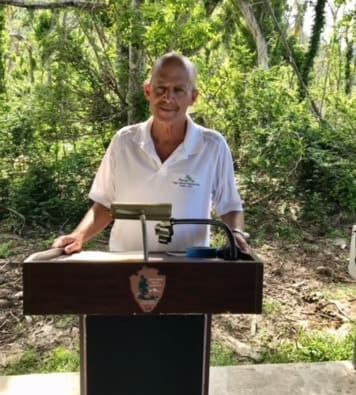 The Friends VINP still employs a team of five sawyers who continue to improve trails, according to Kessler.  "It's remarkable how much we've recovered in four months," he said. He mentioned the loss of the museum in the old Danish Warehouse in Cinnamon Bay, but assured the audience that the 400,000 artifacts in its archaeology collection remained secured.
In his speech, Kessler gave an overview of the Friends' achievements in 2017.  Among them was the acquisition of 11.8 acres on the north shore containing significant cultural resources which are being conveyed to the Park Service.
Funding from FriendsVINP allowed 120 children to attend summer programs, 579 to participate in Earth Day programs, and 950 students to attend the Folk Life Festival in 2017. The Friends provided grants to hire eight high school students to work on trail crews and funded three scholarships for college students. Volunteers working through the Friends put in thousands of hours maintaining trails, monitoring sea turtle populations, and processing archaeological findings.
The board of Friends VINP initially approved a budget of nearly $950,000 for the past year, but most of that funding has been reprogramed for storm recovery, Kessler said. Efforts continue to replace picnic tables and trash containers, rebuild boardwalks, install roofs on historic structures, and erect shading structures at certain beaches that have lost trees and vegetation.  "This is not what we normally do, but 'Extraordinary times call for extraordinary measures.'"
"Most Americans love the outdoors," said O'Mara, "but studies show that one-third of wildlife is at risk of extinction in 50 years, including pollinators and songbirds."  He urged the audience to remain active as the Park Service chooses a new deputy superintendent to replace Echols when he goes back to his position in the regional office in Atlanta.  He urged listeners to "Raise your voice and bring back the resources we need."
The Friends VINP, which will be celebrating its 30th anniversary in December 2018, has a membership of around 3,000, 20 percent of which have Virgin Islands addresses, according to Kessler.  At the meeting, board chair Andrew Rutnik conducted an election to approve board officers including himself as chair, Rafe Boulon as vice-chair, Elsa Angel as treasurer, and Curtis Penn as secretary.
Shared content for St. John Tradewinds and Virgin Islands Source.