After almost 17 years as president of the Friends of the Virgin Islands National Park, Joe Kessler has announced his retirement at the end of the calendar year.
But don't try to stop him in the street with the old line, "Say it ain't so, Joe." He's already heard it a few too many times, and besides, he has too much to do to indulge in sentimentality, including finding his replacement.
"Now we have to figure out who's next," said Kessler. "The board of directors will have to think of where the organization will be in five years and find someone who will take them there."
Kessler will stay on until January to help smooth the transition for the new president. He said the ideal candidate will be "someone with experience managing a non-profit organization, a leader who can work effectively within the island culture, and a strong and inspiring communicator."
[adrotate group="6"]
FriendsVINP was formed 30 years ago with the intention of being a link between the community and the Virgin Islands National Park. Throughout the years it has moved beyond simple advocacy and assistance. The Friends has funded archaeology research, trail clearing projects, and field trips for students. It's operated a popular retail shop with local crafts and environmentally sustainable merchandise. It's sponsored athletic events such as the Beach-to-Beach Power Swim, which allows participants to experience the park in new ways.
Kessler, who will turn 68 in September, said it's a good time to retire because "the Friends is stronger now than we've ever been. Fundraising is going strong. We have a great team in place – all [of our staff members] have been with us two years or more, and we have a strong board."
Once he's retired, Kessler says he won't lie around on a couch or play golf in Florida. He and his wife Cristina, who he met in 1973 when they were training for the Peace Corps, expect to hit the road.
The Kesslers are planning to return to Africa to travel and perhaps spend time volunteering at a cheetah rehabilitation facility. After that, they hope to come back to the States to visit friends and tour national parks.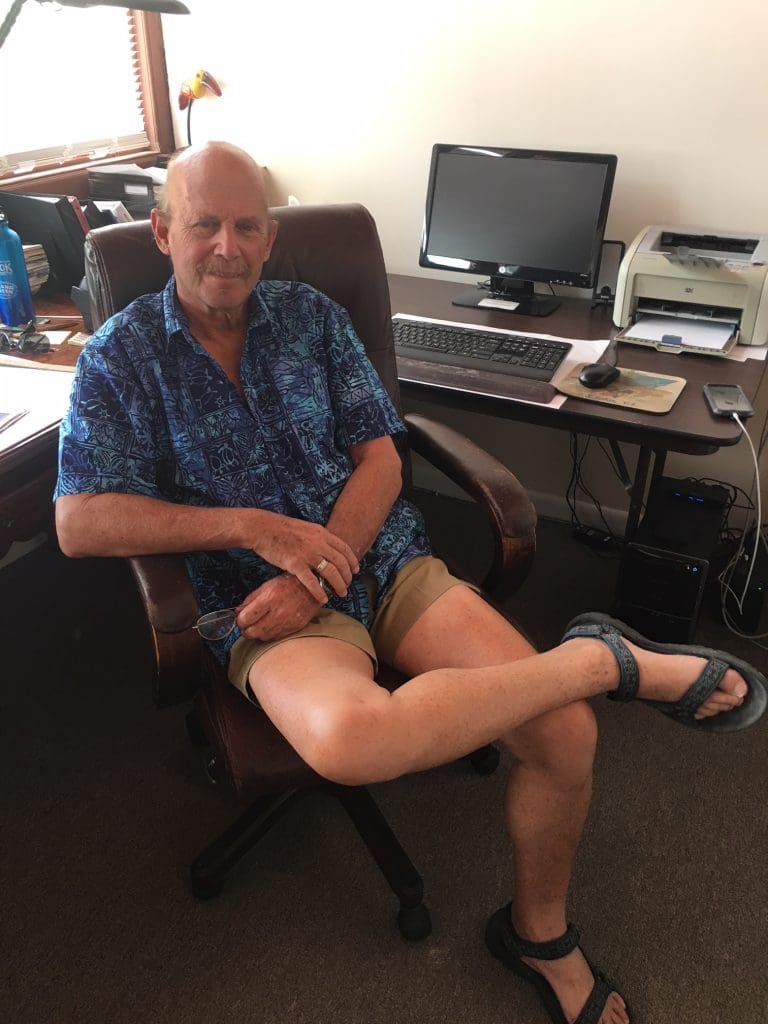 It's a return to the itinerant life they had prior to moving to St. John. From 1973 to 2001, the Kesslers worked in Asia, Africa, Latin America, and the Caribbean.  During Joe's 20 years as a director with the NGO CARE, they worked everywhere from the tropics of Indonesia to the deserts of Mali.
The Kesslers moved to St. John in 2001 when Joe took the reins of FriendsVINP from John Garrison, an old friend who nurtured the organization in its earlier stages. FriendsVINP now has a membership of nearly 4,700, half of whom are local residents.  It has an active donor base of 7,000, a full-time staff of seven, and a budget of nearly $1 million.
The Friends recently completed the reconstruction of the boardwalk for bird watching along the wetlands at Francis  Bay and is funding a sea turtle monitoring program. Kessler is now working with the V.I. National Park to replace roofs at historic structures and design and construct pavilions at Maho Bay to replace the ones washed away last September by Hurricane Irma.
His most ambitious project is the development of a museum and cultural heritage center to be built on property within the national park owned by FriendsVINP. That site, near the masonry arch bridge along King Hill Road, is rich in ruins and cultural resources, Kessler said.  It's an ideal site to display the artifacts which were formerly displayed in the old Danish Warehouse at Cinnamon Bay that was also destroyed by the storms last September.
Kessler admits that he has sometimes been frustrated by the "glacial" pace of the recovery within the park following the initial disaster response.  Part of that is the result of the sheer number of projects facing the National Park Service following the storms, floods and fires of 2017. But part of it is due to an absence of steady leadership within the VINP.
There's been no strong voice of advocacy for the park since VINP Superintendent Brion FitzGerald retired in January 2017. Since then, the NPS has appointed only acting superintendents, including two acting superintendents who have served for only four months before returning to their previous positions.
"The park needs leadership, someone who will be here for awhile who's strong and experienced," said Kessler. "We need  someone who has contacts and relationships to get things done, who knows how to manage the bureaucracy rather than be managed by it."
Shared content for St. John Tradewinds and Virgin Islands Source.