Delroy 'Ital' Anthony does a demonstration on medicinal plants at the St. John Garden Fair on March 25. All photos by Perdita Stapleton. 
A recent article in the New York Times urged readers to slow down if they truly want to appreciate St. John.  The wisdom of these words was fully evident at the St. John Garden Fair held at the Agricultural Center in Coral Bay on March 25.
Over the course of the afternoon, residents took their time as they chatted with vendors and neighbors, bought seedlings for their gardens or porches, and caught up with the latest efforts to keep St. John green.
In a series of informative workshops, Delroy "Ital" Anthony held up examples of local plants used for healing; Eleanor Gibney spoke of native trees; Raymond Thomas demonstrated grafting techniques; and Annie Caswell shared tips for making non-toxic cleaning products.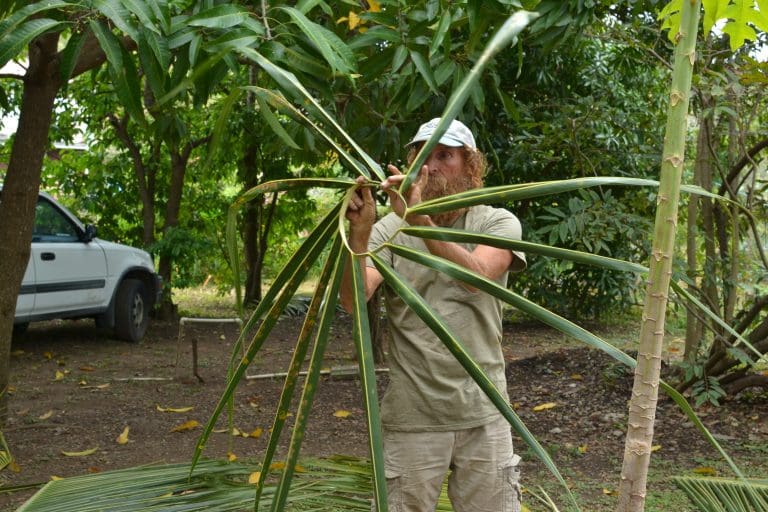 Eugene Brady gave a talk on beehives and Surfer Gary displayed palm-weaving techniques. Mary Blazine spoke of the benefits of community gardens, and Colleen Brooker and Irvin Stevens educated listeners about permaculture and agroforestry.
Fair Highlights Two Projects 
The Garden Fair organizers had something more on their agenda, and that is to stir up interest in two initiatives that will create long-term opportunities for gardeners and increase the availability of locally-grown fresh produce.
One proposed project is a learning garden for children; the other is a community garden project for licensed growers.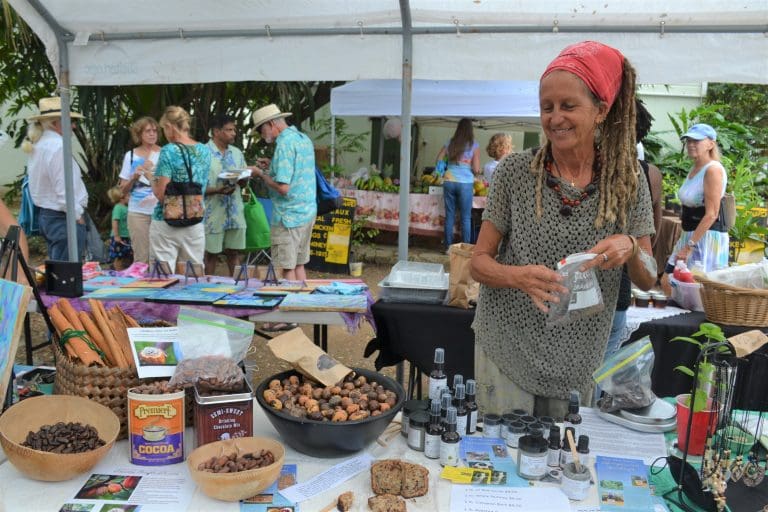 Children's' Learning Garden Proposed for Coral Bay
Catherine Turner, one of the Fair organizers, is working with a group of parents and community members to establish a children's learning garden in Coral Bay.  The idea isn't new.  In the late 90's and early '00's the Agriculture Center hosted Project Green Up, an after-school program for children.
"Raising four children on St. John in the 90's with a garden program, I can first hand tell everyone how wonderful and important programs like this are," said Jeannie Williamson.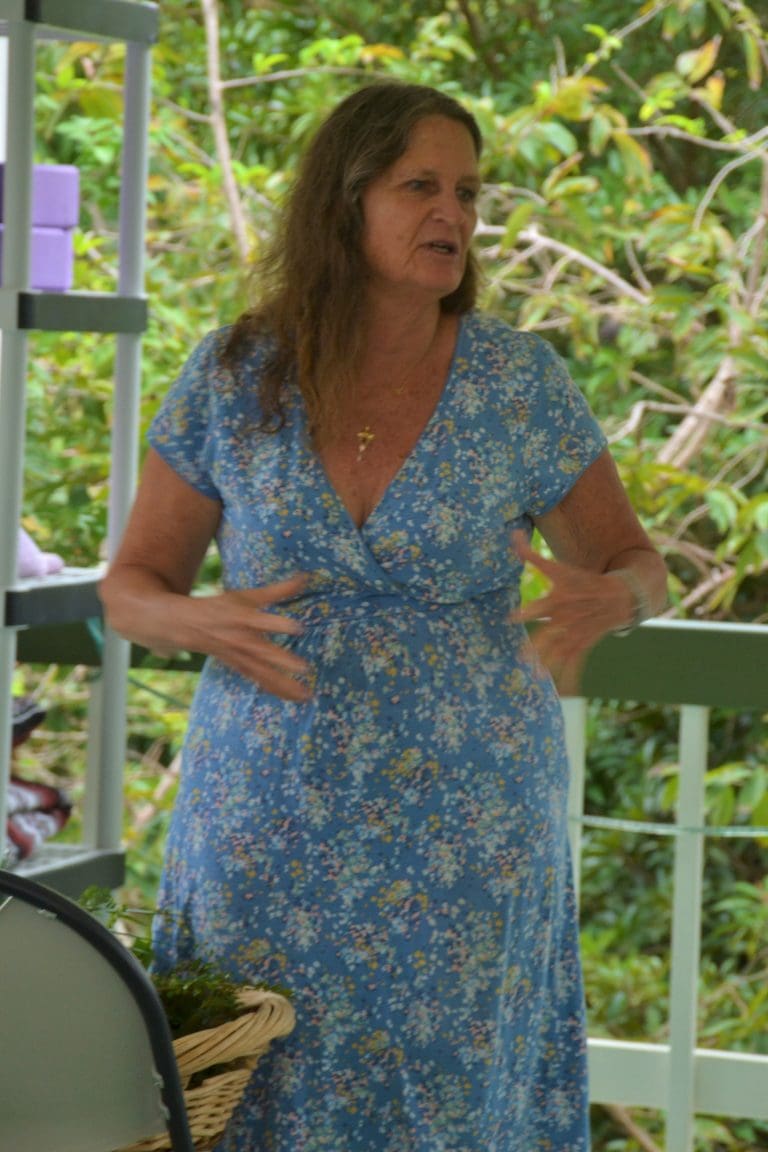 At St. John's largest private school, the Gifft Hill School, gardening has become an intrinsic part of the curriculum through its Education And Resiliency Through Horticulture (EARTH) program.
Now Coral Bay parents who homeschool their children have been looking for ways for their children to participate in a garden program. They want their children to learn the science involved in growing food as well as the character lessons that develop from maintaining a garden.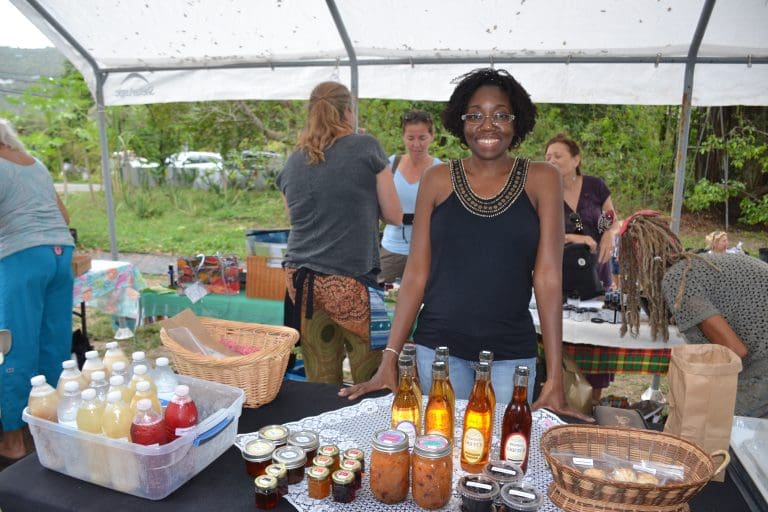 After investigating several locations, Turner said she has identified a location that would be ideal.  The Guy Benjamin School, which was closed in 2014 because of declining enrollment, is finding new life as a community center.  It remains under the auspices of the Virgin Islands Department of Education, but programs are being introduced through a community organization known as Partnerships in Hope.
Turner said she's begun the application process to locate the garden at the Guy Benjamin School and is now raising funds to prepare the land, build fencing, provide a water system, and purchase soil and seeds – "All the things that go into a garden," she said.
Coral Bay Community Gardens Project Delayed for a Decade:
Red tape slows efforts to green up St. John
While Turner is hoping to instill the love of growing things in children, Colleen Brooker is hoping to move forward a project for farmers on St. John that has languished for years.
In 2007, the VI Department of Agriculture began discussions about converting nearly two acres of unused land near the Coral Bay Ag Center into 10,000 square-foot plots to be leased to local farmers.  In 2010, seven experienced growers, including Brooker, were selected to begin growing food, and a groundbreaking ceremony for the Coral Bay Community Garden Project was held.
And then the project stalled.
Raymond Thomas, who's served as supervisor of agricultural development at the Ag Center since 1999, said there were varying reasons for the delay.  At first, issues of land clearing and finding a supply of usable water had to be resolved, he said.
Then the process of letting growers use government land became more complicated. The problem wasn't particular to St. John but was territory-wide.
"A 2013 V.I. inspector general's report indicated the Agriculture Department's practice of issuing government agriculture land without a lease was in violation of V.I. law," said Agriculture Commissioner Carlos Robles at a Senate budget hearing in July 2016.
Since the audit, the Agriculture Department has worked with other government agencies to revamp the process. Nearly 200 properties have had to go through this process which involves multiple steps.
"In order to secure a lease with the government, applicants must have a farmer's license and secure a lease with the government through the VI Department of Property and Procurement," explained Errol Chichester, Assistant Commissioner of the VI Department of Agriculture.
The Department of Agriculture works with farmers to prepare the application for the leases.  Each application must be forwarded to the Department of Property and Procurement along with a map of the property to be leased.
These maps must be registered with the Lt. Governor's Office of the Tax Assessor and Cadastral Section, which maintains and updates public and private property survey records.
Chichester confirmed that the seven plots near the Agriculture Center have been surveyed, and the maps have been submitted for registration with the Cadastral section.
To further complicate matters, farmers must now procure at least $100,000 in liability insurance. According to an article in the VI Source, "Since 2014, Property and Procurement has been enforcing a lease requirement that those who farm government land need insurance.  The government's lease provision states that individuals who currently lease, have written permission to occupy, or plan to lease farmland from the government of the Virgin Islands for agricultural purposes must obtain liability insurance."  Fortunately, liability insurance for farmers is now available for purchase, according to the article
Once each plot receives its registration number from the Lt. Governor's Office and the applicant provides all the documentation required for the lease, the Department Property and Procurement sends the paperwork to the Justice Department for review.  If the lease is approved, it is then sent to the governor for his signature.  Once the governor signs the lease, it is sent to the Senate which schedules a public hearing.  Once the Senate approves the lease, the farmer is cleared to start planting.
Chichester said he didn't know if the seven people who signed up for the Coral Bay Community Gardens project still have an interest.  "If they do, they will be given first priority," he said.
He also couldn't give a timeframe for the total process. "If the map is registered, the people are ready and they have their farmer's license, it can go through [the Department of Agriculture] fast. I can't predict how long it will take other agencies."
The New York Times reporter said in his article, "St. John unfurls itself in unexpected ways if you just give it time."  No doubt St. John farmers are hoping that the time and effort they've already invested will soon bear fruit.