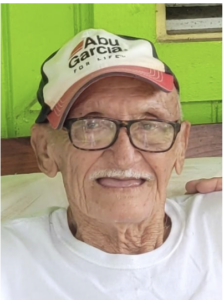 German Garcia Ventura, a.k.a. "Chiche" of Estate Diamond, transitioned into eternal life on June 25, 2022. He was 96 years old.
He is survived by his daughters Rosa Garcia Inniss, Diana Hernandez, Ana Luz Garcia, Maria V. Garcia, Nancy Garcia, Cruz M. Garcia and Diana Correa; sons Oscar J. Garcia, Jose Correa, Victor Garcia, Samuel Garcia, Donald Garcia and German Garcia Jr.; grandchildren Lydia Cruz, Anair Hendrickson, Alex, Manuel, Daniel Eliezer Rafael, Xiomara Hernandez, Kenneth, Garcia, Chavo, Joll, Angel, Shamito, Joelyce Santos, Aria Garcia, Julio Jr., Nayda Luis, Jose, Wanda Evelye Lopez, Naida Carmen, Nauri, Eddie Jr., Rivera, Millie, Ivone Correa, Lemarr, Schuyler Latoya, Lilian, Victor Jr. Garcia, Beatriz Garcia, Daniel, Kimberly, Jianelly Yamila Garcia and Mercedes Garcia; great-grandchildren Jauraughn/Javi, G.G.G.-Sharon, Bella, Issac-Elex, Eric, Javiel, Zally, Ameia, Eric Jr. Marcelo, Marquis Bonnet, Jordan Kymani Thomas, Cyrus Sarah Santos, Elijah Shama Singh, Neveah, and Zoe Garcia; sisters Luisa Garcia and Epifania Garcia; nieces Michakle, Lisa Garcia, Rosa, Tuti Felix Jr. Garcia, Dalita Garcia, Inosencia Garcia, Felicita, America Marina, Carmen Paula Garcia and Lissette Baquita; nephews Luisito Garcia, Felix Jr. Garcia, Pablo Barinquen, Candido Garcia Jr., Anibal Garcia, Josian Garcia and Freddy G.; sons-in-law Bertram Inniss and Manuel Hernandez; sisters-in-law Carmen, Milagros Inocencia Garcia; godchild Jose Carlos Acosta; special friends Jesus Nieves, Hector Gonzalez, Esteban Diaz, Sonny, Angel Montanez, Ferrer, Coidy, and Pito Daniel Ponce; cousin and other relatives Angel Martinez and Julio Felix.
Funeral service will be held on Tuesday, July 12, 2022 at Iglesia Evangelica Misionario, Frederiksted. Viewing will begin at 9 a.m., with service at 10 a.m. Interment will follow at Frederiksted Cemetery.
James Memorial Funeral Home is in charge of arrangements.